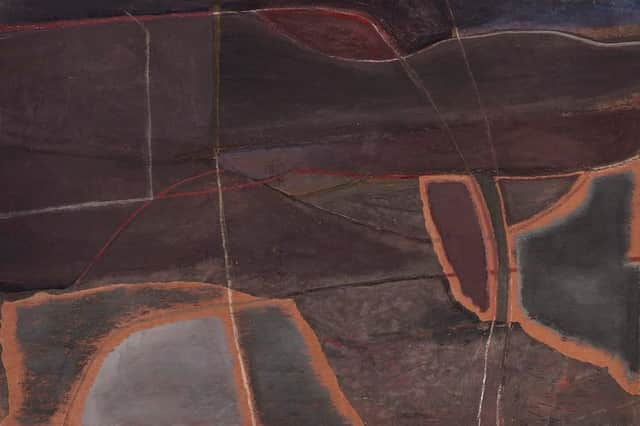 The 140th Annual Members Exhibition of the Royal Scottish Society of Painters in Watercolour, online ****
To call a show simply Modern is a bit daring. The word has so many connotations and some are a bit vexatious. Nevertheless, that is what the Fine Art Society has done and the result is a refreshing angle on the topic. The show consists of around 30 works, some large but many on paper and by artists ranging from FCB Cadell to the late John McLean. He is indeed the most overtly modern, but the word comfortably embraces them both. He and Cadell really sit quite comfortably side by side. The Cadell is a very pretty little watercolour of Iona with blue slate roofs and a view towards Mull. The two McLeans are perhaps a little less familiar. One from the 1970s is a minimal composition of bands of colour on unprimed canvas, the other, from the 80s, is a wide horizontal in fiery yellow and gold. Philip Reeves's Nocturnal Shore is even more an unfamiliar kind of image for him. Dating from 1962, it is still recognisably a landscape, or at least includes landscape forms rather than the more abstract geometry of his later work.
A group of seven paintings, all quite large, by Barbara Balmer make a centrepiece and are a special treat. White Window is a lovely example of her quiet and very particular poetry. It represents the windowed corner of a garden room. Two pot plants intertwine their vivid green leaves in eloquent contrast to the dark green of an evergreen tree standing outside the white framed windows. In the garden beyond, it is snowing. It is all wonderfully understated and here, as in Night, for instance, a picture of garden at night time, she balances an abstract sense of pattern with the delicate evocation of quite specific poetic mood. You do wonder, however, what prompted Despair, a large drawing of a lay figure curled up on the ground in a pose that does indeed vividly convey that emotion. The fact that it is a lay figure, not a person, subtly distances the intensity of feeling without diminishing its real import.
Works like these ought not to be unfamiliar, but this remarkable artist was not as well known in her lifetime as she should have been. Another artist whose reputation has grown posthumously is Robert Henderson Blyth, not least because of his war drawings. There are five of them here, all done during the invasion of Normandy in 1944. They are full of energy and although clearly made in difficult circumstances, remarkably complete. An ink and watercolour drawing of an ambulance crossing a bridge is particularly striking. Ian Fleming was also in Normandy in 1944 and he too took his drawing materials to war. Battlefield, a wrecked German tank, a ruined building and a distant line of trees stripped of leaves and branches, is a vision of desolation reminiscent of Muirhead Bone's drawings of the Western Front in the previous war.
Draughtsmanship was still a given with this wartime generation. You see it in Ian Fleming's beautiful watercolour of boats beside Loch Long, but even he and Henderson Blyth would have to yield primacy to James Cowie, a master draughtsman in the classical tradition. His draughtsmanship is represented here by four pencil studies, two of heads and two of figures. Three of them are identifiable as studies for finished paintings, for he worked like a renaissance master. A highly finished seated figure is for his Outdoor School of Painting, a girl's head is for Intermission and a naked female figure is for his wonderful painting, the Evening Star. A female nude by William McCance comes close to Cowie in accomplishment, but it has distinct overtones of Cubism. Anathema to Cowie but also surely modern. Also by McCance, and unequivocally modern, too, is a splendid cubist piper.
Anna Dixon is another unfamiliar figure here. She is represented by an oil painting of chimney pots being made in the Portobello Pottery. It is a vivid little picture with an earthy texture and colour that seem exactly to capture the dusty, smoky atmosphere. The artist, who died in 1959, had a long career beginning in the 19th century. She served as president of the Society of Scottish Women Artists and was elected to the RSW in 1917. Unlike its misogynist older sibling, the RSA, which didn't elect a woman for another 50 years, the RSW gave women equal status in 1894. This year the society should have been holding its 140th exhibition. The chosen venue was the recently refurbished gallery in Kirkcudbright, but of course it was not to be and so, like everyone else, the society has had to put its exhibition online. With just 70 works it is rather smaller than usual, but this may reflect the size of the intended venue. Certainly numbers are not an obvious constraint online.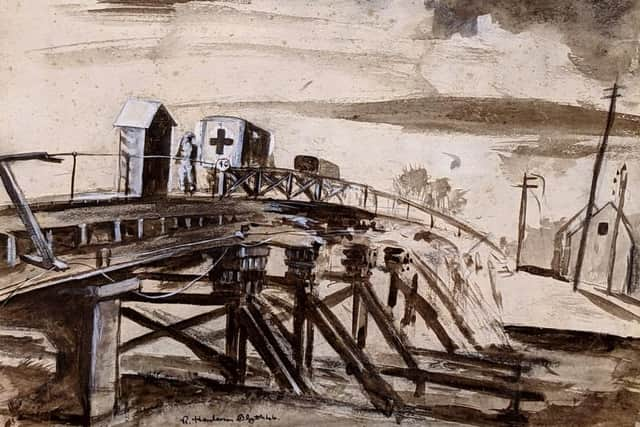 When the society was founded 140 years ago, watercolour was a distinct and independent medium. That is no longer the case, but the society soldiers on and the work on display qualifies by the use water-based medium. It is slightly academic when other societies like the RSA don't for a moment consider excluding works in water-based media as certainly they once did, but the RSW is a viable society with a distinct tradition all the same. Some of the artists do also still exploit beautifully the distinctive qualities of watercolour. Gregor Smith, for instance, captures sweeping veils of rain across the wide landscape of the Solway in a way that really only watercolour can do. David Johnston's The Autumn Thistledown is an example of another of watercolour's strengths, its symbiotic alliance with drawing. In All that Remains, Ruth Thomas uses water-based acrylic, ink and charcoal to evoke a desolate landscape of ruined and broken trees. Here it is both the transparency of her medium and its alliance with drawing that gives her work effect. White paper makes transparent watercolour luminous.
Michael Clark exploits that effect to capture sunshine and colour in Memories of a Summer in Montjoi. Jackie Stevenson uses it too, but combined with collage in both Curtains of Rain and Winter in the Hills. Watercolour can also give brilliance and intensity of hue. This is something that James Fraser exploits in Together, a painting composed of minute details that make a pattern like a mosaic. The pictures seems to be an extended riff on the sexes as they are at once different and together. The elements of the pattern are the male and female symbols, and the border consists of men and women holding hands. Birds and beasts, presumably of both sexes, inhabit the interstices of the pattern. It is all rather beautiful, but "Together" is spelt out in the pattern across the centre in three syllables and so it spells "to get her." Not too good a message for the age of #MeToo, perhaps? But overall this is an accomplished show.
A message from the Editor: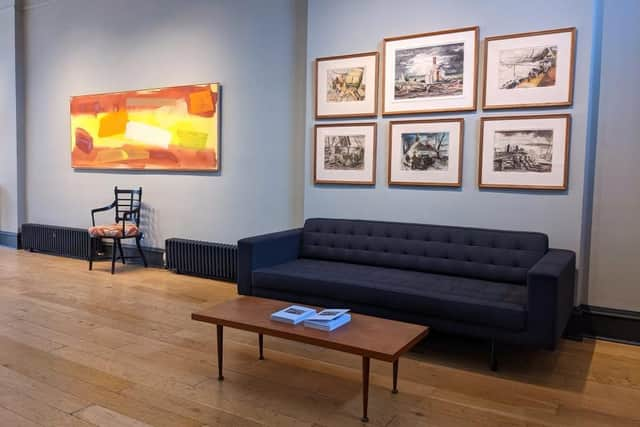 Thank you for reading this article. We're more reliant on your support than ever as the shift in consumer habits brought about by coronavirus impacts our advertisers.