Art reviews: Ron Sandford at the Fine Art Society | The Unseen Masterpiece at the Ingleby Gallery
Precision and complexity are the common threads in Ron Sandford's work from Hong Kong and Shetland, writes Duncan Macmillan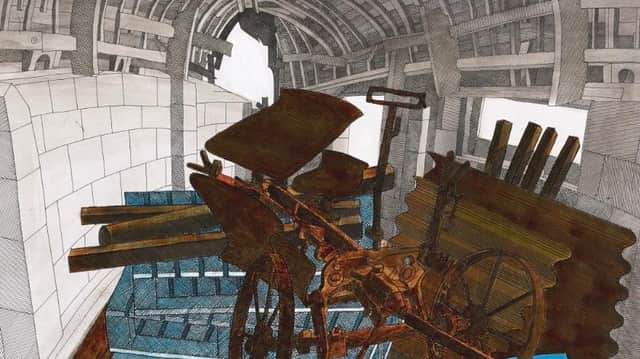 The Unseen Masterpiece, Ingleby Gallery, Edinburgh ****
The lockdown has produced some ingenious responses among our art galleries. You can act out a painting and post yourself online, listen to lectures, go on virtual tours and much else besides, but it has also drawn a sharp distinction between those who need to sell paintings to survive and the public galleries which don't. Those who sell have had to put their wares online to try to keep the market open and their and their artists income going. Nor it is just the dealer galleries, but the RSA too had to put their annual show online. Selling is their main income and a major support to the artists who contribute to the show. The public galleries need to make money too, but their need has the opposite effect. If charging admission to exhibitions is an important income stream, they are not going to put them online for free. All this rather limits your critic's options, at least as long as we try to keep writing about live exhibitions. I hope that will continue to be possible, but if it limits the field, that is circumstance not choice.
The RSA's online exhibition was remarkable for the speed with which it was done and the amount of work involved. There was ingenuity too in the way that the scale of individual works was conveyed – vital in such a diverse show – by photographing each work separately in the same environment. However, with their new show of work by Ron Sandford, 114°E / 1°W Hong Kong to Shetland, the Fine Art Society has upstaged them with full virtual reality. The show is rather as if Google Earth had not stopped outside but actually come in the door. You can move around the gallery, stop in front of a picture, zoom into it, click on a handy label and find out what you are looking at. You can go in quite close in this way, but the individual pictures are also available for yet closer inspection. They say working from home is going to make the office redundant. Maybe VR will have the same effect on galleries. I do hope not, but if on the other hand it expands their market, that is no bad thing.
Sandford is a veteran. Born in Greenock, he attended Glasgow School of Art in the late 1950s. Encouraged by Philip Reeves, he went on to the Royal College where he studied graphics. His father was a marine engineer. This background and his training both seem still to be reflected in his work. Indeed, boats and boatbuilding are still a frequent subject. He draws with a fine pen, but if his work is essentially drawing, it is by no means diagrammatic. Indeed, he builds up complex patterns that would confound any diagram. While at the Royal College he became friendly with Edward Bawden and there is still an affinity in his work not only with Bawden, but perhaps even with his friend and contemporary Eric Ravillious.
The enigmatic title of this show is autobiographical. In the 1980s, Sandford went to live on Lamma, a small island off Hong Kong. He spent six years in an environment which seems to be at once remote and exotic, though perhaps it is only remote from our perspective. Container ships and dock constructions feature in works that reflect his environment. After six years in the Far East, he and his family moved to another island, Yell, in Shetland. It might be said he moved from the Far East to the Far North and to somewhere truly remote, if not exotic. Any self-respecting Shetlander would object, however, and justly. "Remote" depends entirely on where you start from.What links these two homes in Sandford's work, apart from their island status, is the distinctive style in which he records them. If his art has a graphic quality that echoes his background and training, this is also touched at times by the graphic quality that is inherent in Chinese painting. This is perhaps most noticeable in the eastern works. Big Eyed Chicken Fish and Paper Tiger, for instance, Lantern Festival Oak Kok Kau Tsuen, or Street Seller Yung She Wan, Lamma Island all look as oriental as they sound. Though the drawing is precise, they reflect their subject.
In Yell, he is immediately more down to earth, however, back even to diagrams at times. Geology III, for instance, is pretty much an unadorned drawing of geological strata. He can be more poetic though. Marvellous Mackerels is a pen drawing that is oriental in its spareness and its use of the empty space of white paper.
In a 'boatie hoose' II, Mid Yell Voe is a complex and precisely drawn account of the inside of an upturned boat, half-wrecked, but turned into a shed. There is a rusty piece of farm machinery in the foreground and there are fish boxes beyond it. Here you do see a hint of the design tradition of Bawden and Ravillious, but his work is certainly not derivative and the atmosphere of Yell also breaks through this discipline. In some of the most impressive works here, like Mousa Broch IV and V, for example, or Papil Bay, Cullivoe, ink-wash and loosely applied colour cloud his precise line, just as stormy skies and seas confuse the wild Shetland landscape. Altogether these are very beautiful and distinctive works.
Meanwhile the Ingleby Gallery is putting a new work online daily in The Unseen Masterpiece, a title borrowed rather grandly from Balzac's Le Chef d'Oeuvre Inconnu. It is unseen certainly as it doesn't exist except online, but on the other hand it is seen if it is online, so it is a bit of a paradox. The show has been running for a month with work added each working day and will continue until lockdown ends and the gallery reopens. All the artists have been in the gallery's more conventional programme over the 22 years of its existence and the works chosen include some lovely things.
There is a drawing of flowers by Margaret Mellis done in crayon on the (scarlet) back of an envelope which is exquisite. There is a lovely Craig Aitchison and also a very nice homage to him in Craigie's Return by Andrew Cranston. A proposal for an unrealisable artwork by Katie Paterson, A Drawing Made from Ashes of Stars, has her characteristic poetic aspiration, but Merci Mercy, a drypoint by Louise Bourgeois, runs her close for economy. Other artists so far include Anya Gallaccio, Richard Long, Susan Hiller and Howard Hodgkin. But it is ongoing, so watch their space.
Ron Sandford until 13 June, www.fasedinburgh.com; The Unseen Masterpiece runs until the end of lockdown, www.inglebygallery.com