There are conventions in all literature that you have to accept. The first part of my favourite Scott novel, Redgauntlet, consists of 13 letters between two young men, one wandering around the Solway Firth, the other in Edinburgh. These letters run to more than a hundred pages. Nobody can think it likely that Darsie and Alan, writing with a pen dipped in the inkwell, exchanged letters of such length. Yet it is acceptable. One isn't troubled by the unlikelihood. The same goes for Angus Peter Campbell's enchanting new novel. It is ostensibly written in pencil by an old lady for her granddaughter in Australia. Three hundred and sixty-six improbable pages. But who cares? We happily accept the convention. The device works well, the narrator at liberty to go back and forward in time and place.
She was brought up in a village community in the Hebrides, a place rooted in the past, but not bound to it. The electricity of the title, coming decades ago now, was evidence of modernity, simultaneously a promise and threat. "I grew up," she writes, "the same time the electricity arrived… Dad feared the loss of the hearth and the fire. Mam knew what speed meant. It spoilt the making of things. She milked the cow gently because it made the milk creamier." But neither Dad nor Mum is ignorant of the world beyond the island. He was a merchant seaman when they met in Liverpool where she was a summer worker in a hotel. They spoke Gaelic in the family and the village, but were fluent English speakers too. In this they are like the author, Gaelic poet and novelist, English poet and novelist, like his schoolmaster-mentor Iain Crichton Smith.
There is a rich array of characters, as rich as in Dylan Thomas's Under Milk Wood. A particularly choice one is Dick the Shoemaker, a lover of proverbs, who no longer makes shoes because there is no need for it, since "everything comes in a parcel now" and "even fiddlers can buy their own shoes". There is indeed such a fine range of characters that, looking back, the old grandmother says "I sometimes wonder whether I made them all up. Except they're all too innocent to have been invented, for years later I met them again in Sardinia and Greece and in rural France". It's a nice thought that innocence can't be invented whereas knowingness can.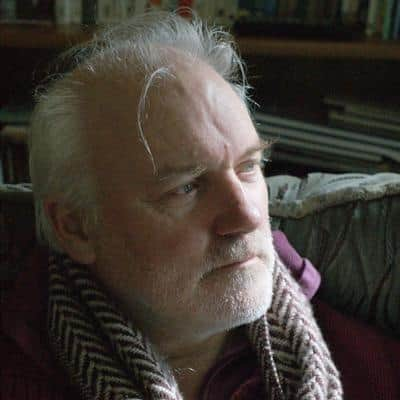 There's a knowing man here, a Campbell himself, in love with what's new, and eager to bring them all busily into the new age. He is, of course, a developer, keen to make money. He flies his own plane, drives a big car and believes complacently that he always drives a hard bargain. But in his misunderstandings, if not delusions, he is, I suppose, himself an innocent. Anyway, he is seen off and departs to flourish in Canada, where he became what is, to the narrator, a sad thing – that is, a millionaire.
In old age the grandmother looks back, fondly, to times of sadness as well as happiness, for she is an accepting person. There are memories of days as a student nurse in Edinburgh, then coping with troubled people, like the alcoholic who would go missing but would "always be located sitting on a bollard in Pittenweem harbour" where he had known happiness as a child. "We all," the narrator thinks, "want to preserve the moments of joy which are our life".
There is no plot as such, but there are many stories, some of which have endings, others – most of them – none. Anyway, as Scott asked, "what is the plot for but to bring in fine things?" and there are fine things aplenty here, without the trouble of a plot. Some stern readers may accuse Campbell of sentimentality, but sentimentality is false sentiment, and the sentiment here rings diamond-true. As Kurt Vonnegut put it, "you gotta be kind". This is a kind novel, and a very pleasing one.
Electricity, by Angus Peter Campbell, Luath, 366pp, £9.99