Book review: Shadow State, by Luke Harding
A third instalment of revelations about Russia's global interference might even have John le Carré scratching his head, writes Stuart Kelly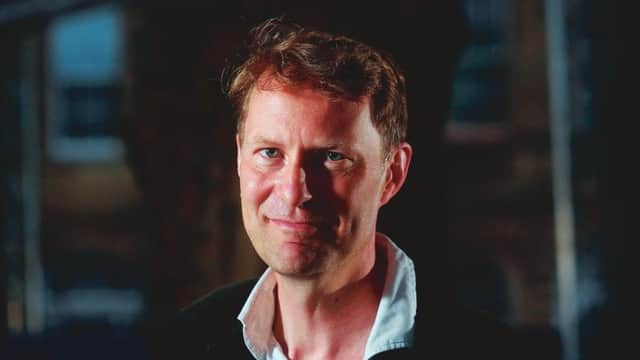 The late Iain Banks used to joke that reality got away with things that fiction would never attempt. This certainly holds true for Luke Harding's new book, subtitled, "Murder, Mayhem and Russia's Remaking of the West". Only the chasm between truth and – politely – made-up things has become so porous and frayed the reader is likely to leave this in a kind of dwam.
Harding has written before about the contemporary state of Russian activities, notably in his account of the murder of Alexander Litvinenko, A Very Expensive Poison, and in Collusion: Secret Meetings, Dirty Money, And How Russia Helped Donald Trump Win. Think of this as the third part, but the overwhelming feeling is that this is not a trilogy, but a story that will run on far after the election in November and beyond. I would think that the next volume of this unfolding grotesque masque is already in preparation. It is permissible, at this moment, to be slightly depressed.
The book begins with the attempted murder of Sergei and Yulia Skripal in Salisbury. At the time of writing I have not yet seen any of the TV drama, The Salisbury Poisonings, but I would like to register my disquiet at the whole affair becoming a kind of ersatz nostalgia, in a slot where one would usually expect to see DCI Barnaby and whoever is the sidekick these days dealing with something rotten at the golf club in Midsomer Mallow or the macramé class in Midsomer Worthy.
If there is a fault in Harding's book, I would venture that there is not enough space given to Dawn Sturgess, who did not recover from her exposure to novichok. The fact that her boyfriend found the fake, classy French perfume in a bin and thereby infected them tells a very bitter tale about quaint old Britain and its soaring cathedral spires.
But the Skripals are just the keyhole because the assassination (usually referred to as "bungled") is in so many ways odd. Skripal was not a high-profile target. The murderers did little to conceal their actions. The clumsy interview in Russia made many columnists gloat about how non-U these Soviet chancers were. This, as Harding perceptively and precisely explains, misses the point. In good journalistic prose he sets it out: "As one former MI6 officer reasoned, 'You can't conceal this. It was intended to be known.' The message of the Skripal affair, then, was directed at the British Government and its spy chiefs. It could be boiled down to two words: "F*** you."
From Salisbury, Harding pans out into the web of finance, espionage, organised crime, duplicity, speculation, arrogance and vulgarity that links Trump, Putin, Brexit, Marine Le Pen, Ukraine and any number of other "rogue" elements. There is almost a sneaking admiration for how Putin bested Trump at every turn. It seems that being an officer in the KGB is rather more useful than being a TV caricature when you wield power. Harding is especially good on the way in which the website Bellingcat – "digital detectives" according to a Tory MP – identified the killers as Chepiga and Mishkin, while GCHQ hoovered up data and delivered no results.
At least part of the whole unravelling that Harding enacts is the strange change in who operatives were. Most of Putin's favoured individuals were not the epigoni of Party high-brass, but kids from the sticks, provincials, the unfavoured. They were a double creature: both hungry with ambition and slavish in obedience. Harding uses words from the work of John le Carré as chapter headings – which shows he has taste – but not even le Carré could invent a figure like Yevgeny Prigozhin. A petty thief and bully, he was sentenced to 13 years in a penal colony. He "didn't bother to deny his crimes", a phrase which could be an alternative title to this book. From being Leningrad's first hot-dog stand salesman, to running elite restaurants, to catering for Putin and Chirac, to becoming a billionaire, to having a mercenary army and heading up a "troll farm" to sway elections: well, not even Dickens could conjure such a series of Machiavellian machinations.
Prigozhin exemplifies the problem Western agencies have with Russia at the moment. In the good old bad old days, at least it was about ideology: state-controlled Communism vs free-market capitalism. Those binaries have crumbled more than the Berlin Wall. Harding's book poses a fearful dilemma. It is said that not even the greatest chess grandmaster can always win a game against someone who doesn't know the rules and is just random. Chaos is what is wanted. And, on the basis of this excellent book, there are fissures for chaos to seethe in everywhere. Nobody with an IQ of over 35 can think that Trump is a deep political thinker. The fact that he was played so brilliantly by Putin is terrifying.
Maybe toad-overloads of the far future will pick this book up and slimily turn its pages wondering "What did those daft apes think they were up to?" We are now in the realm, as Harding puts it, of a world where you are "treason-like, or treasony, or treason-ish, or a treason-weasel". The barbarians, as Cavafy elegiacally said, "were a kind of a solution".
Shadow State, by Luke Harding, Guardian Faber, £14.99
A message from the Editor:
Thank you for reading this story on our website. While I have your attention, I also have an important request to make of you.
With the coronavirus lockdown having a major impact on many of our advertisers - and consequently the revenue we receive - we are more reliant than ever on you taking out a digital subscription.
Subscribe to scotsman.com and enjoy unlimited access to Scottish news and information online and on our app. With a digital subscription, you can read more than 5 articles, see fewer ads, enjoy faster load times, and get access to exclusive newsletters and content. Visit https://www.scotsman.com/subscriptions now to sign up.