It is more than 40 years since Salman Rushdie won the Booker Prize with Midnight's Children, a novel that has since been judged the best of all Booker winners. A fanciful, yet also factual, account of the early days of Indian independence, one that owed much in its employment of magic realism to Latin American fiction, it remains surely the best thing Rushdie has done. Well, there's no shame in never again matching an early novel. Hemingway never wrote another as good as The Sun Also Rises and, a more eccentric opinion, my grandfather found nothing Dickens subsequently wrote that matched The Pickwick Papers.
Rushdie's life story is well-known, notably the fatwa – death sentence – imposed on him by the Iranian Ayatollah which required him to live incognito with police protection for several years, and most recently the knife attack he suffered from a Muslim fanatic in New York. Throughout it all he has gone on writing, sometimes well, sometimes, especially in novels set in the USA, not so well. This new novel was completed before last year's attack, and is one of the richest and most exuberant books he has given us for some time.
It is set in medieval India – the 14th century in our reckoning – in the great empire of Vijayanagara, but it doesn't pretend to be a historical novel. No doubt much is rooted in history, but the treatment is fanciful and, one must say, self-indulgent.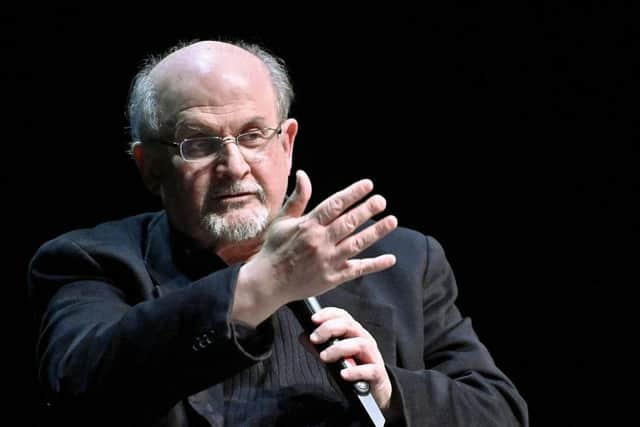 It purports to be a translation, happily abridged, of an epic poem by the Empress Pampa Kampana who lived for 200 years. Now this has been translated by one who protests that he is "neither a scholar nor poet but merely a spinner of yarns". You may choose to think the translator is Rushdie himself, and will be right to do so. There is history here, violent, haphazard and often improbable so that it may be thought a mediaeval Indian Game of Thrones, recounted with the utmost relish. There is humour often, the mellow humour of a writer who has looked cruel reality in the face and not only survived but emerged laughing. There is absurdity, and the absurdity is true to life. It has of course the weakness of all fantasy and all magic realist novels, and this is that when you, the author, can make anything happen as the whim or fancy takes you, it is difficult to make anything matter. This sprawling narrative is full of fun but what, if anything, does it signify?
"For those who like this sort of thing," Muriel Spark once remarked, "this is the sort of thing they will like". There are many who do like this sort of thing. The back cover of Victory City offers praise which might seem a bit over the top for Shakespeare or Tolstoy. Conversely, those who prefer their fiction better rooted in common – or indeed uncommon – experience will be unlikely to endorse one critical – or uncritical – judgement that "here we find an epic tale that brings us back to the key questions of what it is to be human, to be authentic, to love and to grieve".
For some, Rushdie is a great novelist, one of the very best English language ones of the last half century and more. For me, he is at best a splendid entertainer but one who leads you neither to think or feel. Having said this, I confess to an inability to like magic realism except in short and whimsical pieces. This may be my limitation, not the author's. It may be sour grapes. My one venture into to the field was the worst novel I have written. So I have never been the best or even fairest judge of Rushdie's novels. That said, I approve and admire his dedication to our art or craft, and the courage he has brought to his life and work. His energy more than four decades on from Midnight's Children is remarkable, his dedication to the craft of fiction wholly admirable. He may not be my cup of tea, but he has delighted thousands of readers. Victory City will delight them too. It is surely the best thing he has done in years. Even I can see that, and I applaud his persistence and vitality.
Victory City, by Salman Rushdie, Jonathan Cape, 338pp, £22