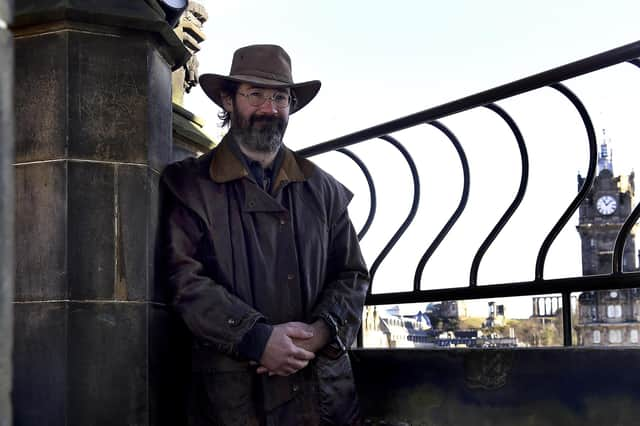 James Oswald's Inspector McLean novels are police procedurals set, mostly, in Edinburgh, which means that, in one sense at least, they belong to a now familiar genre, established or initiated by Ian Rankin and Frederic Lindsay more than 30 years ago. But, while the police work is meticulously detailed, Oswald has a more extravagant fancy than Rankin or Lindsay. All fiction is make-believe, no matter how rooted in reality, and much contemporary crime fiction presents us with a world as artificial and fanciful as the detective fiction of the so-called Golden Age of the crime novel.
What Will Burn begins with the brutal murder of a reclusive 90-year-old woman in her cottage. Her killers have been taught that she is a witch. It is just possible to accept that they believe this. It is more difficult to accept that she will have power beyond the grave. So one may say that Oswald has set himself a stiff challenge. How to make this credible? How, one soon finds, to do this when a series of bizarre but apparently accidental deaths follow?
The dead men have something in common. They have all been violent and abusive men who have been expelled from their marital home and denied access to their children. They are all nasty pieces-of-work and we are not invited to feel any sympathy for them. They are, however, being manipulated and enflamed by a lawyer called Tommy Fielding who has set up what he calls "Dads' Army," ostensibly defending their rights. Fielding is a satisfactory villain, and Oswald, faithful to one of the conventions of the Scottish crime novel today, gives him friends in high places; he plays golf with the chief constable, and what is his connection to Lord Bairnfather, the nephew of the murdered recluse?
McLean, returning from suspension, is assigned to the investigation of her death. He is also trying to manage a difficult and at times embarrassing relationship with his new chief superintendent, Gail, a beautiful, rather too tactile woman who has come to Edinburgh from the Met in London. You would have to be an inexperienced reader of today's crime fiction not to surmise that she probably has previous with Fielding.
Nevertheless all the police procedural side of the novel is admirably done. McLean's relations with other officers are convincingly natural and credible. He is recognised as an unorthodox officer, but also as one who is liked and respected.
The challenge Oswald has set himself is how to combine McLean's routine, if at times perplexing, investigation with his witch theme. It is credible that the misogynist Fielding should call women "witches" and persuade his dim acolytes that they wield a malign power, but when we learn that a body of women identify themselves with the old women persecuted and killed as witches centuries ago, and that the murdered old woman exercises a powerful influence from beyond the grave, credulity flies out of the window. In short, the novel is broken-backed, its two strands of a very different order.
This isn't to say that the novel isn't enjoyable. It is. Even the hocus-pocus is good fun, and Oswald develops his narrative pleasingly and with a professional zest. Individual scenes are excellent, the evocation of a changing Edinburgh pleasing. The story carries you along at a good pace, but one also slow enough to let you cherish the details, even if a few moments of carelessness might have been avoided by more careful editing. (You can't, for instance, take the ashes away immediately after a cremation service.)
However, the novel's weakness lies not only in the extravagantly improbable witch theme and the fact that this tends to smother much that is well-perceived, well-imagined and rings true to common experience. It is more serious than that. Like much contemporary crime fiction, this is a novel where murder doesn't really matter. It is an occasion for thrills, as in the most extravagant Jacobean drama – Kyd's Spanish tragedy for example – or a Tarantino movie. But the best crime writers don't allow us to forget the enormity of murder. Crime novels are entertainment, but they can, and should, go deeper than offering thrills. This is very much to the point when a novelist is as talented and engaging a writer as James Oswald unquestionably is.
What Will Burn, by James Oswald, Wildfire, 457pp, £16.99
A message from the Editor:
Thank you for reading this article. We're more reliant on your support than ever as the shift in consumer habits brought about by coronavirus impacts our advertisers.