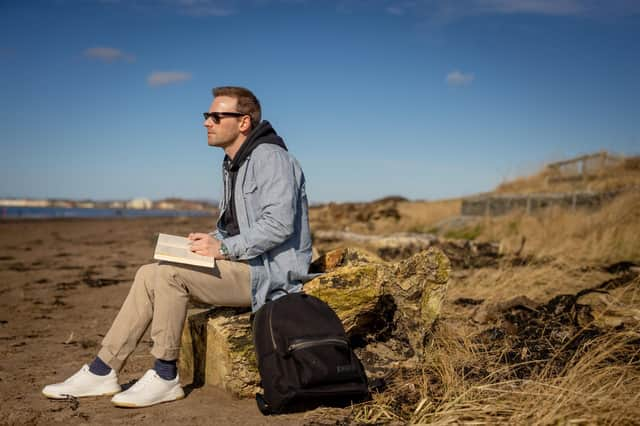 Often, the surface of the North Sea looks flat, while there's turmoil beneath.
That might be an appropriate metaphor for what Glasgow-based Gary Ferguson, 34, has gone through. He was once a mine clearance diver in the Royal Navy and currently works as an offshore saturation diver for the oil industry.
Ferguson even appeared briefly in the Netflix documentary, Last Breath (2019), which features his colleagues and a supply ship he's worked on previously.
He's the sort of person you might imagine to be completely stoic.
Indeed, he's never had any trouble doing the job, but, underneath, he has suffered from anxiety and PTSD for years.
That's something he had to tackle himself, using various methods, from positive psychotherapy to breathing techniques. However, it was writing down his thoughts and feelings that made the most significant difference, so he recently created and self-published something called the Combat Journal.
It contains exercises and tips, all presented with graphics including targets, as it was originally aimed at veterans and army personnel.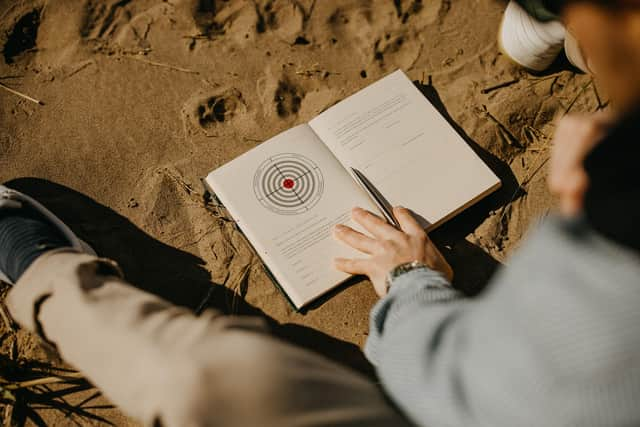 "My main goal is to make a massive impact on the stigma around mental health. I think we've sort of been almost tiptoeing around the topic for too long now and almost waiting for it to go away. We have to do something very big and fast and hard," says Ferguson, who has recently qualified as a Cognitive Behavioural Therapy (CBT) practitioner and life coach.
At the moment, he's also thinking of promoting the journal as a wellbeing tool for businesses to give to their staff.
Although the author has had some degree of anxiety since he was a child, his lowest period was when his best friend died in a car crash. At the time, Ferguson was only 18-years-old and training in the Royal Navy and his superiors advised him not to go to the funeral in his hometown of Tarbert, Argyll.
"I think back on that time quite a lot and I was just shocked and surprised. I was never really asked how I felt after I received the phone call. I was given a little bit of time out of my training to call them and talk to Alasdair's mum and she asked me if I would be one of the pallbearers," Ferguson says. "When I got off the phone and spoke to my instructors, they recommended not to go and I didn't really understand. My mum, God bless her, you know, she just felt as if she was doing the right thing. But nobody at any time asked me what I wanted. I would have liked to have gone to the funeral and then come back".
After this experience, Ferguson suffered a cocktail of guilt, grief and frustration. He kept most of these feelings bottled up, partially because there was nobody to share them with.
"I did suffer a lot in silence. Of course, my colleagues were pretty great. I think they understood that it wasn't personal, but I was going through something and needed a bit of time. I secluded myself a little bit and wrote a letter to apologise for not being at the funeral as if it was my fault," Ferguson says. "And then, because I'm from a small village, you feel the whispers. I felt as if people were maybe questioning how much of a friend I was to Alasdair. Maybe they thought I was thinking I'm too good for him, because I am off doing bigger and better things, but that wasn't the case at all. It stuck with me and I had a lot of regret".
Despite this, Ferguson continued to cope.
It wasn't until he turned 30 years old that he self-diagnosed anxiety based on his chronic symptoms. As he says, "I would feel almost a shock wave and a sudden rush of energy before the sweaty hands and uneasiness started".
His recovery began when he started to acknowledge these sensations, and write down what he was feeling. Then he could make sense of his triggers, and examine or release certain thoughts.
"I was just so amazed by how my own personality began to grow, just because I was talking to myself on a deeper level," he says.
After this period, Ferguson took some time out from work. At an event, a veteran who was suffering from PTSD and depression, told him about various Facebook groups that supported ex-army personnel with mental health problems. Ferguson joined a few of these, and discovered how endemic the problem really was.
That was the motivation to produce the journal, which incorporated six-months worth of the self-help techniques that Ferguson had picked up along the way. He kept the format structured and simple as he "didn't want it to feel too much like homework". It seems that the key to results is to stay consistent.
"Complications might take you away from journaling at some point and then you maybe you forget about it and somebody jumps in front of you in the queue at Tesco or cuts you up on the motorway or you don't get that promotion that you deserved at work and those feelings come rushing back because you've never actually dealt with them," says Ferguson. "That's what I want you to tackle head on, to help look a little bit deeper within yourself. Listen to your inner monologue and, and deal with certain issues, feelings or emotions".www.combat-journal.com