Aidan Smith on TV: When real life is more gripping than fiction
Townsfolk gripped by panic. The director of public health thrust centre-stage. The emergency services resembling sci-fi extras in their bodysuits and masks.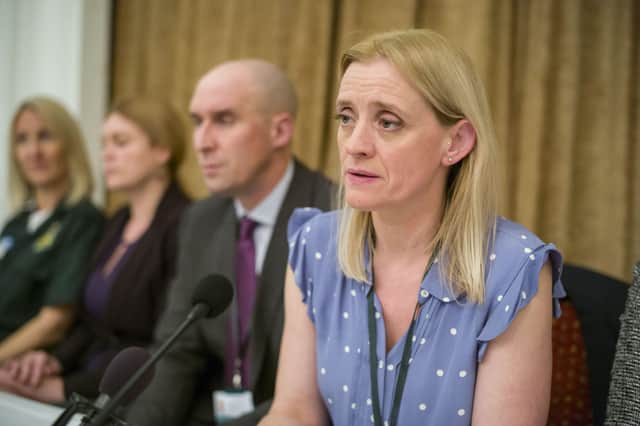 Politicians slow to react, reluctant to admit to a crisis. Shops and restaurants angry at the enforced shutdown. Calls for track-and-trace. When will it end? No-one knows.
There are times during The Salisbury Poisonings when just about the only difference between this exceptional BBC1 drama and real life these past few months is that no-one uses, then overuses, the word "unprecedented".
Oh, and no-one runs out of toilet roll.
The writers, Adam Patterson and Declan Lawn, don't sensationalise. A town nicknamed "Smallsbury" invaded by a deadly poison? A M16 agent and his daughter left fighting for their lives, followed by a police detective, the latter simply from touching a door handle? Vladimir Putin implicated? They could let the story from back in 2018 tell itself.
Anne-Marie Duff plays the health director, Tracy Daszkiewicz, who throws herself into the crisis – indeed seems to have been fired by cannon. She is soon sleeping in her office and forgetting to collect her son and there's little danger of her nipping off to a holiday home or driving to a castle.
Rafe Spall is the stricken policeman, Detective Sergeant Nick Bailey, and Annabel Scholey his wife. Scholey was last seen in the frivolous The Split, playing the most frivolous of the divorce lawyers, Here she gets to properly act; everyone does. But no-one overacts.
What must residents of the Wiltshire cathedral town have felt as fear and alarm returned to their streets during the pandemic? What must they have felt seeing the Novichok episode recreated on TV? But this is a human drama, not a spy drama.
The funeral scene where the daughter of the nerve agent's only victim, Dawn Sturgess (played by MyAnna Buring), tells mourners she was a great mum, correcting reports painting her as an addict and wastrel, is almost unbearably, unwatchably sad. In the coda we learn what's happened to the main players since: a promotion for Dasziewicz, a reunion between estranged brothers, Bailey still trying to recover and be a good copper. You hope the real Smallsbury approves.
It's 50 years since Britain's first topless newspaper pin-up made her debut and five since the last of her successors was ordered to put her clothes back on. Page Three: the Naked Truth (Channel 4) tells the story of "a very British institution", the whopping fame it brought some of the girls, the outsized fibs tricking others into disrobing and the Double D cups of tears cried when scandal hit.
One girl's reminiscence of her first time in a photography studio sounds like the caption for a saucy seaside postcard: "I thought the wind-machine was for my hair but of course it helped with the nipples."
Innocence gives way to gobsmacking naivety in the tale of the girl persuaded to be snapped topless with her mother – "As a present for Dad, which did sound odd" – only for the shot to turn up at the breakfast table with the bacon and eggs. Another was promised her photo would be kept back until she'd left school; it wasn't and she was expelled. Ah, but press baron Rupert Murdoch was only "giving the public what they wanted".
So ladies, were you exploited? Many loved the glamour. Keeley Hazell – "the last of the great Page 3 girls" – couldn't afford £1.99 for chicken and chips before she stripped off and today can only afford a top Los Angeles acting school because she did. Samantha Fox? She's still enjoying a singing career off the back – or should that be frontage – of her reign as one of the three most-photographed women in Britain alongside Margaret Thatcher and Princess Diana. "Touch me," implores her biggest hit. Sorry, but we're still social-distancing.
In the wake of Nicola Sturgeon's edict maintaining lockdown it will probably seem like a whole year in captivity before release finally comes. So is that why you lot have been watching 365 Days, Poland's Fifty Shades of Grey, sending it thrustingly and gaspingly to the top of the Netflix charts?
This is a truly terrible film and I must apologise to the First Minister for mentioning her in the same breath. She is not shackling us like the Mafioso dude shackles the woman he kidnaps in Rome, vowing that before those 365 days are up she will have fallen for his muscles, yacht, private jet, tattoos, whispering voice, black credit card, continual absence of a shirt, and helicopter, plus the promise that when they eventually shag it will be so sensational "they'll hear you scream in Warsaw".
So bad it's nearly good? Well, his victim tries to resist like this: "I'm not a bag of potatoes you can transport without permission!" At that she must have heard me laugh in Edinburgh.
Comments
 0 comments
Want to join the conversation? Please or to comment on this article.