Aidan Smith's TV week: Maternal (ITV), The Last of Us (Sky Atlantic), Very Nearly an Armful (Gold)
The big, flashy new drama of the TV week is The Last Of Us but your reviewer finds Maternal more relatable. Even if I've never had sex on the Heathrow Express.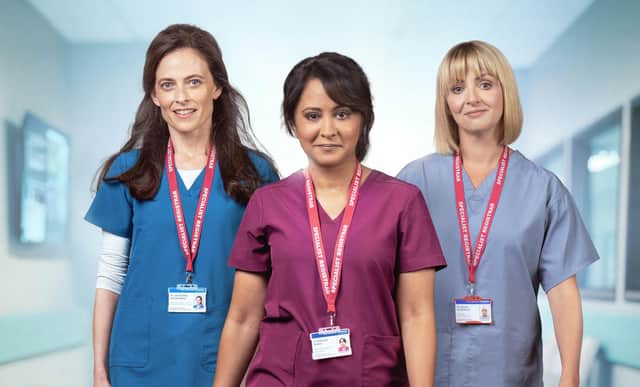 Disrupted sleep. Stumbling out of bed and impaling a foot on a jaggy plastic toy. Breakfast bickering with the spouse. The guilt of the nursery drop-off as the tiny screams intensify. Then, back at home later, wondering how long you're going to be reading "the f****** Gruffalo" as you wolf down supper - a bowl of cereal accompanied by a large glass of wine.
Maternal (ITV), written by Jacqui Honess-Martin, gets to the heart of modern parenthood and in particular working-mum angst as a trio of medics return to their jobs at a post-pandemic NHS hospital - Catherine, a surgeon, played by Lara Pulver, paediatrician Maryam (Parminder Nagra) and Helen (Lisa McGrillis), a registrar in acute medicine.
Eyes may be tired through lack of sleep but Maternal's observations are as sharp as those in Motherhood. There are distant echoes of that terrific comedy, too, as Helen's cheating husband looks not dissimilar to the plonkerish other half of Anna Maxwell Martin's character. And Catherine's mother - too busy with pilates and pottery and, er, "Nordic walking" to babysit - is another Granny Horrible like Joanna Lumley.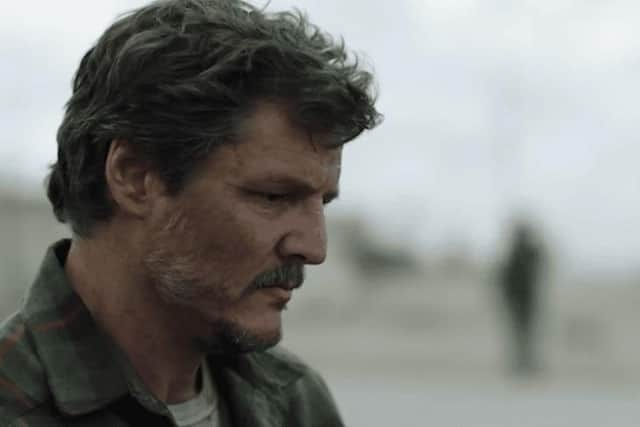 I'm also reminded of Cardiac Arrest - Line of Duty showrunner Jed Mercurio's TV debut for BBC Scotland - in the use of black humour and hospital storerooms for knee-tremblers. It's Catherine who's involved here, as it was on the Heathrow Express. Twice on the train, apparently, as she recounts a frantic tryst.
Now, I know this service. I may have been a mere passenger rather than a thrill-seeking contortionist but the journey from Paddington to the airport is short. Twice … in the same 15 minutes?
Anyway, her co-commuter is the father of her baby girl. Although, hang on, it could be the doc from the storeroom. The show moves deftly from comedy to life-or-death, which is a clever trick. One minute there's a case of swollen testicles (Patient, with a strange sense of pride: "Have you seen any that are bigger?" Helen, deadpan: "The biggest today."). The next minute Maryam has to be pulled from her refresher course and plunged right back onto the frontline. In the face of chronic staff shortages this proves to be a grave error. There may be more tragedy to come but Maternal, over muesli and Merlot, is engrossing.
It's not difficult to find Maternal a more empathetic show when Sky Atlantic's The Last of Us concerns a total zombie takeover. In reality, there hasn't been one of them for ages.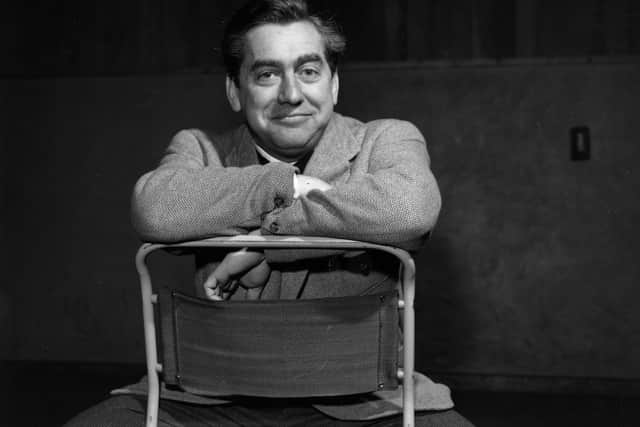 What, I don't like horror fantasy? Not really, which is why, when Pedro Pascal turns up as the hero I go "Ah, it's Javier from Narcos" rather than remember, or even know, that he was also in Game of Thrones.
This is a post-apocalyptic thriller adapted from a video game, which should be another reason for me to be underwhelmed, but The Last of Us begins thrillingly as an old dear who hadn't looked like she'd moved off her Texas front-porch since Ronald Reagan was president is suddenly charging around, blood-soaked and demented with a clump of something strange sprouting from her mouth, while up in town there's even more mayhem as folk beyond saving are bagatelled by fleeing cars and a crashed 747 explodes.
All of this would doubtless look even more impressive on the giant TV I don't own. But The Last of Us can't only be SFX. What is the human story, never mind the sub-human one? Pascal is Joel, a Desert Storm vet and construction worker who escapes the vicious fungus threatening to zombify the entire planet in 2003 then turns up 20 years later in a quarantine zone in Boston.
In Narcos Pascal was a drug enforcement agent battling murderous foes, seemingly unstoppable and with the power to regenerate, and it's a bit like that here. But the zone isn't much fun either. "Report coughing, slurred speech, mood changes" demand notices on the walls, which will probably mean you're infected, and there are public hangings daily for those who offend.
An 11-year-old girl (Bella Ramsey, also from Game of Thrones) would seem to hold the secret of how to destroy the virus and she and Joel must embark on an odyssey across a desolate, devastated America. If this sounds a bit like the premise for Cormac McCarthy's The Road then the video game's creator Neil Druckmann, who's teamed up with Chernobyl creator Craig Mazin for the telly version, acknowledges the book as an inspiration. That journey has not yet begun so regarding The Last of Us, we may yet experience the best of it.
You wonder what Tony Hancock would make of the tribute Very Nearly an Armful (Gold). No fan of the stating of the bleedin' obvious, probably not very much, as a motley gathering of talking heads, comics themselves, utter self-evident truths about his genius.
And being a traditionalist, what about the colourisation of The Blood Donor? I like it: you see his Homburg in grey, his tie in burnished orange, the blue starched uniform of Nurse June Whitfield, her lips pursed pink when the Lad Himself blusters. Of course those classic lines need no embellishment: "I did not come here for a lecture on communism, young lady! … Last one in the Reichstag's a cissy! … A pint? That's very nearly an armful!"
Comments
 0 comments
Want to join the conversation? Please or to comment on this article.