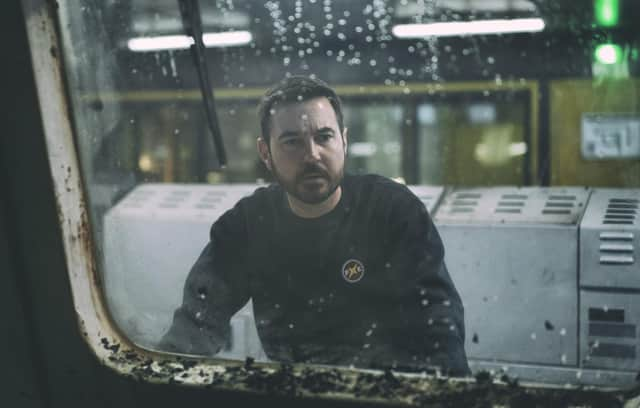 Which, wouldn't you know it, is the setting for his latest drama The Rig (Amazon Prime).
Compston plays Fulmer, part of the crew of the Kinloch Bravo, a formidable metal beastie seemingly unperturbed by the waves gurgling and churning below, but before long our hero is feeling claustrophobic in Scottish waters, just like in the submarine thriller Vigil.
Rig-based shows are tricky things: how to make the offshore existence look real? Many moons ago, The Troubleshooters used a lot of stock footage and I don't remember BBC Scotland's mid-1990s Roughnecks effectively plonking me, the viewer, on a giant Meccano-esque structure bestriding the briny.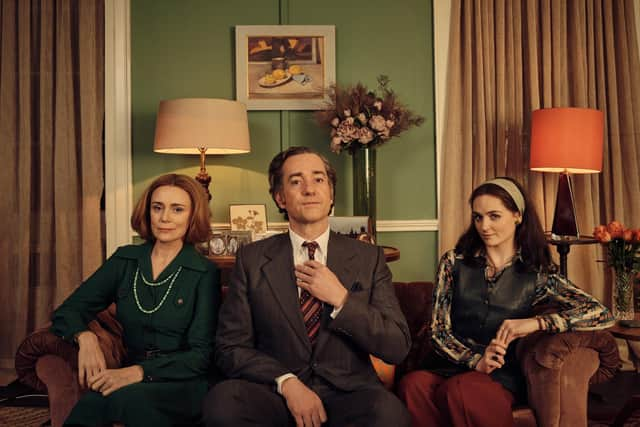 But The Rig does and I don't know how. It was filmed in Leith but never properly left the port. And how have the special-effects boys homaged John Carpenter's The Fog? The murderous mist which envelops the platform at the end of the first episode is not simply east coast haar.
At first the TV works and there is radio contact. The riggers in downtime play pool and video games while waiting for their shore leave. They banter and josh, the women giving as good as the men. Are there books to read? Oh yes: John Wyndham's The Kraken Wakes, classic apocalyptic sci-fi about an alien invasion, beginning with fireballs falling into the sea. Sounds ominous? You bet.
The script, heavy on the supernatural, is by TV debutant David Macpherson. The crew include Scottish dependables Iain Glen (the boss) and Emun Elliott plus Owen Teale with whom Compston tangled in Line of Duty and - from left field - Schitt's Creek Girl Friday Emily Hampshire who never wore make-up in that great comedy but as a ball-breaking American anxious about productivity she struts around in a flash of scarlet lippy. Until she snogs Compston, that is.
Our hero - if Compston will ultimately be hailed as heroic; I hae ma doots - proves himself adept at the rig acronyms SPV and FRC which you'd expect after Line of Duty. Almost as omnipresent on our screens these days is Mark Bonnar. As Alwyn, he gets to more or less impersonate Star Trek's Scotty, possibly a lifelong ambition, when the platform starts to shoogle. "It's kicking!" he hollers. Can the Kinloch Bravo take the strain? "Borderline!" But Bonnar's most telling remark - maybe the most telling of the entire series - is: "If we keep punching holes in the earth, eventually it's going to punch back."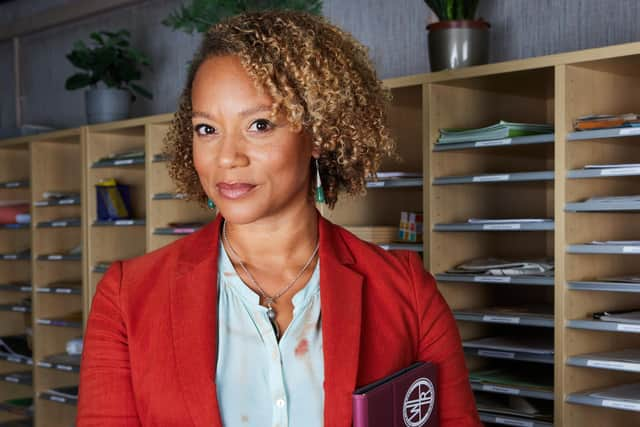 At any other time in political history, Stonehouse (ITV) for those who don't know the story would doubtless prompt shock and awe. But immediately after 2022, Johnson, Truss and all the madness? Not so much.
So what else does this have going for it? Well, Matthew Macfadyen is an absolute hoot as John Stonehouse, the Labour MP for Walsall North who in 1974 faked his own death by leaving his clothes on a Miami beach.
Apparently, this was a very mid-70s thing to do, along with drinking wine from funny-shaped bottles (Mateus Rose). And if you didn't know, you'd think Stonehouse's desperate act was very Reggie Perrin. Middle manager for Sunshine Desserts/Postmaster General in Harold Wilson's government. Love their wives but fantasise about their secretaries. Suffer crack-ups provoked by the pointlessness of puddings/politics. But the Leonard Rossiter comedy (1976) wasn't inspired by Stonehouse nor vice versa, as the original book was written, but unpublished, before the latter then took off to Australia.
This is a comedy, too, a jaunty tale from John Preston who also penned A Very English Scandal about the equally bizarre downfall of Jeremy Thorpe, with parping Pink Pantheresque horns on the soundtrack as Macfadyen bumbles around with a similar amount of befuddlement to his character in Succession.
Indeed, Stonehouse probably out-bizarres Thorpe given his bonkers get-rich-quick schemes (Cognac for Connoisseurs, Asbesto Oven Mitts) and the fact that in Oz he's cornered by the cops on suspicion of being the recently-disappeared Lord Lucan. This actually happened but what might be fiction, though equally amusing, is the pickle he gets himself into in Prague. The victim of a honeytrap, secretly filmed mid-bonk, he's required to pass classified intel to the Czech secret police but is told by his exasperated handler: "You're the worst spy I've ever encountered!"
Macfadyen's wife Keeley Hawes plays Mrs Stonehouse, perched by the phone awaiting news of her husband before an awkward period of cohabitation with his lover, and Kevin McNally is Wilson, the PM with a majority of one, entirely dependent on "someone who's off his rocker or pretending to be off his rocker - or else sufficiently off his rocker not to be able to tell whether he's really off his rocker".
During lockdown there were rare, sweet moments of our family watching TV together. Waterloo Road (BBC1) was a big favourite among the kids until the body count mounted and my wife and I decided we didn't want our youngest daughter suffering nightmares in case she would one day be allowed back to school.
A fansite totalled 23 deaths before this revival with Kim Campbell promoted to head teacher and confronted by cancel culture, the discovery of a fugitive sleeping rough in the boiler room, a full-scale riot … oh, and death No 24.