The start to the 2021 Formula One season is just around the corner.
Fans of F1 are gearing up for the new season which will see reigning champion Lewis Hamilton take to the drivers' seat of Mercedes once more.
British driver Hamilton claimed a seventh world title in 2020, after winning 11 of the 17 races, and has a record number eight in his sights for the 2021 campaign.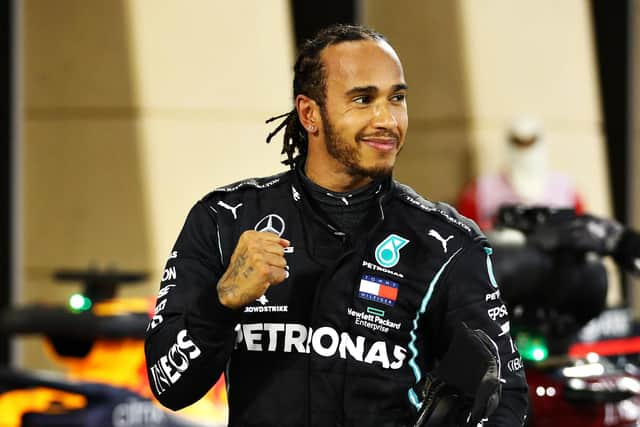 Check out the full schedule for the entire 23-race calendar - as well as drivers, teams and how to watch the action unfold on TV and online.
When is pre-season testing?
Due to restrictions amid the Covid pandemic, pre-season testing has been limited to just three days at the Bahrain International Circuit from 12-14 March.
It'll look and feel very different for the drivers and all involved who have become accustomed to 12 days testing in Barcelona in recent years.
When does the F1 2021 season start?
There have been many changes to the F1 calendar already, not limited to pre-season testing, which will mean a change in venue for the opening weekend's racing.
Australia has been pushed back from its traditional season opening position, which will see the drivers compete in Bahrain to raise the curtain on the 2021 campaign.
Round 1 – Bahrain Grand Prix (26-28 March)
Round 2 – Italian Grand Prix (16-18 April)
Round 3 – Portuguese Grand Prix (30 April-2 May)
Round 4 – Spanish Grand Prix (7-9 May)
Round 5 – Monaco Grand Prix (20-23 May)
Round 6 – Azerbaijan Grand Prix (4-6 June)
Round 7 – Canadian Grand Prix (11-13 June)
Round 8 – French Grand Prix (25-27 June)
Round 9 – Austrian Grand Prix (2-4 July)
Round 10 – British Grand Prix (16-18 July)
Round 11 – Hungarian Grand Prix (30 July-1 August)
Round 12 – Belgian Grand Prix (27-29 August)
Round 13 – Dutch Grand Prix (3-5 September)
Round 14 – Italian Grand Prix (10-12 September)
Round 15 – Russian Grand Prix (24-26 September)
Round 16 – Singapore Grand Prix (1-3 October)
Round 17 – Japanese Grand Prix (8-10 October)
Round 18 – United States Grand Prix (22-24 October)
Round 19 – Mexican Grand Prix (29-31 October)
Round 20 – Brazilian Grand Prix (5-7 November)
Round 21 – Australian Grand Prix (19-21 November)
Round 22 – Saudi Arabian Grand Prix (3-5 December)
Round 23 – Abu Dhabi Grand Prix (10-12 December)
Who are the 2021 F1 drivers and teams?
Mercedes - Lewis Hamilton and Valtteri Bottas
Red Bull - Max Verstappen and Sergio Perez
McLaren - Daniel Ricciardo and Lando Norris
Aston Martin - Sebastian Vettel and Lance Stroll
Alpine (Renault) - Fernando Alonso and Esteban Ocon
Ferrari - Charles Leclerc and Carlos Sainz
AlphaTauri - Pierre Gasly and Yuki Tsunoda
Alfa Romeo - Kimi Raikkonen and Antonio Giovinazzi
Haas - Nikita Mazepin and Mick Schumacher
Williams - George Russell and Nicholas Latifi
Where can I watch the 2021 F1 season on TV?
Every practice, qualifying and race will be aired live on Sky Sports' dedicated Formula One channel SkySports F1.
Sky customers who subscribe to the channel will get unprecedented coverage of the entire 2021 season and all the twists and turns that go with it.
Sky Sports F1 costs £18 per month to add as an individual channel for customers, while the complete sports package costs £23 per month.
How can I stream the 2021 F1 season?
Existing Sky Sports customers can stream all 23 races through the Sky Go app on various digital devices, including phones and tablets.
Non-Sky customers can opt for a day, week or month pass of Sky Sports channels through NOW TV without committing to a contract.
The cost of NOW TV passes vary from £9.99 for a day pass to £33.99 for a month pass and can be streamed through the NOW TV app.
The NOW TV app can be found on most smart TVs, as well as phones, tablets and computers - depending on your viewing preference.