Film reviews: Never Rarely Sometimes Always | Beastie Boys Story | The Atom: A Love Affair
In Never Rarely Sometimes Always, Sidney Flanigan excels as a poor teenager trying to get an abortion in contemporary America, while Spike Jonze finds the Beastie Boys in reflective mood in his excellent documentary of their lives and career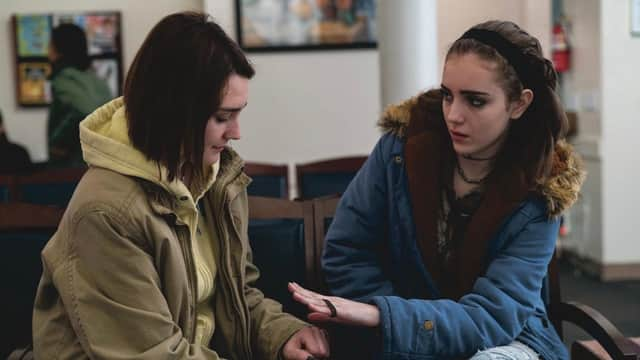 Never Rarely Sometimes Always (15) ****
Beastie Boys Story (N/A) ****
The Atom: A Love Affair (N/A) ***
Tracking a high school student's struggle to a get an abortion in present day America, Eliza Huttman's third feature, Never Rarely Sometimes Always, sees the New York-based filmmaker come into her own with a brilliantly subtle slice-of-life drama about a young woman's rapidly shrinking rights over her own body. Taking a reassuringly complex approach that eschews melodrama and any hint of didactic point-scoring, this isn't a hectoring social issue movie, but a carefully observed and detailed character study that reflects the truth of the wider world in the way its introverted 17-year-old protagonist responds to it.
Upon discovering she's pregnant, for instance, Autumn Callahan (newcomer Sidney Flanigan) googles how to induce a miscarriage and repeatedly punches herself in the stomach, a terrible image that Huttman uses to presage the emotionally bruising experience Autumn will soon endure as she seeks to terminate her pregnancy without her parents' knowledge or adequate funds to do it safely. Here, the film is very good at implicitly conveying the lack of options for an outsider like Autumn. Her need to escape the stifling environs of her small Pennsylvanian home town is apparent from her grimly ironic participation in the high school talent show that opens the movie, and Huttman carefully expands this to show how Autumn's unwanted pregnancy suddenly puts her at the mercy of a social system already rigged against her because she's a young working class woman.
That plight intensifies when her local women's health clinic's faux concern for her wellbeing necessitates her travelling to New York for the abortion she's in no doubt about having. Arriving in the city with Skylar (Talia Ryder), her cousin and confidant, they soon discover the meagre savings they've scraped together from their part-time supermarket jobs won't get them very far, especially after a further bombshell ratchets up the urgency of Autumn's situation. As they negotiate this largely unsympathetic urban landscape, the film delivers gut punch after gut punch, and yet, through it all, thanks in no small part to Flanigan's performance, we gradually witness this quietly resilient girl finding the strength to deal with it all. In this respect it's structured less as a coming-of-age movie and more like a prison-break movie. In fact, Huttman has said in interviews that she drew on Robert Bresson's Second World War-set A Man Escaped for inspiration and there's certainly a parallel in the way Autumn repeatedly has to overcome the restrictions people place in her way in her determination to escape to freedom from a life she doesn't want.
But Never Rarely Sometimes Always also belongs to the great neorealist tradition that started in post-war Italy but which has, in the years since, evolved into a kind global cinematic response to economic marginalisation. And while there's always a tendency to reference European or Iranian cinema when looking for contemporary examples (the films of the Dardenne brothers, say, or Asghar Farhadi or, especially in relation to this film, Cristian Mungiu's nightmarish Romanian abortion drama 4 Months, 3 Weeks and 2 Days), there has also been a small but notable swerve towards neorealism in American independent cinema over the last decade-and-a-half. Watch the collected works of such disparate directors as Kelly Reichardt, Debra Granik, Chloé Zhao or the frantic crime-inflected cinema of the Safdie brothers and you'll see films united by a willingness to chronicle America's underclass with a rawness and compassion absent from both mainstream Hollywood and the polished worthiness of all that boring Oscars bait. Theirs is a cinema of everyday crisis because in America every day has the potential for crisis when there's no safety net to catch those falling through the cracks – a point Never Rarely Sometimes Always articulates beautifully and with harrowing precision.
For his first feature length film since 2014's masterful Her, Spike Jonze reunites with the Beastie Boys, the New York hip-hop trio whose playful irreverence he captured in his landmark video for their 1994 hit Sabotage – still the greatest music video ever made. In the career exploring Beastie Boys Story he and surviving members Adam Horowitz and Mike Diamond (founding member Adam Yauch died of cancer in 2012) abandon standard documentary procedure in favour of liveness, capturing the final night of the Beastie Boys' 2019 shows, which they conceived as a kind of touring memoir, walking and talking their fans through their vast archives to tell the personal history of the band: from their origins as punk kids running wild in New York in the early 1980s, through the controversy laden aftermath of their multimillion-selling License to Ill album, to their re-birth as an innovative hip-hop crew determined to control their own legacy. It's an exhilarating ride, full of insight, humour and contrition. It's also a moving tribute to Yauch, who emerges here as the band's creative guru, having pushed them to find new sounds, new visuals and new ways of being genuinely better people.
The curious history of the world's flirtation with nuclear energy is the subject of new documentary The Atom: A Love Affair. Exploring the industry's various efforts to shake off the safety concerns that have dogged it since its inception, it offers an entertaining and informative primer on a controversial industry's ongoing ability to charm politicians while a suspicious public remains unwavering in its scepticism. ■