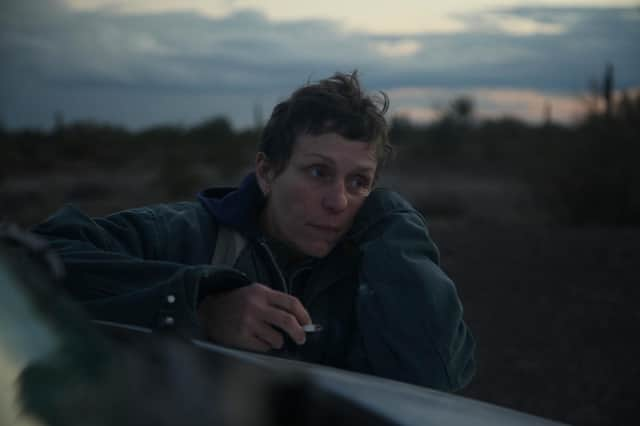 Truman & Tennessee: An Intimate Conversation (N/A) ***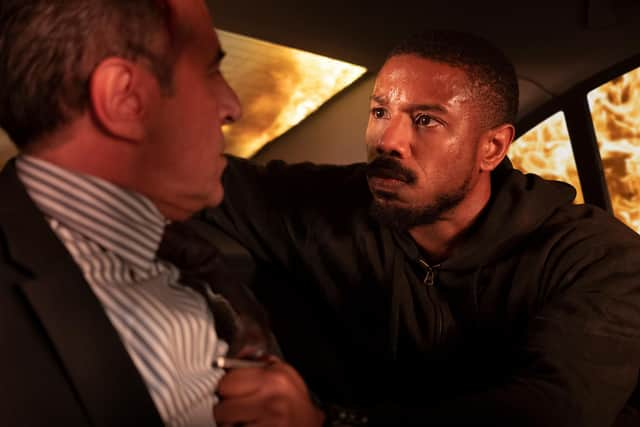 I'm not homeless, I'm houseless," says Frances McDormand's Fern early on in Chloé Zhao's remarkable, Oscar-conquering Nomadland. That's a key distinction in this quiet, subtly haunting character study about a middle-aged widower (McDormand) traversing the US in a custom-fitted van as she tries to eke out a living from seasonal work in a country with no safety nets. Having lost her husband, her job, her home and even her town in the wake of a factory closure — the film opens with an epigraph explaining how the real town of Empire, Nevada had its postcode discontinued in 2011, six months after its main employer for 88 years, US Gypsum, shut its plant — Fern has chosen to try a different way of living rather than struggle on as part of a debt-inducing economic system that can reduce life to meaningless drudgery.
We first meet her when she's still relatively knew to this transient lifestyle and while it's clear from the start the film isn't going romanticise or sentimentalise her new way of living as some kind of spiritual journey of self-discovery, it's also not going to be a didactic, Ken Loach-style tirade against the ravages of capitalism. Zhao — who broke through with The Rider in 2018 — works on a subtler register, bringing a kind of poetic realism to her shooting style that allows her to integrate elements of documentary and fiction and get to the emotional truth of her characters far more effectively. This is a film about a woman gradually letting go of her old life and Zhao — adapting Jessica Bruder's non-fiction book of the same name — uses this arc to quietly dramatise how the reality of the gig economy has caught up with the baby-boomers who are often naively thought to be the only remaining beneficiaries of whatever vestiges of the American Dream still exist.
As Fern meets fellow travellers on the road, Zhao has many of these real life, ageing nomads play versions of themselves and in the process shows people at their best and most compassionate, their hard-scrabble, day-to-day existence both of a piece with and standing in marked contrast to the magisterial landscapes of which they're now a more intimate part. Here McDormand (and later, David Strathairn, cast as a fellow traveller with whom she forms something of a bond) disappears into the role. There's nothing actorly or movie-star-like about her performance; she exists in the moment yet puts her dramatic skills to use to give us a full sense of who this woman is from what she carries with her and what she discards. And it's this Oscar-winning performance, as much the wide-open vistas Zhao and her cinematographer Joshua James Richards capture, that makes Nomadland a truly big screen experience.
One of the best scenes in Marielle Heller's Can You Ever Forgive Me? revolved around unsuccessful biography writer turned literary forger Lee Israel bitterly calling out a colleague for securing Tom Clancy a $3 million advance for "more Red-baiting propaganda". With Putin having made Russia a major enemy on the world stage once more, that jingoistic element of Clancy's work perhaps explains Hollywood's ongoing efforts to transform his thrillers into movie franchises, despite general audience indifference (there's a reason four different actors have played Jack Ryan across five different Jack Ryan movies over the years). Without Remorse is the latest attempt and serves as an origins story for what is, apparently, Clancy's second most famous character: the unmemorably named John Clark (Creed-star Michael B Jordan), a US Navy SEAL whose pregnant wife is murdered in retaliation for a covert mission in which his team has unwittingly been used by the CIA to neutralise a Russian terrorist. Retrograde plot motivation established, Clark (or rather John Kelly as he's known at first), soon goes rogue to avenge his wife, get some answers and prevent World War Three. Needless to say, some ludicrous plot turns duly follow, but aside from one scene in a prison, Jordan's movie-star charisma is ill-served by Sicario writer Taylor Sheridan's dull script and Sicario 2 director Stefano Sollima's duller filmmaking. Jamie Bell and Guy Pearce co-star.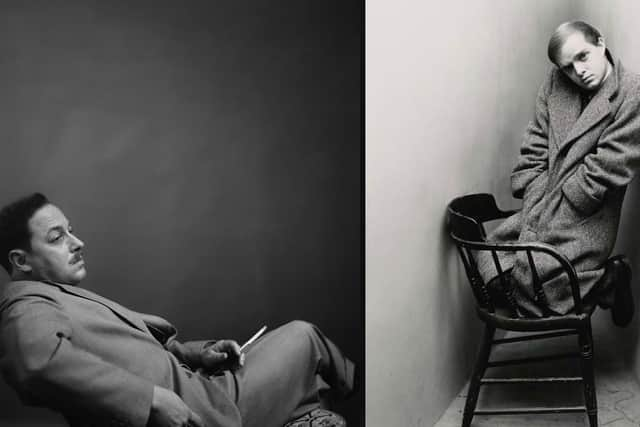 All's fair in love and literature in Truman & Tennessee: An Intimate Conversation, yet another documentary portrait of Truman Capote, this time filtered through his complicated friendship with Tennessee Williams, whose own literary notoriety, sexuality and problems with addiction made them natural confidantes. Pitching the film as an "intimate conversation", director Lisa Immordina Vreeland (Peggy Guggenheim: Art Addict) uses their writings on one another to explore their views on art, sex and love in an effort to provide a fresh perspective (at least where Capote is concerned) on some much-poured-over material. At first this can make it seem as if we're watching an audiobook on screen as The Big Bang Theory's Jim Parsons and Star Trek's Zachary Quinto respectively read Capote and Williams' literary musings over montages of photos and period-appropriate imagery. But Immordina Vreeland soon brings the film to life by augmenting this approach with judicious use of some revealing chat show appearances and film clips. As the film progresses, what emerges is a perceptive exploration not just of the toll art can take on an individual, but also of how Capote — certainly the crueller of the two — understood Williams in a way he perhaps didn't understand himself and vice-versa.
Nomadland will premiere on Star on Disney+ on 30 April and will be in cinemas on 17 May; Without Remorse screens on Amazon Prime from 30 April; Truman & Tennessee: An Intimate Conversation is available on demand from 30 April
A message from the Editor:
Thank you for reading this article. We're more reliant on your support than ever as the shift in consumer habits brought about by coronavirus impacts our advertisers.