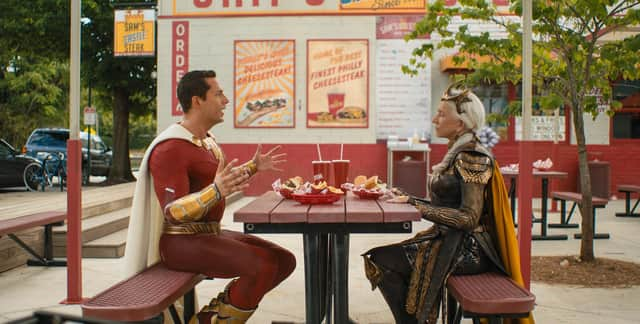 Shazam! Fury of the Gods (12A) ****
Whatever the fate of DC's stop-start efforts to create its own cohesive version of the Marvel Cinematic Universe, Shazam! Fury of the Gods makes a good case for being true to the goofy spirit of the source material instead of trying to fit every comic book adaptation into the self-serious style demanded by adult fanboys on social media. A sequel to 2019's surprisingly charming origins story about a chosen-one foster kid called Billy Batsor (Asher Angel) whose titular super-hero alter-ego takes the form of a middle-aged man with the powers of a god and the emotional maturity, of, well a teenage boy (he's played by Zachary Levi), the new film ups the scale and the stakes of this Big-meets-Superman premise, but not in a way that feels egregious.
Among the many entertaining choices returning director David F Sandberg makes is casting Helen Mirren and Lucy Liu as this film's bad guys. Respectively playing Hespera and Kalypso, they're a pair of supervillain sisters who are descended from the Greek titan Atlas and bent upon restoring the dominance of their realm by retrieving the powers bestowed upon Billy in the first film. Billy, though, has in turn bestowed these powers upon his own rag-tag band of foster siblings, among them his crutch-bearing best friend Freddy (Jack Dylan Grazer), whose superhero alter-ego takes the form of a beefed-up Adam Brody.
Like all superhero sequels, the film opens with this band of immature protectors grappling with their new-found fame and responsibilities, but it's not long before they have to confront the fact that they might be the reason the world is now facing a darker threat. They're also dealing with their own adolescent anxieties in their civilian lives, which can't help but affect how they conduct themselves as superheroes faking their way as grown-ups. It's this split perspective that keeps the film feeling fresh, though the way it transforms its inevitable world-threatening finale into a superhero smackdown featuring loads of monsters from Greek mythology is also a blast. For tweens and younger teens this all a superhero movie needs to be: a fun story well told.
Horror movies have always been great showcases for filmmakers, but they don't always get the respect they deserve for their performances. They should, of course. Ti West's brilliantly bonkers new film Pearl, for instance, would be unthinkable without Mia Goth – and not just because it's a prequel to West's outré slasher film X, in which Goth demonstrated her versatility by playing both its damaged heroine and its weirdo villain.
Reprising the latter role (and co-writing the script), she delivers one of the most demented and deeply felt performances of recent years. Those who've seen X, which was set in the late 1970s, will remember Pearl as the elderly, murderous, sexually omnivorous farmer's wife who disrupts a gonzo porn shoot on her farm in grisly ways. Playing Pearl under layers of freaky prosthetics first time round, Goth now gets to play her as young woman living on that same Texas farm some 60 years earlier, albeit with her strict German immigrant mother, her infirm father and the Spanish flu further limiting her already curtailed freedoms.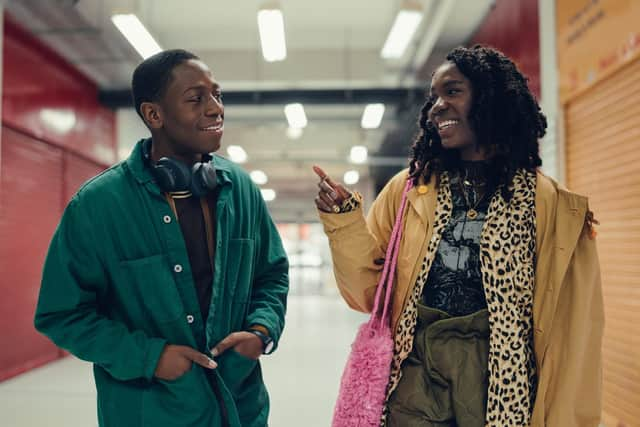 Although West riffed on grindhouse feel of The Texas Chainsaw Massacre with the first film, he takes an altogether different approach here, one that's all gaudy colour schemes and authoritarian characters – like a Douglas Sirk film by way of Grant Wood's American Gothic painting. Goth crafts her performance accordingly, going for pure melodrama and using this heightened acting style to create a complex origins story for the monster her character will eventually become.
Aberdeen-based Iranian filmmaker Hassan Nazer pays tribute to three of Iran's most prestigious filmmakers with Winners, a whimsical ode to cinema in which he takes inspiration from Jafar Panahi's Taxi Tehran, Majid Majidi's The Song of Sparrows and the Oscar-win for Asghar Farhadi's The Salesman and concocts a likeable story about a movie-obsessed kid (Parsa Maghami) who comes across an Oscar statuette after it goes missing en route from Hollywood to its Iranian recipient in Tehran. Although a little knowledge of Iranian cinema is required to get the significance of some of the references and casting decisions, the film also works as an accessible primer, with Nazer making the most of his picturesque setting and getting some delightful performances from his cast of veterans and first-timers.
If the number of insipid rom-coms cluttering up Netflix suggests the maltreated genre is destined to languish in streaming limbo, the London-set Rye Lane is out to prove there's life in it yet. Debut director Raine Allen-Miller's tale of fast-forged romance between two recently jilted strangers may come on a little sitcom-like, but some properly funny lines, a vibrant shooting style and two appealing leads (David Jonsson and Vivian Oparah) help it transcend its broader moments.
Allelujah, Alan Bennett's 2018 play about the ailing fortunes of a geriatric hospital, gets a tonally bizarre big screen adaptation courtesy of Call the Midwife creator Heidi Thomas and director Richard Eyre. A slew of beloved British stage and screen stars – among them Judi Dench and Derek Jacobi – play the hospital's ailing patients, while Jennifer Saunders (as a ward nurse), Russell Tovey (as a government management consultant) and Bally Gill (as an immigrant doctor) attend to the plot, which revolves around the cash-strapped hospital's viability. Tovey gets a couple of good scenes, but a last-minute swerve into The Good Nurse territory doesn't come off at all.
Not screened for critics last week, 65 plays like a studio film that's had a lot of post-production meddling, not least in the way it repeatedly feels the need to explain its easy-to-grasp premise. It also wastes Adam driver, casting him as a stoic celestial being who crash-lands on prehistoric Earth only find himself playing surrogate father to a fellow survivor (Ariana Greenblatt) as they encounter large numbers of rampaging dinosaurs. The film makes no effort to build up to its dinosaur reveal, and what follows is equally devoid of suspense.
All films on general release from 17 March except for 65, which is in cinemas now