Lisa McGrillis is a well known face on our screens, best known for Mum and more recently Somewhere Boy, and the future is bright as she joins me to talk about her new ITV series Maternal, speaking over zoom from Cardiff where she's filming the next series of Sex Education.
Maternal follows three women medics over six episodes as they juggle medicine and motherhood after returning to work on the front line in the NHS from maternity leave and navigate an increasingly high stress environment along with their complex home lives. Starring McGrillis as Helen, a registrar in acute medicine, Parminder Nagra as Maryam, a paediatric registrar, and Lara Pulver as general and trauma surgeon Catherine, it's at times laugh out loud funny, but also quietly political and ultimately is a love letter to mothers and the women on the NHS frontline who are holding it together.
HOW WOULD YOU DESCRIBE MATERNAL?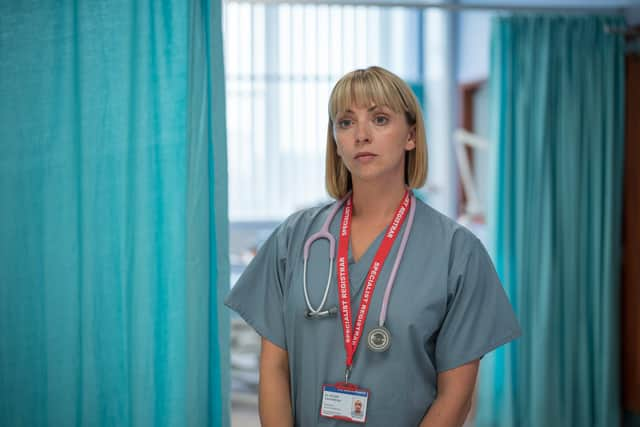 I think the show is about women, about friendships, about parents.
HOW WOULD YOU DESCRIBE YOUR CHARACTER HELEN?
She's someone everybody talks to. She takes on everybody's problems and doesn't necessarily think about herself first - she's fairly far down the pecking order. She's a really good doctor, a registrar who hasn't quite made consultant yet because she has put her career on hold to raise a family. Work is very important to her and it's something she's not willing to give up so she throws herself deep into the jungle of parenting and working as a front line doctor in the NHS. So she's a wonder woman. She's a force.
COULD YOU SEE YOURSELF DOING HER JOB?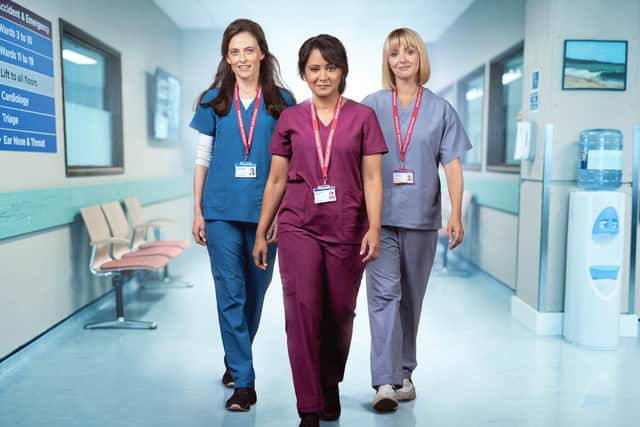 Absolutely not. I'm quite happy pretending. Firstly I'm not clever enough to be a doctor. But also I think that there's returning to work, when your head is absolutely scrambled from having kids, how exhausting that is, and then returning to work in the NHS. That was a real eye-opener for me.
I by no means feel like I was stepping into the shoes of a real life doctor, but there's something to be said about seeing how every day they're faced with life and death situations. The stakes are really high and it's also so busy and so hectic, and then they've got all of the Covid protocols too, so it was a real insight and god bless the NHS, my god.
And as a parent myself who had a baby during Covid, which is what Helen has done as well, there were lots of things I was able to relate to on a personal level. I had a baby at the end of December 2020, the week before we went into the second lockdown. It was a mental time to have a baby and I was in a hospital during that period and saw it through a punter's eyes, so I can just imagine how difficult it was for them working through it.
So that's where we meet these women. They're returning post Covid into that world so it feels very relevant. We're living through it right now.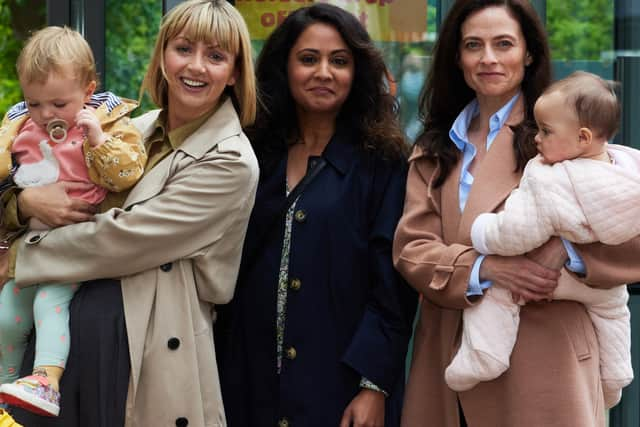 Helen is a very working class woman, she's grown up with very little, is from a single parent home and worked really hard to get where she is now, which is why I feel it's more difficult for her to give it up. She's married into money and is now living in a big, beautiful house. Guy is definitely a different class and they met at medical school. I liked that storyline because they're worlds apart but they have their medicine in common.
She's probably the closest I've ever played to myself. I'm definitely a character actress and like to completely immerse myself in a character, but I think with Helen I'm using my own accent [McGrillis was raised in Cumbria], and she sort of is a version of me.
DOES THAT MAKE IT EASIER, OR HARDER, IN THE SENSE THAT YOU'RE PUTTING MORE OF YOURSELF OUT THERE?
I think it's more exposing actually, yeah. I feel like my friends and family will probably recognise me for the first time on screen because I don't think I have ever played a character that close to myself. I really wanted to play a role like this. It feels like - I've just turned 40 this year - it's quite a grown up part, a real story. I just hope people find it as relatable as I did.
IT'S A VERY DIFFERENT ROLE TO THE ONE YOU PLAYED IN SOMEWHERE BOY, AUNTY SUE.
Gosh, they're such different shows. Somewhere Boy was so unique in its form and such an unusual story. It lived up to my expectations because when I read it I thought it had the potential to be really special and it met my expectations and then some. It was like all the stars aligned. It was very critically acclaimed but also I felt incredibly proud to do it.
Again it was quite a different role for me and stepping into new territory. I know that comedy is something I sit very naturally in, but I love shows that straddle both and I think Maternal does that as well. There's really serious subject matter, there's death, there's birth, these women are going through really incredibly stressful scenarios but it's always punctuated with a little bit of comedy, which lets the audience in. It's a relief when you can laugh.
You're hitting gold if you can make a show that lets an audience laugh and cry, and I think that Maternal does that, and Mum did that as well.
WHAT WAS IT LIKE PLAYING KELLY IN MUM?
It was comedy but she was a sad character as well, because she was trying to act a certain way and was quite damaged. She's got a mum that talks to her like crap and she's got really low self-esteem. I feel if an audience is going to laugh at a character it's really important that they're not laughing at them, they're laughing with them, and with Kelly there was a really fine line with that.
Fortunately I was working with incredible directors who kept me on the right path, because as soon as you slip into sort of silly, it just becomes like a stereotype.
I always try and find the depth or sadness in a character. I think if I can tap into their sadness then it's OK if an audience laughs with them. They're the characters I find interesting, that have appealed, in Maternal, Somewhere Boy and definitely in Mum.
WHAT WAS THE PUBLIC RESPONSE TO MUM?
That's the one people love to chat to me about most. I think Stefan Golaszewski who wrote it is a genius because he's just picked out very normal people and very normal situations: nothing happens, but everything happens at the same time.
I think we're all just trying to keep our head above water and put on a front and pretend to feel what we're not actually feeling and Stefan allowed an audience in to laugh and cry at these characters and feel sympathy for them, but also be irritated by them.
People ask would there ever be more Mum but no, because he's told that story and it's perfect in its form. As much as I would LOVE to do more Mum because we had such a nice time and we're all very close still, which I think is testament to the show because of the way it was cast. We were a little family. Yeah, it was perfect and also a job that opened loads of doors that had always been shut for me.
Before I got Mum I was doing a lot of theatre and a little bit of telly but nothing that had really cemented me or given me a platform. Then Mum came along and I thought 'oh god, this job is too good to be true'.
I was doing a play called The Pass at the Royal Court upstairs with Russell Tovey which we made into a film [in 2015], and Russell was also in Him and Her, directed by Stefan and Richard Laxton, who directed the first series of Mum. They came to see the show and were so complimentary, then a year later the audition for Mum came up and I felt like they knew me or what I was capable of. After Mum, doors had been basically opened so I've got so much to be grateful to it for.
WHAT'S NEXT FOR YOU - ARE YOU ALREADY WORKING ON THAT?
I am actually. I'm filming Sex Education at the moment. I'm playing Gillian Andreson's sister. So that's another platform I think, because Sex Education is so huge. I personally am a huge fan and I've seen it all so it's quite mad going into a show that you're a fan of because you know all the characters. I've never done that before.
My first day was at that really iconic house, and Gillian's like 'Hi Sis', and I'm like 'woah, I'm having like an out of body experience here'. It was so bizarre.
WHAT'S IT LIKE WORKING WITH NCUTI GATWA
He's such a lovely boy. I'm so happy for him and his success because I think he's amazing. In fact I was on the BAFTA panel for comedy performance and I was championing him. I told him that. I said I basically stood up and gave a full presentation of why I thought you should be nominated for a BAFTA.
YOUR DAUGHTER CLEO PLAYS YOUR BABY IN THE SHOW, AND YOUR FIVE YEAR OLD SON JOSH WAS ON SET TOO, HOW DID THAT COME ABOUT?
That was my idea. Because Helen has a 15-month-old baby and Cleo at the time was 15 months I was like 'this could work'. Working with babies is really difficult, especially that age, because they don't want to be with a complete stranger, so Cleo was amazing. She's such a social little thing anyway and very confident and curious so she was saying 'Mummy' and putting her arms out and chasing me round. There's a beautiful scene when all the kids are all running round, and the littlest one in the nappy, that's Cleo, my baby.
At the same time I was thinking 'is this the worst idea I've ever had?' because when I'm in work mode I'm in work mode. I've got a lot to remember, a lot of lines, but I was very split because my mother instincts were going 'oh god, she needs a nap', or 'she hasn't eaten', or 'this is too late, she's normally in the bath by now', and also if she was getting tired or grouchy in the scene, it was so hard, I was thinking 'this is cruel!' Whereas if it's someone else's baby you just sort of pass them back, ha ha ha.
DOES IT HELP HAVING SCOTTISH ACTOR STUART MARTIN, AS A HUSBAND?
Yes, it does. For doing self tapes, it's always good, or if I'm not quite sure about a character, I get him to have a look and vice versa. Also there's an understanding because Stuart works a lot in Europe and in America so he's away a lot. It's really difficult but there's an understanding there that it's all or nothing. He's either away with work or at home and very much part of the family.
The kids are incredible because we've always done this. My friend the other day - we were going out for a meal - said to me, 'my god when you leave the house your kids are so chill' and I said 'that's 'cos I left them when they were five weeks old to go back to work, so they've always known it'. We keep it very light. When I'm leaving it's almost like I'm telling them I'm going to the shops, I say 'I'm just gonna go to work, see you later' and I hardly let on, because as soon as you put loads of emotion on, 'I'm going to miss you…'. And then obviously I sit on the train or in a taxi and I'm just breaking my heart, but for them it just feels quite normal.
And Stu is so supportive. I didn't think I could make Maternal work because he was filming in America but he was just like, 'we're gonna make this work, it's gonna be hard, it's going to be a juggle, but we're going to make it work'. And we did.
He was filming a Zack Snyder movie in LA and they wouldn't allow him to fly home because of Covid so that was a really tricky time because I was filming Maternal and he was out there for five months so it was pretty hard. Yeah, that's what I mean about life reflecting art. I was feeling it, yeah.
YOU WENT FROM SCHOOL TO NORTHUMBRIA UNIVERSITY TO STUDY DRAMA, HOW DID YOU KNOW FROM SO YOUNG YOU WANTED TO BE AN ACTOR?
I don't know. I didn't know that I could be paid to be an actor. I was aware people did acting but I was like 'I'm never going to be able to do that, can't afford to go to drama school' so I did a drama degree and thought I would probably get into teaching. Then I graduated and thought maybe I'll give this a go but didn't necessarily think that I would. I got a local agent in Newcastle and did lots of adverts and worked a lot in theatre in Newcastle and did theatre in education, touring community theatres. Then I got I suppose my big break, being cast in Lee Hall's (Billy Elliott) the Pitmen Papers and it went to the National Theatre and Broadway so that gave me a platform to move to London and find agents.
It's funny because I was with Lesley (Manville) and Dot (Atkinson, who plays Pauline in Mum) and we went out for dinner the other day and we were chatting about our careers - obviously those two women are truly amazing friends, but I also look at their careers and admire them so much - and Lesley said to me, 'Lisa, slow and steady wins the race'. And I kind of feel like I'm slowly getting there, you know. As a 40-year old I had my first lead role in Maternal so it hasn't happened quickly for me. It's been a series of jobs that have led on to other opportunities. So hopefully it will keep going that way!
Lisa McGrillis stars in Maternal which airs on ITV1 and ITVX, from Monday 16 January, 9pm. Watch TRAILER