In an hour-long interview with conservative US TV show host Tucker Carlson on Fox News, the former GMB presenter claimed he had "universal support" from the British public, and doubled down on his criticism of Meghan Markle
So what did he say about the Duchess of Sussex and her much-talked-about conversation with Oprah Winfrey?
What did Piers Morgan say about Meghan Markle on Fox News?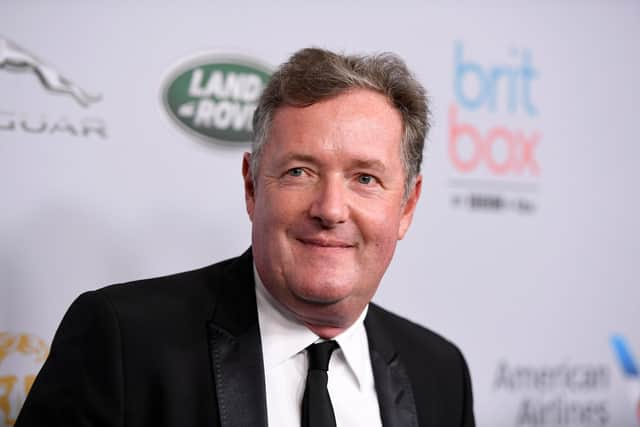 Throughout the Fox News interview with Tucker Carlson, Piers Morgan continued to stand by the comments he made on Good Morning Britain after Meghan Markle and Prince Harry's bombshell interview with Oprah Winfrey in March.
Morgan quit the ITV show on 9 March after Ofcom received more than 41,000 complaints about his reaction to the Oprah interview, including stating that he didn't believe Meghan 's claims that she had had suicidal thoughts due to struggling with life in the royal family.
On his Fox News interview, Morgan said he had caught the Duke and Duchess of Sussex out for making 17 falsehoods throughout the Oprah interview.
"I don't believe what Meghan Markle said - 17 different claims by the pair of them have now been proven to be either completely untrue or massively exaggerated or unprovable," Morgan told Carlson.
"And I don't understand really why I should have to believe people who are not telling the truth."
Morgan said the mistruths included Markle's claim that she and Prince Harry held a secret wedding with the Archbishop of Canterbury three days before their public ceremony - although Morgan hasn't ruled out that they had an informal vow-swapping meeting.
The former presenter also suggested the Duchess was lying when she claimed her son Archie was denied a royal title from birth because of his skin colour.
During the March interview with Oprah, Meghan revealed that there were several "conversations about how dark his skin might be when he was born".
Morgan also expressed fresh doubts over Markle's revelations that she had suicidal thoughts due to lack of support from the royal family.
Later in the Tucker Carlson interview, Morgan said that it wasn't his place to say whether or not Markle had felt suicidal.
Morgan said: "It's not for me to say whether she felt suicidal, that's only for her to know.
"What I was taking issue with, is she claims she went to two members of the royal household - a senior aide and also human resources.
"And she told both of them she was feeling suicidal, and needed help and both of them rejected that and said she couldn't get help because it would be bad for the brand of the royal family.
"I just find it impossible to believe that you would have two people in the palace who would be that callous to a woman telling them she was suicidal."
What did Piers Morgan say on GMB about the Oprah interview?
Talking on the morning show after the controversial interview aired, the host said: "I'm angry to the point of bawling over today. I'm sickened by what I just had to watch.
"This is a two-hour trashathon of our royal family, of the monarchy and everything our queen has worked so hard for and it's all been done while Prince Philip lies in hospital.
"They trash everybody. They basically make out our Royal family are a bunch of white supremacists by this race bombshell.
"They didn't name any which one it was, they just throw it out there so it could be anybody."
However, Morgan went one step further, saying he didn't believe Meghan when she revealed she had suicidal thoughts due to struggling with life in the Royal Family.
"Who did you go to? What did they say to you?" Morgan continued.
"I'm sorry, I don't believe a word she said, Meghan Markle.
"I wouldn't believe it if she read me a weather report.
"The fact that she's fired up this onslaught against our Royal family I think is contemptible."
Social media users were quick to criticise the host's comments, warning of the dangers of dismissing claims of suicidal thoughts.
Why did Piers Morgan storm off the GMB set?
Piers Morgan continued to make headlines the following day (Tuesday 9 March), when he engaged in another heated debate about the Duchess of Sussex with GMB colleague, Alex Beresford.
The heated exchange led to Morgan dramatically storming off set.
Beresford confronted Morgan on his comments about the Duchess's mental health, saying: "I understand that you don't like Meghan Markle, you've made it so clear a number of times on this programme.
"And I understand you've got a personal relationship with Meghan Markle," he added, "or had one and she cut you off.
"She's entitled to cut you off if she wants to. Has she said anything about you since she cut you off? I don't think she has but yet you continue to trash her."
At this point Morgan stood up and said: "OK, I'm done with this", and walked off set.
Did Piers and Meghan used to be friends?
Morgan claimed that Meghan "slid" into his direct messages after he followed her on social media, along with other cast members of the hit TV series.
Speaking to Access Hollywood, Morgan said: "She immediately direct messaged me, she slid into my DMs faster than a greyhound."
Morgan has previously shared a message he received from the duchess, in which she told him she was a "big fan" of his.
Apparently, the pair began regularly messaging each other and emailing after that.
It was revealed that they met at The Scarsdale Tavern pub a year later. Morgan said the two "talked about life and the universe and Donald Trump and everything, her days as a Deal or No Deal suitcase girl."
Writing in the Daily Mail about their interaction, Morgan described Meghan as "real" and "not one of those phony actress types so prevalent in California."
Later that same evening, Meghan left to go to a private member's club where it is thought she met Prince Harry for the first time.
According to Morgan, that was the last time he ever heard from her.