Actors, comedians, whatevers, they would bristle at the suggestion these are essentially freebie holidays. Deep research of Wikipedia is often required for the pieces-to-camera in front of drop-dead gorgeous vistas.
So can the Line of Duty star offer anything new? Well, Martin Compston's Scottish Fling (BBC2) begins in drop-dead Greenock, his home town and 4,800 miles from his current address in Las Vegas. He tells us he's been keen to get reacquainted with the homeland - to "get stuck right in aboot it".
A pal is along for the ride, Phil MacHugh, and they start up some in-car joshing, a la The Trip, while singing along to jock-rock standards. The similarities with the Steve Coogan-Rob Brydon vehicle continue during a food-stop. Loch Fyne? It has to be oysters, but while MacHugh is game, Compston, an avowed burger man, isn't. Still, at least in Glencoe he acknowledges that he got right stuck in aboot Wikipedia for a factoid about the massacre.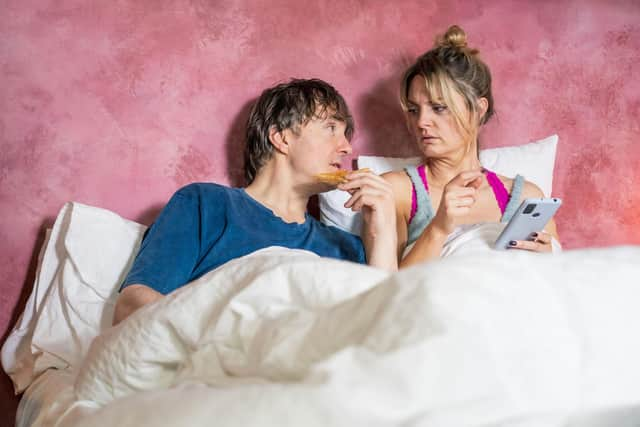 I'm afraid I'm not over-familiar with MacHugh's oeuvre. To establish that he's not a long-lost Scottish cousin of Roland Schitt from Schitt's Creek, I consult a popular online encyclopedia, which confirms he's a "media personality". Our brave boys also stop for a spot of gentle climbing, joining in what MacHugh calls "the recent hill-walking craze". Now, hasn't this pursuit always been pretty popular? As old as the hills, I reckon.
What we really hope such programmes reveal, of course, are some factoids about the celebs, given up in unfamiliar surroundings, in this case not an infinity pool on a paradise island, but over a dram under canvas as the rain hammers down in a lonely glen. Compston, we learn, trained to be an accountant. His first gig was the Vengaboys and, wait, there's more – his grandfather shoogled his false teeth in a way that made young Martin wince.
Ladhood (BBC3) is on its last run. Liam Williams, creator of this comedy about feckless teenage boys, has drawn on his own experiences at that age, but says the pot – or Pot Noodle, jammed between the sofa cushions – is now empty. He's scooped out every last laugh.
Williams continues in his role as a one-man Greek chorus, setting up scenes and explaining in a deadpan manner, while Oscar Kennedy as young Liam tries to embrace what he's been reliably told are the best years of his life, only right now it doesn't feel like they are.
His parents and teachers are encouraging him to apply for Oxbridge, but he just wants to hang out with his mates, who've left school and entered the world of work flogging solar panels and garden plants. It's great to have money and they can splash out on alloy wheels, even though none of them actually owns a car.
They can, however, rent a flat together, and when beer fridges are installed in every room Liam, to get away from his nagging mum and sudoku-obsessed dad, is round there every day.
But if only he knew how his life was going to turn out.
The story intercuts him at 18 with his 34-year-old self when he's living pretty much as slobbishly as before, and instead of the old dear is berated by his rapacious landlord for leaving Blu-tack on the walls. Ladhood doesn't go for easy, outrageous laughs like The Inbetweeners, but is a portrait of surly, self-obsessed adolescence that many will recognise, although there's a sweetness to it.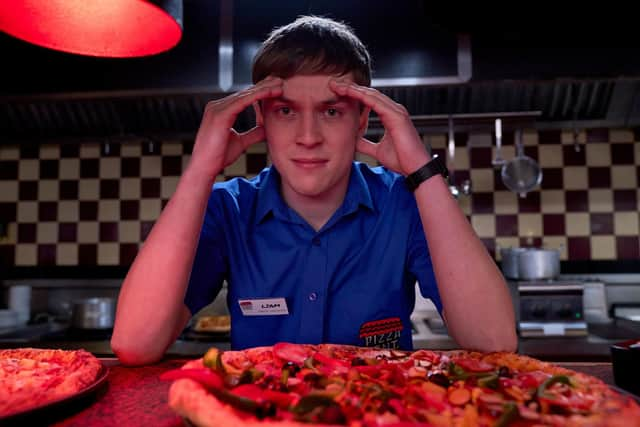 You don't laugh at Liam so much as the memory of what you might have been like yourself at his age. Either of the Liams and perhaps both of them.
Dylan Moran has a new sitcom – 18 years after the last one ended. In interviews to promote Stuck (BBC2), the Irish comedian has been epicly grumpy, just as he was when I met him in his adopted Edinburgh to talk about his misanthropic character in Black Books.
Dan seems similar in that he's uncomfortable in just about every situation; at work as an advertising creative (he's very quickly sacked); in the hipster coffee shop (who can blame him?); and at soirees with Kurt the German guru. "The man's a bonfire," he tells his partner Carla (Morgana Robinson). She says: "But he helps lots of people." "What, to s*** themselves?"
The only place where Dan seems at peace is lying in bed with Carla, but, while it seems like she's still into him, magazine questionnaires are allowing her to assess their relationship thus: "Who are we? What do we want? Why do we never have any fun?" He says: "These quizzes are for chumps who don't realise they're chumps doing quizzes. Without me, you'd almost certainly be in jail." She wails: "But I am in jail!"
Is Dan really Moran? Was Black Books' Bernard really him? I don't know, but the man is adept at premature world-weariness and generally being a miserable sod.
On the surface, Stuck may seem like it's stuck somewhere between Him & Her and Nicola Walker and Sean Bean's Marriage, but there are surreal asides and interjections which set it apart.
Moran sprinkles them across the script like a "latte artist" would his toppings. The fact there are such jobs, and so titled, will irritate Dan considerably. Though not as much as the server in the local cafe who can't stop flirting with Carla.