Edinburgh Festival: "the biggest challenge will be to make the audience feel like an audience again"
Mark Fisher wonders how performers at this year's Fringe will manage to recreate the buzz of live drama on the virtual stage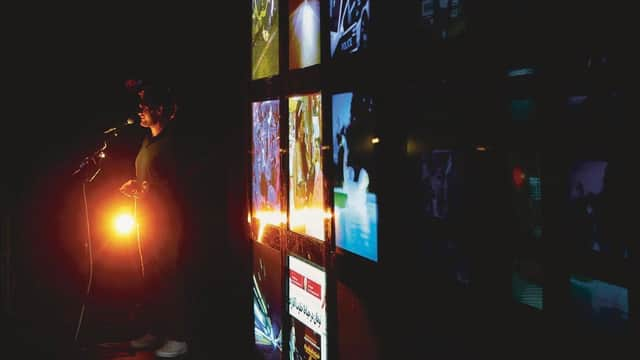 It was a family holiday somewhere in the Republic of Ireland. I don't remember the name of the town, but it must have been a Sunday in the 1970s and, being Roman Catholic, my family had gone along to mass in the local church.It was packed.
So packed the congregation spilled on to the street. In my memory, a bunch of men were standing outside, smoking and possibly even drinking. Whatever they were up to, they certainly weren't listening to the service.
At the time, it struck me as irreligious. Now, I'm not so sure. Yes, you could hardly call them pious, but they were there. They understood the value of showing face on a Sunday, of being part of the community, of belonging. So what if they missed the sermon? Just by being present, they were expressing their camaraderie, their common humanity, their belief in togetherness.
Now in 2020, this memory returns to me. I've long since stopped believing in God, but I've never lost my faith in a congregation. As we look forward to an online Edinburgh festival, one that – fingers crossed – will be full of fun and invention, it is this sense of presence, of physically being there, all together in the same room, I will miss the most.
Watching online theatre during the lockdown, I have surprised myself to realise how much this is true. Surprised because I've always regarded the audience as a crucial part of theatre-going; feeling their loss shouldn't have been news to me.
I even devoted a chapter to the audience in How To Write About Theatre, my book about criticism. In that chapter, I recalled a party-loving crowd at the Edinburgh Festival Theatre that seemed determined to derail a rather serious staging of The Full Monty. I also wrote about the critic of 1709 whose review focused primarily on the "persons of distinction" in the audience and only secondarily on the play.
And I wrote about the woman at the King's Theatre in the Edinburgh International Festival who yelled out, "We can't hear you!" during a staging of Three Sisters. She kicked off an evening of bad behaviour.
Such examples prove that, whatever the artists' intentions, audiences always affect a show's mood and meaning. They laugh at moments the theatre-makers had never thought were funny. They gasp at the topicality of lines the playwright had never meant to be topical. A show cannot be said to exist until the audience arrives. They complete the circle. Intellectually, I knew this, but it was only when the Covid-19 lockdown removed the audience altogether that I realised how much it was true.
"Theatre is about being with other humans," says David Greig, playwright and artistic director of Edinburgh's Royal Lyceum. "When I don't particularly like a play that doesn't mean I haven't had a good evening at the theatre. If I only enjoyed theatre when I liked the play, I wouldn't go. The point about theatre is that you enjoy not just the ambiance and the social aspect, but also something profound about watching people on a stage tell a story among other people. So even when the play doesn't quite work, you still get something. You're still bathing in a particular sort of healing water."
The men chatting outside the Irish church might have had it right all along. We tell ourselves we are going out to see a play, a big match or a religious service, but aren't those events an excuse for the thing we really want to do? We are driven by the urge to come together. No disrespect to playwrights, footballers and spiritual guides, but our first instinct is to gather around the campfire. The entertainment, insight and spectacle are a bonus.
I exaggerate for effect, but the online performances I've seen in the past few months that come closest to something you would call theatre are those that find the equivalent of an audience. Sometimes this is a happy accident. The subscription service Livr (livr.co.uk), which predates the lockdown, provides you with a headset which, coupled with your mobile phone, lets you watch a virtual reality show with a 360-degree field of vision.
The company has recorded several performances at small venues on the Edinburgh Fringe, using a camera that allows the user to look in every direction. If you are voyeuristically minded, you can spend an hour gazing at the audience behind you. More likely, you'll enjoy the sensation of having a front row seat for shows including Apphia Campbell's Scotsman Fringe First winner Woke.
On a similar scale, London's Gate Theatre (www.gatetheatre.co.uk) has shared videos of a couple of its old productions. Simply because the playing space is so small, you can only be aware of the audience. They sit in single rows along each side of the room and it feels like you are among them. The only disappointment in Ellen McDougall's delightful staging of The Unknown Island is when the cast distribute olives and wine and you can't join in. It reminds you you're not there for real.
Rather too many pieces of online theatre have been bedroom monologues in which a locked-down character bemoans their lot. They can seem self-absorbed, inward-looking and short on theatrical imagination. By contrast, a small number of theatre-makers have used the form to their advantage. One show, work_from_home by Nathan Ellis, used Zoom to let the audience see itself; indeed, they were given lines and became the actors. In a different way, Rich Kids: A History Of Shopping Malls In Tehran made the transition from its real-world Fringe debut at the Traverse last year to an online version that took place simultaneously on YouTube and Instagram; a multimedia response to a multimedia world.
The challenge, then, to the Fringe companies making an online contribution this August will be to be more than a poor man's television and to transcend the limitations of the medium. The toughest act of all will be to make the audience feel like an audience again.
A message from the Editor
Thank you for reading this story on our website. While I have your attention, I also have an important request to make of you.
With the coronavirus lockdown having a major impact on many of our advertisers - and consequently the revenue we receive - we are more reliant than ever on you taking out a digital subscription.
Subscribe to scotsman.com and enjoy unlimited access to Scottish news and information online and on our app. With a digital subscription, you can read more than 5 articles, see fewer ads, enjoy faster load times, and get access to exclusive newsletters and content. Visit https://www.scotsman.com/subscriptions now to sign up.