Gary McNair on Dear Billy: A Love Letter To The Big Yin From The People Of Scotland
Gary McNair's new show is a tribute to Billy Connolly, based on anecdotes collected from members of the public. 'I want to get to the heart of what he means to us,' he tells Mark Fisher
Gary McNair likes a long subtitle. The one he has come up with for his latest one-man show is A Love Letter To The Big Yin From The People Of Scotland. That sums up his ambitions for the production, which celebrates the nation's fondness for one of its greatest comedians. It is a fondness that straddles generations, transcends classes and that McNair finds in seemingly everyone he meets. The show expresses that affection. It is called Dear Billy.
"It felt like everyone knew a story," says McNair, thinking back to how he came to make a show about Billy Connolly. "Whenever I'd meet people, they'd tell you their Billy stories, whether they'd met him or they knew a piece of his material or what it was like to be a fan of his when they were wee. You'd get a personal response every time and a very positive one."
In the popular imagination, Billy Connolly is in a place of his own. After his days on the folk circuit, performing with the Humblebums in the late 60s and then as a solo act, he developed his between-song banter into his own brand of loquacious stand-up comedy. Lauded in his native Glasgow, where he had worked as a shipyard boilermaker, he was championed by Michael Parkinson on his eponymous chat show and began the journey to becoming a national treasure.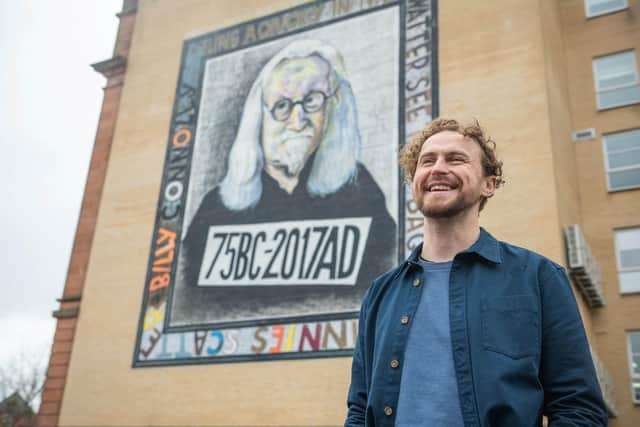 All this is well known. McNair could see no point in writing a biographical drama or, worse, some kind of Stars In Their Eyes impersonation. What interested him was the public view of Connolly. "I realised there was a job here to be done to collate everyone's stories," he says.
Dear Billy is a compendium of anonymised tales about the Big Yin. McNair has form in this area. Six years ago, he dug into darker territory with Locker Room Talk, a response to Donald Trump's notorious "grab them by the pussy" remarks. For that show, which was performed by four women, McNair created a collage of men's opinions about women. To find the material, he would ask strangers and volunteers to speak candidly about attitudes they usually kept private.
He has no such political aim with the new show, but he has researched it in a similar way, amassing hours of interview material to create a kind of democratic expression of love for Connolly. Some of that material comes from random strangers, some of it is more targeted, drawn from those who have known the comedian or perhaps just drank in the same bar. Some of it will be generated by audiences as the National Theatre of Scotland production tours the country.
"We collected all the Billy stories we could," he says. "Just people's reactions to the name or asking, 'What did he mean to you?' It was a delight. We find out as much about ourselves as we do about him. You get personal and meaningful responses: what he has done for them, what he has got them through and what having him in the culture has done for them."
In the process, McNair discovered Connolly's name could unlock doors. "Generally when you approach people on the street and say, 'Could I have a wee word,' you'll get the body swerve," says the performer whose plays include A Gambler's Guide To Dying, Square Go (with Kieran Hurley) and McGonagall's Chronicles Which Will Be Remembered For A Very Long Time. "But when you say it's about Billy Connolly, they will stop and their face will melt and they'll say, 'Aw, listen, I've got time for him.'"
The reactions have reinforced his view that Connolly's appeal goes beyond simply being a gifted comedian. There are many funny entertainers, but few who could withstand this kind of treatment. Like an aural historian, McNair will be flicking through about 50 anecdotes from people he and his team have spoken to, suggesting Connolly generates a much broader range of responses than average.
"I want to get to the heart of what he means to us," he says. "Connolly is extremely funny and I howl with laughter watching him. But there is something at the heart of them that is connected with the search for truth. He's always a guy who's gone, 'What's going on here?' I don't mean he set off to be a philosopher, but you get such a wide range of emotions about Connolly in the way that you wouldn't with a favourite band or any other comedian. He opens up such a warm space for people to feel alive. He gives people permission to feel all right about themselves."
Because it is a tribute, McNair is keeping a seat free at every performance for Connolly himself. He does not know if the 80 year old will ever turn up, but the invitation has been sent – and is heartfelt. "It's a gift for him," he says. "And it's a gift for us, for the people that come to see it. We take all these stories and we become a nation telling this shaggy-dog story, which mirrors the way Billy will jump from one thing to another and then come back. We want him to shine through it without having to be impersonated or it being a tribute act. It genuinely is an offering of a gift for him."