We all have afternoons we will never get back. First-time playwright Calum L MacLeòid had one when he was supposed to be writing Stornoway, Quebec. He became obsessed with a historical detail about 19th-century Canada. "I lost about an hour trying to figure out when drawing-pins were patented," he says. "They had to put a poster up. How do you put a poster up? Was it drawing pins? Was it paste?"
Ironically, he had been determined not to go down this rabbit hole. In 2020, he published Fon Choill, a novel so heavily researched he had to remind himself it was a work of fiction not a dissertation. With the play, he wanted to be creative and free himself from drawing-pin detail.
Apart from that one instance, he was largely successful, not least because his work on the novel gave him a bedrock of security. This was a world he knew. "If there were things I couldn't remember, I'd ask what the play needed and do that," he says. "The research for the novel drove me mad, so I decided to draw on everything that was still rattling round in my head."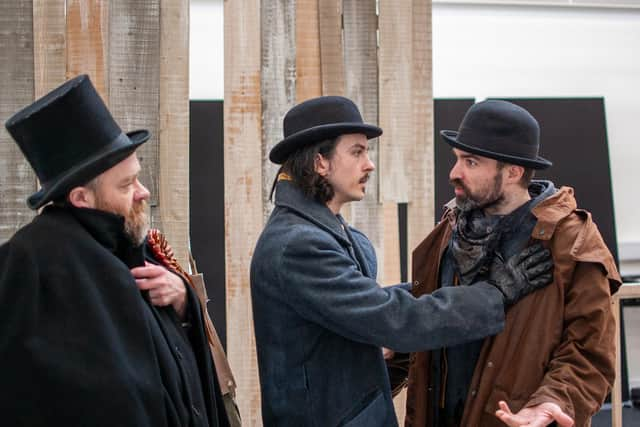 Writing for fun, he came up with a novel idea. Stornoway, Quebec is that rare thing, a Gaelic Western. "I think we've created a new genre," laughs director Muireann Kelly. "After Covid, we all wanted a night at the theatre that would take you somewhere else – and this totally takes you somewhere else."
Produced by the Gaelic company Theatre Gu Leòr, the play heads not to the frontier of California, but a settlement midway between Montreal and Quebec City. As the name suggests, the village of Stornoway was settled by emigrants from the Isle of Lewis and was once an outpost of the Gaelic language.
"It's fascinating being there," says MacLeòid. "All those surnames – there are still Macleods, Morrisons, Macaulays and MacDonalds. And they are all francophone speakers."
Here and the environs of nearby Lac Mégantic was the refuge of the outlaw Donald Morrison. The son of Scottish emigrants, Morrison was a cowboy whose illiterate father had been cheated out of his farm. After the family was evicted, the barn burned down and Morrison got the blame. He was pursued by a gung-ho special constable called Jack Warren whom he shot dead. For ten months, Morrison evaded the authorities, eventually being caught and imprisoned for manslaughter.
In the play, Morrison is one of five characters who get holed-up in a saloon bar during a snowstorm. Dominating the action is Màiri MacNeill, a bounty hunter from Barra who has a score to settle.
"Donald is the catalyst, but it's really her story," says Kelly, who is soon to leave Theatre Gu Leòr to become artistic director of Fíbín at An Taibhdhearc, the national Irish-language theatre in Galway. "We see what happens when you shove people in a room on a snowbound weekend and they've all got their own agenda. Let the poker begin!"
It gives the opportunity for an intriguing linguistic collision. As well as Gaelic, there is the Quebecois form of French known as Joual, plus a fair deal of English. Surtitles keep everyone up to speed. "It's a Gaelic community among other communities," says Kelly. "The use of code-switching, language and identity – who prioritises what and who's loyal to what – is fascinating. You bump up against the conflicts of the other communities which creates great drama."
For a company, dedicated to a minority language, it has been important to integrate a fourth language, BSL, into the production. "It should be totally accessible to everybody," says Kelly. "It feels weird to me to have a BSL interpreter standing at the side of the stage. With that in mind, we have interpreter Catherine King in the rehearsal room so she is integrated into the scenes. The BSL is part and parcel of the world we create."
Although MacLeòid's first language was English, he is the grandson of Gaelic speakers and went to a Gaelic-medium school in Inverness. He published a poetry collection, Bhon Phlateau dhan a' Chladach, in 2019 and won the 2016 Scottish Book Trust Gaelic New Writers Award for prose. After studying Gaelic at university, he lived for three years in Montreal, where his wife was doing a PhD.
The impetus behind Stornoway Quebec was a New Gaelic Playwrights' Bursary from the Playwrights' Studio, Scotland – so too was seeing a North American winter for himself. "I never went into the wilds in the weather," he says. "But just walking to the corner shop to get a beer at 11pm when it was minus-40… you have to really want that beer."
He changed his original plan to adapt Fon Choill, with its 17-year span and 40 characters, and took a more practical route. "I still wanted to do something about the Donald Morrison story, but after years of researching, I wanted to let my imagination go wild with it," he says. "In the novel, I tried to get away from a lot of the Western tropes and make it about the community. With Stornoway, Quebec, I thought, 'What if I just let myself have fun and do a Western?'"
"We're fully embracing the genre," says Kelly. "It's a homage to what people do when they stake out somewhere, put down roots and try to hold on to that little bit of what they had."