Kevin P Gilday's work spans poetry, theatre, music and stand-up comedy, with his current show, Spam Valley, an autobiographical monologue about class, delivered with controlled feeling and biting wit.
The Glaswegian had long planned to write about his experience of growing up poor and transitioning into the middle classes through art and higher education. But it took hitting "rock bottom" in 2020 to "properly do justice to my experience with class and how it shaped me," he recalls.
With live shows wiped out by the pandemic, his marriage ended and his mental health teetering, Gilday at least had "the time and space to think, to write about these issues and talk about what they meant to me" he explains.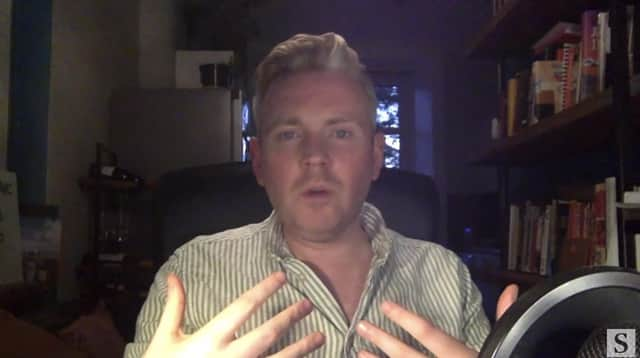 "All this upheaval in my life, I was reassessing a lot. But I'd also got better as a writer and performer, it all fell into place and felt like the right time."
Spam Valley's title derives from a sniping comment made by a relative – about the young Gilday's family moving to a nicer part of Glasgow, but, supposedly, overreaching and having to eat spam for all eternity.
"Spam Valley was the area I grew up in but everyone's got their own version of it," he explains. Following acclaim at the Edinburgh Fringe, he wanted to tour the show, taking it "to some of the places known as Spam Valley, but also those at the other end of the spectrum, that talk about Spam Valley. It has a kind of universality."
Class is an insidious aspect of Britishness, he contends: "It's such a massive part of who we are and our culture that it becomes almost invisible to us. The minute you shine a light on it, you realise, 'Oh well, that's kind of f***ed up actually.' It's such a strange way of organising a civilisation. Elsewhere in Europe, it doesn't feel as much a part of everyday life."
At the "heart" of Spam Valley, and performed here by Gilday for the Scotsman Sessions, is the poem Excess (Noun), a reflection on the wildly varying life expectancy rates in Glasgow, simmering with anger that neighbouring postcodes can have such different mortality outcomes as a result of neglect and deprivation.
"That's probably the most hard-hitting part of the show and probably the most uncompromisingly poetic," he says. "It feels like what I want to say in microcosm. The issues I want to raise, how your identity is shaped by class. It's maybe not super-representative of the show because there's no humour in it, but it's a good summary."
Adding stand-up to the show's mix, which he modestly describes as "not usually in my wheelhouse", certainly makes it more accessible. And it acknowledges that theatre, to an extent, and certainly performance poetry, come with perceptions of their own class boundaries and gatekeepers policing them.
Although still prey to imposter syndrome, as a performer Gilday at least gets to perpetually "reinvent" himself, whether it's "in the backroom of a pub, a theatre or a book festival. I'm not stuck in my lane."
"As an artist, I get to travel. And I know that I'm lucky to see the entire breadth of society" he says. "Not everyone does."
Kevin P Gilday: Spam Valley is at the Harbour Arts Centre, Irvine, 10 March; Eastwood Theatre, Giffnock, 18 March and The Stand, Newcastle, 19 March, see www.kevinpgilday.com