The Scotsman Sessions #379: Chris Dennis
Welcome to the Scotsman Sessions, a series of short video performances from artists all around the country introduced by our critics. Here, actor Chris Dennis performs a monologue taken from a new work about Edinburgh boxer Craig McEwan, written by playwright Mikey Burnett
Middleweight boxing titan Craig McEwan was born and raised in the Wester Hailes area of Edinburgh. After turning professional in 2006, he went on to win 23 of his 29 fights. For a while he lived in the Hollywood Hills. A remarkable character, McEwan is now the subject of an evolving one-man piece by playwright Mikey Burnett.
"Craig is a positive force of energy," says actor Chris Dennis, who stars as McEwan in the eponymous play. "He was just a normal guy who got a shot at a completely different world. He doesn't really paint his career as a hard luck tale either, even though he did get unlucky with certain things. He's a natural raconteur and family man, and I was just enthralled with his stories about mixing with the rich and famous. A local hero."
The excerpt he's chosen to perform for the Scotsman Sessions is the closing monologue, set before a make-or-break fight.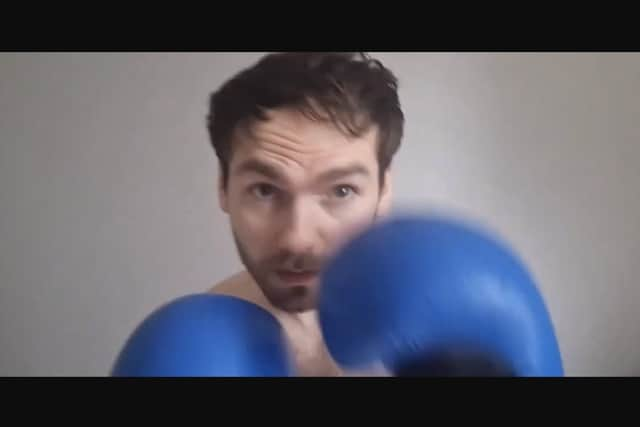 "It encapsulates all the adrenaline and emotions that he'd have gone through on the lead up to the bout itself. It gives me a lot to work with as an actor. Every line accompanied with a punch, duck or weave."
It certainly looks like a demanding role, both physically and emotionally.
"It's a high energy piece for sure," says Dennis. "I go to the gym regularly, but haven't done any sort of boxing for about 15 years. I was keen to get some lessons with Craig, work on my basics, footwork and so on. There's a reason people say it's the most physically demanding sport in the world. Ninety percent of the work is fitness and building stamina. I came out shaking and white as a sheet, but absolutely loved it."
When asked about his working relationship with the author of the piece, Dennis is effusive.
"I've known of Mikey's work for quite some time and first performed one of his pieces at a scratch night back in 2014. He writes his characters in working-class Edinburgh dialect and doesn't let too much of what the industry perceives to be popular influence his storytelling. Theatre is a lot more accessible now I feel, but back in the not-so-distant past this wasn't always the case. He's a top guy and I'm always interested in his new stuff. The dialogue he writes is always sharp and compelling."
The undoubted highlight of Dennis' career thus far was his four-year stint playing Begbie in a hugely successful stage adaptation of Trainspotting. He's also appeared in hit TV series Outlander. Dennis is only getting started – his immediate future plans include, of course, more acting roles, but also a self-penned play.
"I want it to be dark and wacky, bit of a psycho thriller, something unique. I love new writing and find it so inspiring when people actually succeed in getting their own stuff made."