The Scotsman Sessions #386: Zara Gladman
Welcome to the Scotsman Sessions, a series of short video performances from artists all around the country introduced by our critics. Here, in her role as Cultural Ambassador for the West End of Glasgow, comedian Zara Gladman's alter-ego Aileen gives Scotsman readers a tour of the Dear Green Place's most exclusive neighbourhood
"I love a vengeance arc," Zara Gladman smiles. "Some of my favourite comedy has been created from a place of trying to prove people wrong."
For comedy snobs and stick-in-the-muds, the 38-year-old Glaswegian is a triple affront. Not only does she take satirical swipes at the media and comedy industries, she also specialises in musical parody – long disparaged as one of the least fashionable forms of comedy, yet she's achieved viral notoriety as characters such as Lady Alba, spoofing Lady Gaga in the cause of Scottish Independence, and more recently as Aileen the West End Glasgow Mum, channelling The Pet Shop Boys with her middle-class pretentiousness. Moreover, Gladman is an act who's established herself on TikTok, making her live breakthrough without toiling for years on the conventional comedy circuit.
Having sold out Zara Gladman and Friends, her full-length debut show at next year's Glasgow International Comedy Festival, hosted, as Aileen would gush, "at the Oran Mor", she's just added a second date at the stately converted church.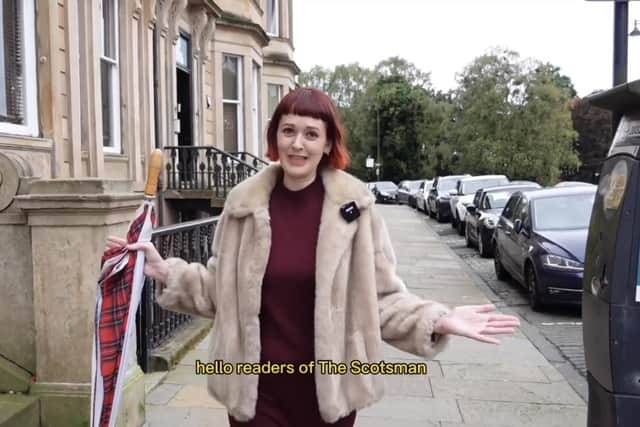 "I'm kind of in shock" Gladman admits of the show, in which she plays all the friends. "I'd originally booked a much smaller venue with a 70-seat capacity but the festival persuaded me to go for Oran Mor. It's going to be a big challenge but very exciting."
The zoology graduate was writing a PhD on crayfish when she first began performing live comedy in 2011, founding the Glasgow incarnation of Bright Club, the initiative whereby scientists share the quirks of their specialist fields via stand-up. "A really lovely, safe entry point" she recalls. "Unlike the sometimes grim, misogynistic experience some comics have with open mic nights, we had a nice, supportive, geeky crowd. We would rehearse together and share peer feedback, the opposite to how comedians normally try to protect their jokes from being stolen."
Fiercely pro-Independence, Gladman dedicated herself exhaustively to performing as Lady Alba around the 2014 Scottish Referendum, and in the years after she shot a number of online shorts for the BBC. Continuing to work full-time at her (and Aileen's) alma mater, Glasgow University, as an "institutionalised" public engagement manager, she helps researchers share and explain their ideas, and for a time had stepped back from live comedy.
Over lockdown though, she began experimenting with TikTok, receiving an introduction to other outsider comic voices and developing the snappily edited videos that now grace her social media. Resolving this year to post at least one TikTok video a week, she's seen her popularity explode, resulting in a weird, hyperlocal-global celebrity, whereby she's a famous face in the specific area around Glasgow's Dumbarton Road but also commands a burgeoning international following amongst the Scottish diaspora online. She routinely collaborates with fellow TikTokers James Gardner and Sophie McCabe, establishing a Central Belt frenemy relationship between Aileen and the latter's Morningside Mum character, Sandra, and the pair were both nominated in the recent Funny Women Awards.
Paul Black has already proved that Scottish online comics can cut it in the biggest, most established venues, and while Gladman isn't complacent – "I'm very conscious that live requires different skills" – she's adamant that TikTokers such as her are diversifying and refreshing the comedy scene, enabling performers and audiences from under-represented backgrounds to flourish.