Artisanal Spirits Company toasts launch of subsidiary in Taiwan as part of strategic expansion across Asia
The Artisanal Spirits Company (ASC), owner of the Scotch Malt Whisky Society (SMWS), has launched a new subsidiary in Taiwan that it says marks the next milestone in its strategic expansion in Asia.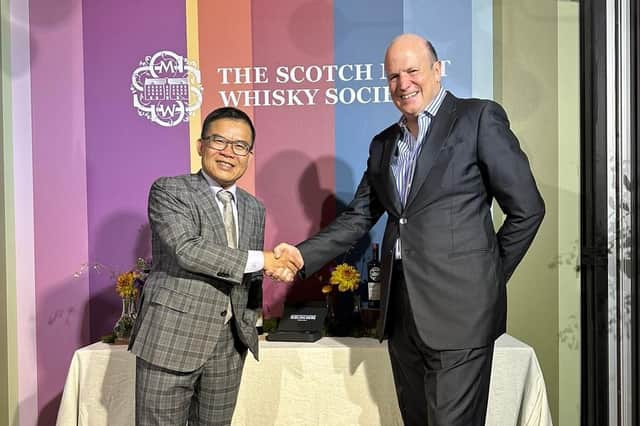 The group adds that Taiwan has an estimated total addressable market of $593m (£464m), with its new operation joining SMWS' existing similar subsidiary operations in China and Japan as well as franchise partners in a range of Asian markets, including new partners in Malaysia, and a recently established franchise agreement in South Korea.
Under the terms of the agreement, the group will hold 70 per cent ownership of the entity. The subsidiary is led by Murphy Chang, former brand heritage manager for Moët Hennessy Taiwan, who has the title of country director and will have operational responsibility, supported by Eric Huang, the former franchise partner and billed as one of the top whisky experts in Asia who is now SMWS Taiwan president, with ASC chief executive Andrew Dane named chair of the Taiwan entity.
Dane said: "Taiwan is one of the world's largest and most sophisticated whisky markets. The new subsidiary expands our footprint in Asia, and gives us direct access to this exciting territory, helping us to capture demand for our unique combination of ultra-premium and limited edition whiskies and outstanding experiences and knowledge.
"Launching the Taiwan subsidiary was a key strategic objective for 2023... We now have an SMWS presence in the world's six largest markets and our full global footprint giving us coverage of over 80 per cent of the $8.1 billion ultra-premium Scotch whisky market… We look forward to welcoming many new members to the [SMWS] in this market as we continue to expand our reach across Asia."
Comments
 0 comments
Want to join the conversation? Please or to comment on this article.