Complaints of elevated flaring at Mossmorran chemical plant this weekend
Environmental officers received reports this morning.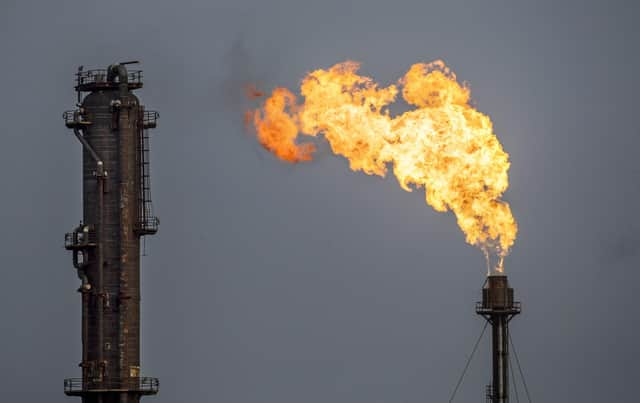 An investigation has been launched in to whether permit conditions have been breached at the ExxonMobil Chemical Fife Ethylene Plant.
SEPA (Scottish Environment Protection Agency) received reports of elevated flaring at the Mossmorran site at around 3.30am today (Sunday).
ExxonMobil has since said there is an "isolated technical issue" with one of its machines, apologising for the disturbance and stressing the use of the flare is "completely safe".
Chris Dailly, SEPA's head of environmental performance said: "Whilst limited, controlled flaring is an authorised and important safety feature of industrial sites, we know it has been happening too often at Mossmorran and the community impacts are often significant."
Watchdog SEPA has already referred ExxonMobil Chemical Limited to the Crown Office and Procurator Fiscal Service relating to flaring last year.
Mr Dailly added: "We will provide further updates as soon as further information becomes available."
An ExxonMobil spokesperson said: "Our engineers remain onsite working to resolve the isolated technical issue with one of our machines.
"As production at FEP (Fife Ethylene Plant) is a single integrated process, diverting some gas safely via the flare allows us to keep other major machines in operation and return more quickly to normal operations.
"We have taken a number of actions to significantly reduce the size of the elevated flare, including maximising the use of ground flares, and will continue to do so wherever we can.
"We stress that the use of our flare is completely safe but we apologise for any disturbance caused by its operation.
"Our commitment to reducing the frequency and impact of flaring is well documented and underlined by an additional £140 million investment due to commence in April 2021 to upgrade key infrastructure and introduce new technologies.''
SEPA has 'fixed air quality and noise monitoring points' across the area and officers are also deployed to record community impacts near the site.
"Officers have noted community noise impacts and our monitors continue to demonstrate no breach of air quality standards," Mr Dailly added. "Our work now across the incident will determine whether there has been a breach of permit conditions and what our next steps will be in line with our published enforcement policy."
In March, flaring was so strong at the Mossmorran chemical plant that the bright orange glow was visible for miles across Fife, Edinburgh and parts of the Lothians.
Then, SEPA said it had been notified of unplanned flaring owing to a "trip" in one of the major compressors.
Comments
 0 comments
Want to join the conversation? Please or to comment on this article.