The family-run, Kilmarnock-based bar and restaurant operator says fitting works are now due to start on its Scotts Greenock venue in the coming weeks at the recently constructed Greenock Cruise Ship Visitor Centre, representing its first venture into Inverclyde, and following in the footsteps of namesakes Scotts Largs, Scotts Troon, and Scotts Port Edgar.
Jim Hamilton is leading the design of the project, which will feature a central bar, whilst the restaurant and open-air roof top terrace will boast views out on to the River Clyde, while dishes set to appear on the menu include fish and chips, prime Scotch steaks, and freshly landed langoustines cooked on the chargrill, as well as many wines and champagnes by the glass and cocktails created by mixologists.
The venue complements the group's existing portfolio that also includes House, Lido, Vic's & The Vine, The Duke, Thirty Knots, The Bridge Inn, The Fox, Thirty Knots and Herringbone, while the firm, which is a member of the Scottish Hospitality Group trade body, has about 650 staff altogether.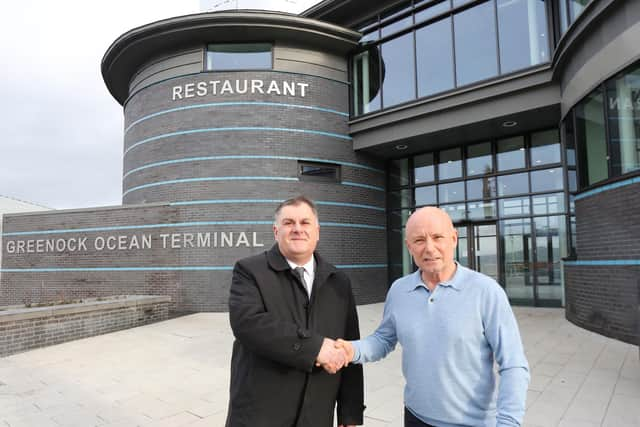 Councillor Stephen McCabe, leader of Inverclyde Council, joined Buzzworks chairman Colin Blair, to celebrate the key handover at the new visitor centre, which has been supported by UK and Scottish government investment through the Glasgow City Region Deal and which is being delivered by Inverclyde Council. Both men praised the new venue boosting jobs locally.
Speaking at the key handover, Mr Blair said: "It's a great moment for Buzzworks to finally access the Greenock Cruise Ship Visitor Centre and begin our much-anticipated renovations for our new Scotts Greenock restaurant. The new venue has been in the pipeline for a number of years and is another major milestone in our continued growth strategy, so we can't wait to get started in creating another fantastic Scotts venue in Inverclyde."
Facilities
Alongside the new Buzzworks restaurant, the dedicated Greenock cruise ship visitor centre will feature a museum paying tribute to the late artist George Wylie, who worked as a customs officer in Greenock and lived in Gourock for many years, as well as a dedicated arrival and departures hall for the many cruise ships that dock in the area.
Inverclyde Council believes the development is expected to increase visitor numbers to 150,000 a year and provide a £26 million boost to the Scottish economy.
Councillor McCabe also commented: "This is another significant milestone in the delivery of what will be a first-class facility for the people of Inverclyde and the many thousands of cruise ship passengers and crew who will pass through here... I'm sure [Scotts Greenock] will be a huge success."
Buzzworks, which last year announced plans to help raise funds for charity work ongoing within Ukraine, 12 months ago flagged the plans to open up in Greenock, at the time stating: "Having been in the pipeline for over three years, this is another significant step forward in our continued growth strategy as we continue to branch out from our historical base in Ayrshire."