Two years later, he sent them a screenshot to remind them of that original message when the business took the top prize at the sixth annual Asian Restaurant Awards (Scotland).
Mr Ramanan said taking the Scotland's Best Asian Restaurant of the Year prize – presented at a ceremony in November at Edinburgh's Sheraton hotel – was a "dream come true". It came after the awards' 16-category shortlist was determined by more than 10,000 votes by the public, with all 60 establishments in the running visited by a panel of judges from the Asian Catering Federation (ACF). The latter organisation's chairman Yawar Khan said: "Asian restaurants contribute £5 billion to the economy and employ more than 100,000 people across the UK. They are also a key feature of Scotland's food and cultural landscape."
Mr Ramanan says the award recognised the unique offering of the Prahna, which is located on St John's Road near Drum Brae roundabout, has 90 covers and now about 20 staff. "The concept is totally different – you don't find it in any other Indian restaurants," he says.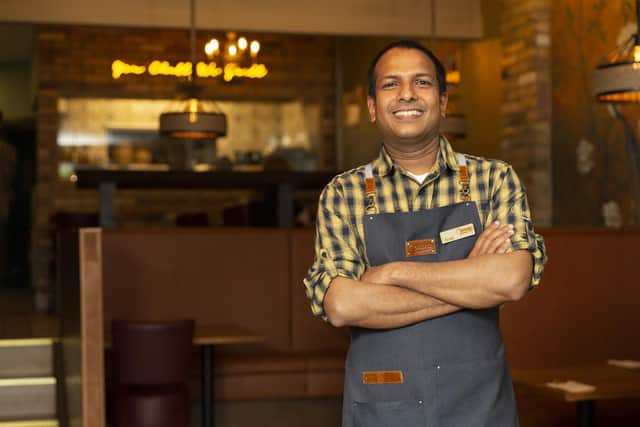 This included creating a "totally new" menu that saw the shunning of some curryhouse staples like popadoms, pakora, and very spicy dishes ("Indian food isn't all chilli, chilli, chilli; it's flavoursome") in favour of fare fusing Indian cookery and Scottish ingredients, like lamb; Newhaven cod; freshwater crayfish; and "Corstorphine chicken tikka" marinated in Arran mustard.
The marrying of the two cultures is also reflected in the restaurant's decor mixing brightly coloured backdrops, including ornate gold wallpaper decorated with peacocks and a ceiling covered in flowers, with old black and white photos of the local area, including one of the defunct Astoria cinema on Manse Road that had opened in 1930 and boasted nearly 1,400 seats, but drew the final curtain in the 1970s.
Old and new
It helps people "have nostalgic moment," says Mr Ramanan, who took over the Prahna after visiting it in its previous incarnation, Abida, when he was working as a delivery driver, and, seeing the potential for a busier, more modern offering, took it over after talking to the owner, revamping the space, and bringing in his own team.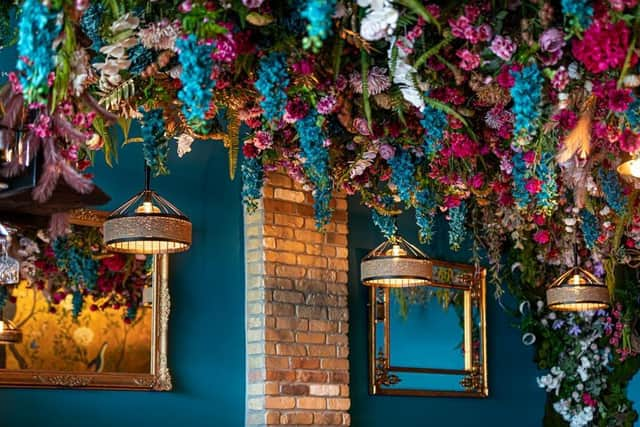 It marked a new chapter for the restauranteur, who had previously worked in Mumbai and Bangalore in his native India – he hails from the coastal state of Kerala – as well as Dubai, and he had also managed a restaurant in Musselburgh.
After having to delay opening due to Covid and then again due to the ceiling falling in, "from there it was good, actually", and The Prahna started out with price-free menus and operating a "pay what you want" system, building up a local customer base who gave feedback. It has been keen from the get-go to be deeply embedded in the local community, with the restaurant's three co-founders – also comprising Leonard Mena and Anant Aggarwal – having a policy of donating anything it raises for good causes to organisations within a three-mile radius. "It won't go anywhere else," Mr Ramanan stresses.
Beneficiaries include a playgroup, and Corstorphine Community Centre, via which during lockdowns it distributed food packages mainly to elderly people suffering from isolation. "We look after the community – and the community looks after us," says Mr Ramanan.
Back in November, the ACF cheered the winners of the Asian Restaurant Awards (Scotland), adding that it would "continue to support these important businesses, especially during these challenging times with the sector facing rising costs and staff shortages".
Pressure
And many hospitality firms have bucked under the pressure: there was a net decline of 1,611 licensed premises in the fourth quarter of last year on the back of "unprecedented" inflation in energy bills and other costs, the Hospitality Market Monitor from AlixPartners and CGA by Nielsen IQ last month revealed. The figure was 4,809 for the whole of 2022, more than 40 per cent higher than the total net closures seen during Covid-hit 2021. "While the fundamental, longer-term outlook for the sector remains strong, these latest figures graphically illustrate the immediate and considerable challenges," said the report.
The Prahna boss is, when the time and economic climate are right but hoping to get the ball rolling this year, keen to open more sites across Scotland, near/outside city centres. Glasgow, Fife, Stirling and Aberdeen are all potentials, although one customer even suggested opening a branch in Amsterdam.
"We have a good model," Mr Ramanan states – and one he sees as expandable subject to relevant minor adjustments. He points out its afternoon tea known as "afternoon chai", and not serving conventional curry dishes at lunchtime but rather, say a chicken korma burger and a sandwich billed as "Bombay's version of a chip butty", as being among the unique strings to its bow. "We've got lots of good products that will work [across] Scotland that will bring people together," he believes.