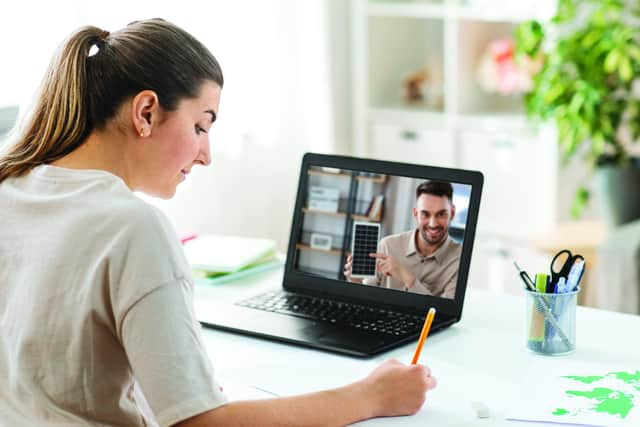 The Open University (OU) is the only higher education body that is delivering the Scottish Government's Flexible Workforce Development Fund (FWDF) Phase 2.
Through it, applications for free training of up to £15,000 by the OU are open to levy payers in the private, public and third sectors.
Non-levy paying small and medium-sized enterprises (SMEs), which have less than 250 employees, can apply for free training of up to £5,000.
Learning opportunities are focused on areas where skills gaps exist in Scotland.
"Previously, the fund was there to help small and medium enterprises build a skills base that was mainly about business and leadership," says Tim Lewis, the OU's business relationships manager.
"That has been expanded and covers eight skills sectors including green skills, environment, sustainability and climate change."
Aiming to position itself as a leader in providing skills for the sustainability and green skills sector, the OU is a partner of The Scotsman's Green Skills Conference taking place at the COSLA Conference Centre in Edinburgh next Tuesday.
The event, run in association with Skills Development Scotland, will discuss how Scotland will achieve the Climate Emergency Skills action plan target by tackling the key issues from higher education through to reskilling and upskilling employees.
The OU has been a pioneer of distance learning for over 50 years, with more than 24 per cent of its students currently located in rural or remote destinations, and one in three in employment.
The online-based learning through the FWDF includes a range of short CPD courses, and undergraduate modules at OU level 3 for those seeking to develop knowledge, skills and capability.
For those with industry experience, post-graduate modules aim to extend skills and develop strategic thinking.
Newly-created microcredential sector-endorsed courses provide specialist knowledge and practical skills.
There are no costs for businesses as all courses are fully funded by the Scottish Funding Council.
"We know the pressures on the marketplace at the moment in terms of attracting new staff, salaries and making sure people feel value in the work they are doing," Lewis explains.
"There is also a transition away from traditional industries into new ways of thinking. We know there has been a huge amount of change in the last two years, probably more than in the decade before.
"This fund is to help employers manage some of that, give their staff new skills and help staff retention but also to attract new staff in."
Applications are open until 31 July and can be made online via the OU's FWDF portal.
A business development manager will guide applicants through the process before a training needs assessment is carried out to ensure the right training needs are matched up with the OU provision.
Lewis concludes: "What makes this work is that it is flexible, so you study alongside your work. That is how everything is designed at the OU."