The Royal Bank of Scotland report, Springboard to Sustainable Recovery, says the move to net zero could create 30,000 new small businesses across the UK - and 130,000 new jobs. The business opportunity for SMEs (small and medium-sized enterprises) is put at £160 billion.
Judith Cruickshank, Managing Director for Business Banking at Royal Bank of Scotland and NatWest Group, tells The Scotsman podcast series A Greener World Needs A Plan: "SMEs are the lifeblood of our economy, they contribute 50% of turnover and 60% of employment. So they have a significant role to play in the transition to net zero.
"From their own businesses SMEs are accountable for 30% of UK emissions. But they can help drive a much greater reduction in that through developing and delivering solutions. For example, the UK's transition to net zero will need to support 5 million installation retrofits across homes, 3 million heat pump installations, 125,000 electric vehicle charge point installations - and we need businesses to help deliver that."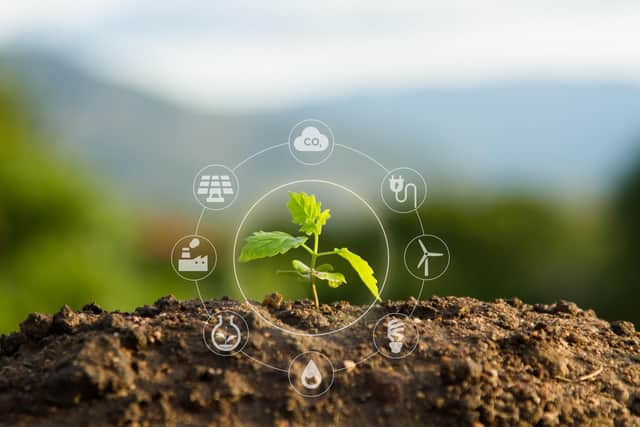 Springboard to Sustainable Recovery says the UK's six million SMEs can achieve 50% of the reduction in emissions needed in the UK - but need funding, training and support to help them.
Gary Hayes, Founder of the CampervcanCo in Denny, near Falkirk, says his firm started introducing lower emissions vehicles into the market in 2016 - because it was the right thing to do, because it was what customers wanted and because it had business benefits.
He tells the podcast: "We were the first UK company to introduce a fully hybrid vehicle to the market, and possibly first in Europe. It was a slow start, but it really took off and now, our sales are 75% eco campers and growing.
"It wasn't just me that had the desire to lower the emissions of our products. Customers were coming to us and saying, 'This is what we want'.
"Before we got into this eco range, we were the same as anyone else. Someone might choose us because of geographical location, or because we were cheaper. When you come to the market with something that's got added benefit [and people want] you can charge more for your innovation. But you've got to invest in that innovation."
CampervanCo has set itself the goal of introducing a zero emissions recreational vehicle by 2025 - five years ahead of the UK Government cut-off for diesel and petrol vehicle manufacture. "We are confident we'll do that - we know what we need to do, and the technology and the demand is out there."
The podcast also features Steve Aitken of Aberdeen-based Intelligent Plant, which creates tools and apps for industry to be less wasteful.
"We make it easy and fast to understand where you're making waste, or you could get an optimization - or make things safer - by using industrial data, '' he says.
Using the example of the Orbital 2 tidal turbine, being tested in Orkney he says: "We've hooked up to that and we're seeing live data all the time - the speed of the tide, the pitch of the blades, the rate that they're spinning, how much power is coming out, the temperature
"You gather all this together to make the right decisions for how you use it in future. How do you optimise it to get the most power possible out of that turbine, so it can replace as much non-green power as possible?"
Both Gary Hayes and Steve Aitken tell the podcast how they were motivated by sustainable concerns and now see clear business benefit in the approach.
However, Springboard to Sustainable Recovery also reveals the scale of the challenge ahead - as fewer than 1 in 10 small businesses see climate action as a business opportunity.
Judith Cruickshank feels momentum is growing, and that COP26 can be a catalyst for more businesses to seize the huge opportunities.
"The challenges SMEs have faced over the last 18 months, and continue to face with increased supply costs or staff shortages, can make it really difficult to prioritise climate change. Also, there is so much material and understanding needed to figure out what to do; it can be quite overwhelming. However, SMEs have always shown themselves to be very nimble and I think the mindset will change very quickly. We have a role to play in that by helping increase awareness of the positive business case from taking climate action."
NatWest Group has delivered climate training to 99% of client relationship managers and pledged to provide £100 billion in climate sustainable funding and financing for customers by the end of 2025. It aims to be making a positive climate impact in that year, having reached net zero in 2020 - and aims to halve its 'financed emissions' by 2030.
"That's essentially taking every business that we lend money to, and determining what their carbon footprint is, and holding ourselves to account for those emissions," Judith Cruickshank explains.
Gary Hayes says awareness-raising is crucial as small businesses often do not know what is available: "There's actually a lot of green, eco-focused funding out there for you to change your products. It's about habits, education and networking. When I meet people and ask if they've tried this or that, 9 times out of 10 they haven't. I think there's a lot we can do to change that."
Steve Aitken says networking support he got through the Royal Bank's climate accelerator has been crucial: "Introductions to other businesses thinking in the same way or doing associated activities is incredibly valuable. It helps us not only find partners we could work with, but also tweak the way we work and understand things we might have missed.
"I want to try and fix all the problems around getting access to data to ensure we don't waste things we don't need to. That's something that helps me get up in the morning and feel good about myself - making a positive difference to the world."