Strichen meaty pastry wins national gourmet award
A favourite north east foodstuff has conquered Scotland.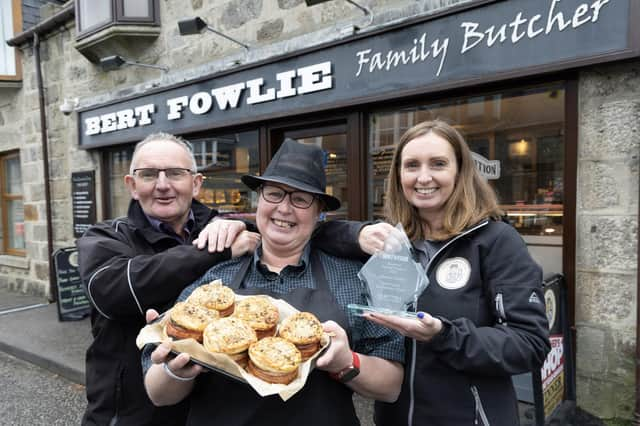 The Strichen Stack, produced by Bert Fowlie family butchers, has been a firm favourite among customers for the past five years. But now the innovative meaty product has lifted the national title in the Scottish Craft Butchers first ever Gourmet Pastry Product evaluation awards, marking it out as the best in Scotland.
Delighted owners at the butchers were quick to credit product creator, sales assistant Tracey-Anne Wiseman, with the Strichen Stack's success.
"I'm absolutely overwhelmed," said Tracey. "The idea for the stack just came to me back in 2017 when I was flicking through food magazines and I went in to work on my day off and put together what I thought would be a tasty product."
Tracey crafted pressed layers of black pudding, haggis, chicken and flaky pastry, all encircled in streaky bacon and filled with a melting centre of peppercorn sauce and let boss Hebbie Fowlie taste the result.
"He came back and said it was a hit," said Tracey, "and the Strichen Stack went into production straight away, selling more than 80 on its first day on the sales counter."
In the five years since, Fowlies has sold nearly 14,000 with demand from customers all across the north east. And Tracey is delighted that her creation has won national recognition with the coveted Diamond award.
"I'm absolutely thrilled," she said. "Hebbie and the family are very good at letting the staff come up with new product ideas and I just thought something that captured the favourite flavours of Scotland would be tasty."
Hebbie, who owns the business with his wife, son Gavin and daughter Donna, said they were "very proud" of Tracey's success.
"The Strichen Stack was one of the earliest stacks to come on the market," he said. "It was a pioneer of the idea and I knew as soon as I tasted it that we had a success on our hands. It's been a great favourite with our customers and it's absolutely wonderful to see it come out tops in Scotland. We're really thrilled for Tracey and for the team.
"We'll be working overtime to ensure there are enough to go round when word gets out that we produce the country's best butchers' gourmet pastry product."