Promising lapwing project results show farmers are 'part of the solution not the problem' to biodiversity decline
The initiative includes farmers and conservationists working together to help the ailing lapwing population.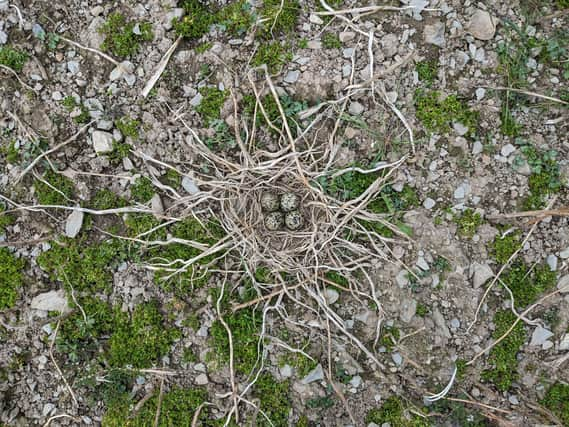 Farmers regularly get a hard time being blamed for the decline of biodiversity.
But promising results from a new initiative between farmers and conservationists to help reverse the decline of one of Britain's most loved birds – the lapwing – shows they are more part of the solution than the problem.
The ground-nesting birds are known for their shrill cry and irregular, wavering flight style.
Population figures have plummeted across Scotland - and the rest of the world - in recent years.
RSPB figures say the numbers have dropped by 29 per cent since 1987, citing the main reason as changes in farming practices.
However, a glimmer of hope has emerged through a nesting management trial which has been led by the Clyde Valley Wader Group (CVWG) with funding from NatureScot.
Led by Scottish Agricultural College (SAC) Consulting (part of SRUC), the group, which includes farmers, RSPB Scotland and NatureScot, have come together to introduce specific nesting areas for the birds on farmland, to encourage nesting and hatching.
They have been monitoring the birds to understand nesting patterns and identify the most suitable areas.
Jennifer Struthers, of SAC, said because the birds nest on the ground, they can be prone to predation, disturbance from curious livestock and agricultural operations. The result is they typically experience very low breeding success.
She said farmland is "critical" for the birds' future as they nest in a variety of rural habitats including wetlands, grasslands and crops. And this has been demonstrated in the project so far.
According to results, the lapwings showed "very high levels of hatching success in the plots which were specifically introduced onto the farms to help them" with about 75 per cent of nests hatching across five trial fields, compared to typically 20 per cent or less in grazed pastures.
Kenny Johnstone from Boghouse and Eastertown farms at Crawfordjohn said the group initiative has given the stakeholders involved a "productive, reactive, honest and enjoyable environment" to work with in the best interest of wader birds.
Patrick Laurie, Galloway farmer, author and part of the national Working for Waders forum, said: "Crucially, it (the project) has been designed by farmers to work alongside existing businesses, and it shows that while farmers are often blamed for the decline of biodiversity on farmland, the truth is that they are part of the solution."
Comments
 0 comments
Want to join the conversation? Please or to comment on this article.