Edinburgh school attendance rates fail to recover from Covid-19 disruption
Shock figures have revealed the proportion of Edinburgh primary pupils who are regularly absent from school is still double pre-pandemic levels.
Education chiefs in the Scottish capital say attendance rates for some groups of pupils have failed to recover from the disruption caused during Covid-19 lockdowns.
Official figures reveal 14 per cent of city primary school pupils are now described as having persistently poor attendance, compared to 7 per cent in 2018/19. The data for secondary pupils shows the proportion has increased from 14 per cent to 20 per cent in the wake of the pandemic.
An existing attendance gap has also "widened", with recent improvements in absence rates among pupils from more affluent backgrounds not being mirrored by those considered the most deprived. School leaders have reported ongoing anxiety among parents and pupils as a key reason for the problem, as well as a change in attitudes among some families about the importance of education.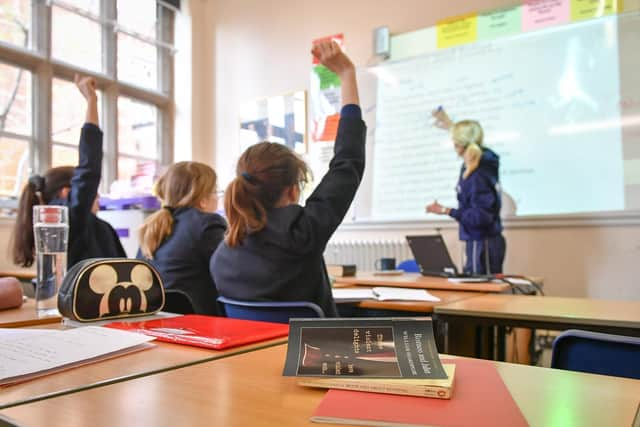 In contrast, the Scottish Council for Independent Schools (SCIS) said the number of pupils in its schools had now bounced back to above pre-Covid levels.
Willie Rennie, Scottish Liberal Democrat education spokesperson, said the nation's "missing children" were being left behind. "This may be a hangover from the pandemic, but there should be great alarm from the SNP Government and education leaders in councils," he said. "Where is the plan to get them back to school?"
Education officials said overall attendance in the capital was "good", with primary levels at just below 93 per cent and secondary slightly under 90 per cent.
However, the proportion of pupils with persistently poor rates of below 85 per cent attendance has "worsened" since the pandemic, particularly in primary schools.
In a report to councillors, officials said there had been "some improvement" compared to last session. The Edinburgh figures have emerged amid fears of a "cultural shift" in attitudes across the UK, with parents far more willing to let their children stay at home since school closures at the height of the pandemic.
Greg Dempster, general secretary of AHDS, the association of headteachers and deputes in Scotland, said he had heard reports of such a trend, including in the west of Scotland.
"It's not that there is a long Covid health effect, where more kids are ill and absent, it's a smaller number of pupils whose attendance levels have dropped more markedly," he said.
"Some of the comments I have heard have related to that point about there being a change in attitude about the importance of schooling – not wholesale, but from some families.
"That attitude could be playing a part and obviously that's hard to overcome. Then there is still anxiety out there, which you can understand.
"Different families have had very different experiences of the Covid period, whether they lost family members or were in shielding categories and still have anxiety associated with being out and about."
Patrick McGlinchey, executive director of Connect, formerly known as the Scottish Parent Teacher Council, also said anxiety was playing a part. "Schools continue to face challenges indirectly related to Covid, such as parents' and students' anxieties, alongside growing financial hardship, all impacting attendance," he said.
"Schools and local authorities must listen, understand, emphasise and support families to remove barriers to attendance and put children and young people's health and well-being at the heart of the conversation."
In Edinburgh, the overall attendance rates are 95.1 per cent for the least deprived primary pupils, but 89.3 per cent for the most deprived.
The figures for secondary pupils show a 7.2-point gap, with total attendance at 85.4 per cent for the most deprived, compared to 92.6 per cent for the least.
Overall low attendance levels have been recorded this session by 4,100 primary pupils in Edinburgh and 3,400 in secondary. In special schools, the low attendance rate has increased from 15.9 per cent before the pandemic to 20.7 per cent this year.
A review was carried out by education chiefs and a strategic group was established to take forward its recommendations.
A pilot project to boost attendance at Craigroyston learning community is delivering improvements, with another planned at Gracemount High School this year. The local authority's education committee will discuss the work on Thursday.
Joan Griffiths, the council's education convener, said one of the authority's key priorities was that every child comes to school every day.
"At the moment, almost all of our learners do just that, but for some families, more barriers have emerged during and post-Covid," she said.
"To improve on this we have taken a range of actions, including more careful analysis of the data, including sharing it across schools within a learning community so that resources can be targeted where families need them. We've also improved our protocols, increased support and trained more specialist staff."
She added the next steps would aim to ensure gaps are quickly identified and addressed.
A Scottish Government spokesperson said attendance and absence rates could fluctuate, but recent data suggested they were now similar to average levels in previous years.
The spokesperson added: "Nonetheless, it is vitally important that schools work with families to support and engage pupils to maximise attendance at school. The Scottish Government has issued guidance that sets out how schools can promote engagement and the education secretary intends to raise this matter with [council umbrella body] Cosla when she meets them."
Meanwhile, an SCIS census of 71 independent schools showed their pupil numbers had returned to pre-Covid levels. Alison Herbert, SCIS deputy director of external relations, said the findings were "incredibly reassuring" for the sector.
Comments
 0 comments
Want to join the conversation? Please or to comment on this article.