Independent Schools: Viewing every opportunity
One of the main appeals of the Scottish independent schools sector is undoubtedly the wide range of choice available across its 71 diverse places of learning.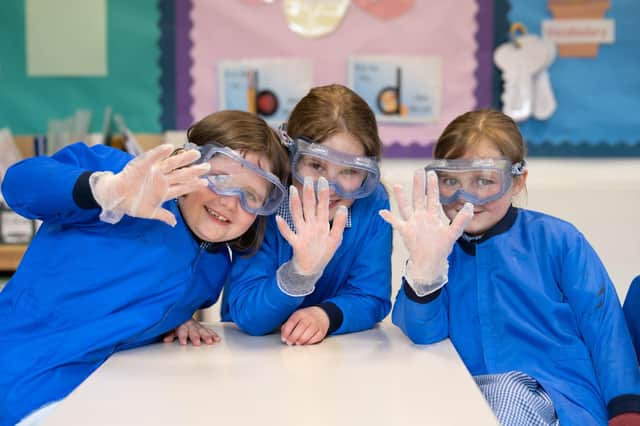 From those offering a specialist subject day education to full boarding or global-looking academic curriculums, parents and prospective pupils should visit a variety of schools to ensure the right fit for each child.
George Watson's College in Edinburgh is an all-through co-educational day school that provides Scottish National Qualifications and encourages each of its 2,400 children to develop a love of learning.
While academia is very much at Watson's core, there is an extensive enrichment initiative which includes its S3 Project Programme which allows pupils to undertake two-week trips to various locations.
Principal Melvyn Roffe says: "Deciding to go to any school is about forming a relationship, and while the relationship is most obviously between the pupil and the school, it is also about the parents and the school too.
"I always say to children looking around the school, 'See if you can see your place and imagine yourself in the activities, classroom and corridors', and really encourage from the outset that pupils here see themselves as being part of the community."
On a smaller scale is Fairview International School near Stirling, where students from a sister school in Malaysia will be visiting in May.
It has ambitions to run the International Baccalaureate (IB) diploma from August, alongside its current IB primary and middle years programmes.
The Bridge of Allan-based institution expects to grow its roll to 100 by the next academic year while maintaining a boutique feel in the school, where class sizes are typically between eight and 12 pupils.
Its headteacher, David Hicks, who joined last year, explains: "The main thing I would ask families to consider is if they would be happy with a school like ours.
"There are many benefits of the programme we offer, particularly the IB, and it's important that prospective families understand the strengths behind our approach to education and believe that IB is the right fit for them.
"They also have to be prepared for the expectations that the programme demands, because more traditional curriculums aren't as demanding. The IB is more about student initiative and self-development with teacher guidance throughout."
Hicks also emphasises questioning how the school size works for each individual: "At Fairview, we have a greater visibility of the student, there is greater involvement from students and families in decisions and the day-to-day activity – there is a voice for everybody."
Those with younger children may not yet be thinking about senior qualifications. The Compass School in Haddington is East Lothian's independent primary school and is the only nursery in the region with a full-time teacher assigned to it.
The mixed ability school, where children can join at any stage, prepares youngsters for a broad range of secondary schools, as well as for life afterwards.
Headteacher Mark Becher informs visiting parents that it is important to gain an understanding of what a typical working week in the school looks like.
He says: "At The Compass, pupils have French and music twice a week, and a bus that shuttles up and down to the swimming pool every Tuesday. We have judo which is compulsory up to Form 5, then as a club after. So, we want parents to gain a sense of what might extend and challenge their child.
"Parents of a well-abled child will want to know how we challenge them, or if they have a child with particular needs – maybe difficulty with numeracy, for example – then parents should consider the support that is given to them. These are all typical questions that I am asked when I show parents around."
Those with busy work or travel schedules may wish to explore schools that have boarding facilities available. Most boarding schools provide flexi-boarding options for one, two or even four nights a week.
St Mary's School in Melrose is a co-educational preparatory day and boarding school with such an offering.
Each September, the school opens its doors for the Bang Goes the Borders science festival. This comprises around 25 presentations and interactive workshops and is supported by those from universities, schools and other educational organisations from across the country.
Headmaster Liam Harvey advises parents of prospective pupils to gain an understanding of the school's model when attending a visit.
"We are a day, flexi and weekly boarding school and for senior pupils, while it isn't compulsory that they board, we do recommend they do so because most go on to boarding schools north and south of the Border.
"A lot of our parents, even if they live locally, come to us because they do not like the idea of sending their children away to a full-board prep school but are taken aback when their children ask if they can board.
"That tends to happen because it is such a full-on fun experience. They club together with their pals and book a term ahead for a night or two a week, so parents should be aware of that."
The school has a strong academic reputation and Harvey highlights extensive homework demands for pupils, as well as the longer working days which usually finish at 5pm.
Set within the rolling Borders countryside, the pupils will often find themselves drawn to residential outdoor pursuits, including mountain biking.
And anyone seeking a single-sex education for their daughter should head towards St George's School in Edinburgh. The all-through day and boarding school is hosting an open day next month with the theme of A Royal Visit, which will include a an abundance of fun-filled activities.
"We have a unique atmosphere here that is very warm and inclusive, so parents and prospective pupils should take the time to soak that up," saysSt George's new head, Carol Chandler-Thompson.
"The students act as guides here, and we don't really prepare them for that, so it is very genuine and authentic. Visitors gain a real sense of the school just by meeting those students.
"We have quite a unique structure from the Junior School to theUpper School, so it is good to find out about what we do in different parts of the St George's.
"We have a unique curriculum, also, as it is a blend of the Scottish and English qualifications higher up, and there are real advantages to that – so get a good understanding of the curriculum."
Chandler-Thompson believes the benefits of a girls-only education is largely down to the removal of stereotypes, stating that they have "freedom to be the kind of student they want to be".
She adds: "In a way, it is quite a nice, innocent environment. Our 13-year-olds are still running around the playground, and I think they lose that quite quickly in a co-ed environment, so it is nice to have that freedom for a bit longer."
Many schools have adapted their open days to being virtual following the Covid-19 pandemic.
Twice a year, St Mary's Music School in the Capital hosts a hybrid online event, with a mix of pre-recorded discussions and music performances, while attendees can ask any questions they may have.
The place of learning is one of only five government-supported specialist music schools in the UK, and the only of its kind in Scotland.
While music is a priority there, longer school days ensure that students can still dedicate time to studying for Scottish National Qualifications and last year 85 per cent of results were grade-A.
"The advice is certainly to come along and see it for yourself," advises St Mary's Music School head, Dr Kenneth Taylor. "We outline the education on offer here, which is quite different to others because there is more music.
"If you are within striking distance of Edinburgh, you can come in and share your music with us; we will offer some advice and let you know if we think you might be successful in terms of an audition here. For people further away, we take video recordings and do the same thing."
For those joining in Sixth Year with hopes of going on to The Royal Conservatoire of Scotland, there is the option of doing an extended Sixth Year to ensure plenty of preparation time for the audition and application process.
Whatever the school, it is always worth attending an open day. Most encourage follow-up visits for personal tours on working weekdays and to take meetings with senior members of staff.
There is usually an school admissions department or registrar who is always on hand to answer any questions at any stage of the process.
Bridge of Allan, Stirlingshire
Friday, 17 March, Junior School and Nursery
Melrose, Scottish Borders
Bang Goes the Borders science festival, September