Schools Scotland: Almost seven in ten teachers use own money to help pupils, poll shows
This new poll has found a majority of teachers in Scotland are dipping into their own pockets to help pupils.
​More than two-thirds of teachers have used their own money to buy classroom supplies and help their pupils as they "continue to subsidise Scotland's education system", according to a new survey.
The Educational Institute of Scotland (EIS) poll of 16,475 members also found teachers are facing "significant stress" from both their "soaring levels of workload" and the impact of the cost-of-living crisis.
The poll found 34 per cent of teachers said they had poor wellbeing within their job overall, while 10 per cent described their wellbeing as "very poor".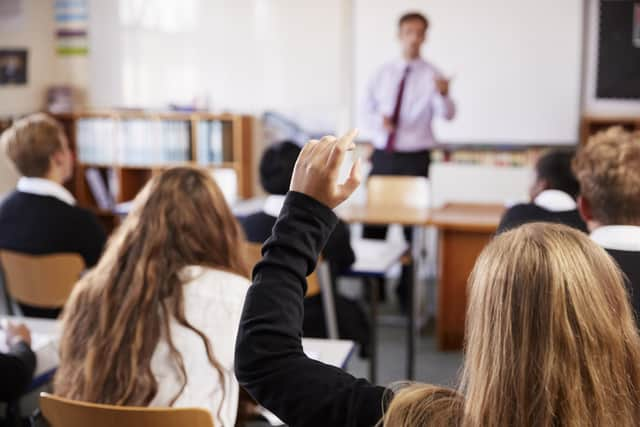 More than half said they felt stressed frequently (53 per cent) while a fifth (20 per cent) said they felt that way all the time.
The research also looked at the impact of the cost-of-living crisis and found almost seven in ten of those surveyed (69 per cent) said they have used their own money to buy food, clothing, school equipment, or pay for pupils they teach so the youngsters do not go without.
However, just over half (51 per cent) said they have been spending less on classroom resources because they can no longer afford to do so.
EIS general secretary Andrea Bradley said the situation was "simply not sustainable". She said: "This major survey of Scotland's teachers provides a stark warning of the current situation in Scottish education.
"Teachers are facing significant stress from both their soaring levels of workload and also from the cost-of-living crisis, which has impacted on teachers personally, especially as they awaited a much-needed pay rise, and on our schools and the young people in our classrooms.
"The scarcity of support for pupils with additional support needs is compounding the stress on school staff, in addition to damaging the educational experiences of the young people concerned, including with regards to behaviour.
"With the number of children living in poverty continuing to rise, it is once again falling on schools, with dwindling resources, to plug the gaps in many young people's lives. However, it is simply not sustainable for teachers to continue to subsidise the Scottish education system."
The EIS survey – Workload, Health And Wellbeing And The Cost Of Living Crisis – also found almost all of the teachers questioned (98 per cent) said they work above their contracted hours each week. Four in ten (41 per cent) said they work more than eight additional hours each week.
The survey, which was carried out between December 21 and January 31, also found just over one in ten (13 per cent) teachers said they were struggling to pay their rent or mortgage, and half (50 per cent) were starting to struggle.
Sixteen per cent said they are struggling to pay for their weekly food shop, and almost two-thirds (65%) said they are starting to struggle.
A Scottish Government spokesman said: "This EIS survey is certainly concerning given the context of our teachers accepting the biggest pay package for their members in over 20 years, with the majority seeing their salaries rise by £5,200. Classroom teachers on the main-grade scale in Scotland are the best paid in the UK.
"It is therefore imperative that the Government works with our local authority partners, who employ our teachers, to better support them in the workplace. Since October 2020 the Scottish Government has invested over £2 million in supporting the wellbeing of the education workforce. But there is more we will require to do, working in partnership with the local authorities."
A Cosla spokesperson said: "Scotland's councils continue to provide a range of support and assistance for our teachers to better support them in the workplace. However, we are always willing to hear concerns and make improvements where necessary and would be happy to meet the EIS to discuss the outcome of their survey.""Despite the financial challenges facing Local Government, Scotland's councils are fully committed to making our learning places as good as they possibly can be for pupils, teachers and all support staff. "We have made inroads on workload and it has to be recognised that the stress we see reported by teachers is mirrored in other parts of our public sector, especially where people are working on the front line but as employers, we are willing to discuss this as part of the overall findings of the survey."
Comments
 0 comments
Want to join the conversation? Please or to comment on this article.