SNP's free music tuition policy 'fails to boost uptake' with 92% of pupils missing out
Surveys show number of pupils getting musical instrument lessons has dropped in recent years.
The SNP Government is being accused of breaking its promise to school pupils after it emerged that nine out of every ten youngsters are missing out on music tuition.
Opposition MSPs seized on survey data showing just 8 per cent of pupils in Scotland were taking instrumental music lessons last year.
It follows a drop of more than 5,000 youngsters receiving tuition, down from more than 61,500 in both 2015/16 and 2016/17, to 56,138 last year.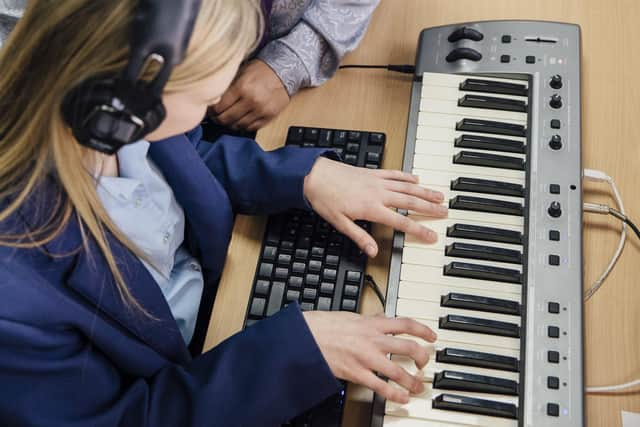 Scottish Conservative MSP Donald Cameron said the figures were "sadly symptomatic of the SNP's mismanagement of Scotland's education system". However, a study suggested the statistics for last year were still being skewed by the impact of the Covid-19 pandemic.
The Scottish Government ended charges for music tuition in 2021 by providing councils with £7 million to deliver an SNP manifesto pledge. Before the change, many local councils had introduced – or increased – charges for group instrument lessons held in schools, with some billing parents up to £300 a year.
The Instrumental Music Services (IMS) survey shows the number of pupils playing an instrument plummeted at the height of the pandemic, going from 56,198 in 2019/20 to 41,594 in 2020/21.
The figures rebounded in 2021/22 to levels similar to those found immediately before the coronavirus outbreak, but they remain at a lower rate than any year in the past decade other than 2020/21.
Mr Cameron said: "The fact that so many young Scots are missing out on music lessons is deeply disappointing. Music tuition for school pupils is extremely important – it teaches children a valuable skill, enriches their education experience and has been shown to improve performance in other academic areas.
"But under the SNP, 92 per cent of pupils have not taken up a musical instrument, despite the Scottish Government's promise of free music tuition for all school children.
"In the last five years, the number of pupils taking up a musical instrument has dropped by more than 5,000 – a steep decline that is sadly symptomatic of the SNP's mismanagement of Scotland's education system."
The Highlands and Islands MSP added: "Humza Yousaf must do more to get pupils engaged with music and encourage tuition uptake."
At a local authority level, the IMS survey showed huge variations in uptake, from 3.8 per cent in North Lanarkshire to more than 25 per cent in the Western Isles, Orkney and Shetland.
Councils highlighted an ongoing impact from Covid-19 in the early part of 2021/22, and it also affected instruments in varying ways, with wind and brass lessons not permitted in many schools until a later date.
Before the SNP ended charging, participation had been increasing in a sustained way at councils which already did not charge, and was decreasing in those which did hit parents with fees.
The IMS report said there had not yet been any "reversal in those trends".
It added: "Nationwide, due to the ongoing impact of Covid-19 on numbers in 2021/22, pupil numbers have not yet seen any impact of the removal of fees. Future surveys will be a more useful indicator of the impact of this policy."
A Scottish Government spokesperson said of the accusation it had broken its pledge to school pupils: "This claim is factually wrong. The pledge was to remove fees, making it free to all pupils.
"Instrumental music tuition is offered in all local authority areas as an optional extra, in addition to class music lessons, which form part of the expressive arts curriculum for all children."
Comments
 0 comments
Want to join the conversation? Please or to comment on this article.