The rationale behind the proposed ban is reasonably straightforward. Advertising works – it encourages us to buy products, whether we realise it or not, and the UK's multi-billion pound advertising industry is testament to its effectiveness.
The Scottish Government under Nicola Sturgeon's leadership has therefore surmised that curbing the ability of the alcohol industry to advertise its products, much like the restrictions placed on the tobacco industry, will reduce Scotland's collective drinking – and with it the reported health implications and societal harm generated by alcohol consumption.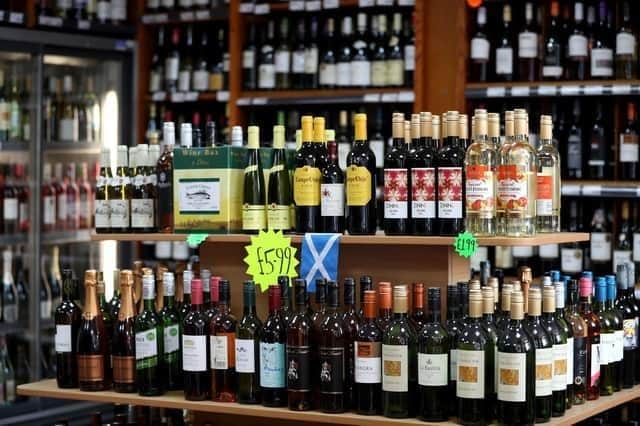 Alcohol-related hospital admissions statistics published last week by Public Health Scotland (PHS) showed there were 35,187 alcohol-related hospital admissions in Scotland in 2021/22. That's roughly the same as in 2020/21, when there were 35,124 alcohol-related hospital admissions.
Tragically, the number of deaths has gradually been rising since 2023, according to National Records of Scotland data. There were 1,245 alcohol-specific deaths registered in Scotland in 2021 – 5 per cent (55) more than in 2020.
While alcoholism and drink-related deaths are not uniquely Scottish problems, those problems are unfortunately more prevalent in Scotland compared to other UK nations. While in England there were 14.8 alcohol-specific deaths per 100,000 people in 2021, in Scotland there were 22.3 deaths per 100,000.
As well as being uniquely bad in Scotland, alcoholism and drink deaths disproportionately affect poorer communities. The latest PHS figures show that in 2021/22, people in the most deprived areas were six times more likely to be admitted to general acute hospitals for an alcohol-related condition than those in the least deprived areas (991 compared to 153 per 100,000 population).
Scottish Conservative shadow minister for drugs Sue Webber said the figures were "extremely concerning". "Depending on where you live, you could well be much more likely to end up in hospital as a result of alcohol," she said.
"Alcohol deaths are at their highest since 2008 on the SNP's watch and it is people in our poorest communities who are clearly suffering the most as a result."
There is perhaps a generational gap in alcohol consumption too. While young people may be associated with binge drinking, and partying on weekends, the Scottish Health Survey in 2021 revealed hazardous or harmful levels of alcohol consumption were highest among those aged between 45 and 74.
The main underlying causes of the alcohol-specific deaths that have been registered since 2000 are alcoholic liver disease (660 deaths in 2019) and mental and behavioural disorders due to use of alcohol (272 deaths in 2019).
Alcohol-related liver disease doesn't usually cause any symptoms until the liver has been severely damaged, according to NHS Inform, and is caused by either drinking a large amount of alcohol in a short amount of time; or by drinking more than the recommended limits of alcohol over many years.
The latter can cause hepatitis and cirrhosis, the more serious types of alcohol-related liver disease, and is more likely to be associated with habitual, daily drinking that causes individuals to breach their weekly recommended units.
As well as the health implications, alcohol is commonly associated with a number of anti-social behaviour offences such as assault, vandalism and breach of the peace, as well as social harms such as child neglect, serious crime, family breakdown and domestic violence. PHS estimates alcohol misuse cost the Scottish economy £3.56 billion in 2007 – the most recent date for which the data was available. That figure would be substantially higher in 2023, when adjusted for inflation.
In response to the Scotland's problem with alcohol, Scottish Health Action on Alcohol Problems (SHAAP) was set up as a partnership by the Medical Royal Colleges, such as the Royal College of Physicians Edinburgh – where SHAAP is based – and the Faculty of Public Health in Scotland to research and to advocate for an evidence-based approach to government policy on alcohol.
Although it gives a clinical view on alcohol consumption in Scotland, and its constituent colleges are frequently critical of the Scottish Government, it does accept Government funding to advise policy makers. Elinor Jayne, the director of SHAAP, said "it's pretty well established that Scotland has got a significant problem with alcohol".
While Ms Jayne doesn't think Scotland "is massively different", the nation suffers more deaths per capita than other UK nations and "the number of people who drink above the low-risk guidelines of 14 units per week is higher in Scotland".
"There's probably lots of factors at play and I don't think anyone's got one single answer, but it could be linked to deprivation," she said. "It could be linked to sort of the health inequalities that we see, and that resulted from decades of deindustrialisation. There's so many different factors, but we just don't really know."
Ms Jayne says consumption in Scotland has actually fallen, despite the increase in the number of people dying from alcohol.
"That's because of the pandemic and the impact that's had on consumption," she said. "It has resulted in heavier drinkers drinking more and more moderate drinkers drinking less.
"So it's had that sort of disproportionate effect, which means that we'll probably be seeing the consequences of this for years to come because we don't know when consumption patterns will return to pre pandemic levels or if they ever will."
While the Scottish Government has introduced minimum unit pricing, and plans to introduce restrictions on alcohol marketing, political opinion is divided over the effectiveness of either measure.
Scottish Conservative shadow health secretary Dr Sandesh Gulhane described minimum unit pricing ass "a blunt instrument". He added: "Now ministers are seeking to potentially ban alcohol advertising altogether. While they appear to have rowed back on some of their proposals, there should be more of a focus on tackling public health harms as well."