The rationale is pretty straightforward. Advertising works – it encourages people to buy products, whether we realise it or not, and the UK's multi-billion pound advertising industry is testament to its effectiveness.
The Scottish Government therefore wants to curb the ability of the alcohol industry to advertise its products, much like the restrictions placed on the tobacco industry. This is part of efforts to reduce Scotland's collective drinking – and with it limit the health implications and societal harm generated by alcohol consumption.
Does Scotland have a problem with alcohol?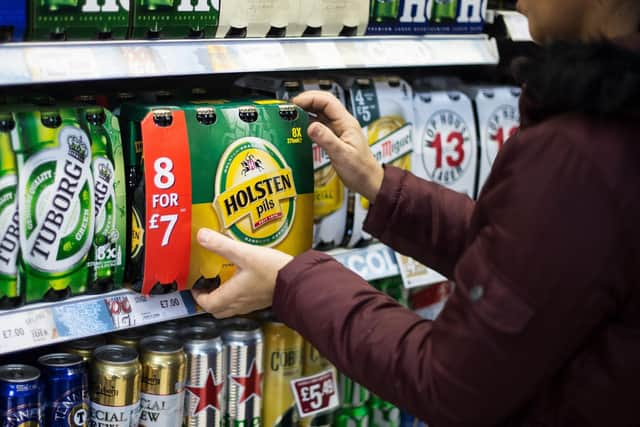 Yes, although there have been improvements in some metrics.
For example, in the financial year 2020/21 there were 35,124 alcohol-related hospital admissions (stays) in Scotland, according to the latest Public Health Scotland (PHS) data. However, the number of hospital admissions per 100,000 population has actually fallen since 2007/08, from 855 per 100,000 population to 614 per 100,000 population in 2020/21
Despite the reduction in hospitalisations, the number of deaths has gradually been rising since 2023, according to National Records of Scotland data. There were 1,245 alcohol-specific deaths registered in Scotland in 2021, 5 per cent (55) more than in 2020.
The problem is worse in Scotland too. While in England, there were 14.8 alcohol-specific deaths per 100,000 people in 2021, in Scotland there were 22.3 deaths per 100,000.
The main underlying causes of the alcohol-specific deaths that have been registered since 2000 are alcoholic liver disease (660 deaths in 2019) and mental and behavioural disorders due to use of alcohol (272 deaths in 2019).
Alcohol-related liver disease doesn't usually cause any symptoms until the liver has been severely damaged, according to NHS Inform. The disease is caused by either drinking a large amount of alcohol in a short amount of time; or by drinking more than the recommended limits of alcohol over many years.
The latter can cause hepatitis and cirrhosis – the more serious types of alcohol-related liver disease.
As well as the health implications, alcohol is commonly associated with a number of anti-social behaviour offences such as assault, vandalism and breach of the peace, as well as social harms such as child neglect, serious crime, family breakdown and domestic violence. PHS estimates alcohol misuse cost the Scottish economy £3.56 billion in 2007.
Will the proposed ban stop problematic drinking?
It won't stop people dependent on alcohol from drinking, and it isn't designed to. The target audience is two-fold: children and young people, and recovering alcoholics. These are the two groups the consultation paper mentions most frequently.
Firstly, by preventing children and young people from being exposed to alcohol marketing, the Scottish Government is hoping young people will start drinking at a later age, and with less severity.
The consultation documents quote a survey of more than 3,000 young people aged 11-19 years old in the UK, which found that half of the sample recalled seeing 32 instances of alcohol marketing in the past month, effectively one piece of alcohol marketing every day.
Within the under-18 demographic, one third of those sampled recalled 54 or more instances of alcohol marketing – almost twice a day. The idea is to prevent the hazardous and dependent drinkers of tomorrow, by preventing children and young people from being exposed to effective alcohol advertising.
Secondly, the Scottish Government wants to prevent recovering alcoholics from being exposed to alcohol marketing, particularly within shops where it can be hard to avoid alcohol products and advertising when it is visible throughout the store. The consultation document suggests alcohol could be placed at the back of a store to avoid it being seen by recovering alcoholics and children.
How far will the plans go?
When the consultation was first published, there were fears from the alcohol industry that brand names would be removed from shop signage and producers, including from tourism-boosting attractions such as distilleries and Edinburgh's Johnnie Walker Experience and Scotch Whisky Experience. Window displays, too, could disappear from the high street.
However, First Minister Nicola Sturgeon told the Scottish Parliament that a ban on signage on locations such as distillery buildings and on merchandise was "not in our current thinking". She stressed "there is also a world of difference between a billboard outside or in the vicinity of a school, and a Johnnie Walker baseball cap".
We can infer from this that any coming legislation will stop short of an outright ban on signage and branding. But sports, print, online, outdoor and broadcast advertising are all discussed at length in the consultation document, giving an indication of the areas the Government may introduce restrictions in.
How has the alcohol industry responded?
Alcohol is worth a lot to the Scottish economy, particularly whisky. The whisky industry provides £5.5bn in gross value added to the UK economy in 2018, although Scotland exports the vast majority (around 99 per cent) of its whisky, meaning it won't be impacted by domestic advertising restrictions.
Whisky tourism, however, which could be impacted by the restrictions, is worth "some £84m annually to the Scottish economy", according to Scottish Conservative MSP Murdo Fraser, whose party has been critical of the plans.
The sale of alcohol contributes 4.9 per cent to the Scottish economy (£8.1bn), around 60 per cent of which comes from whisky exports. Furthermore, around 60,000 hospitality jobs in Scotland are directly reliant on the alcohol industry.
Drinks firms insisted: "At times like these, we urgently need the support of our government and elected representatives." They argue the "ban" on advertising and marketing will harm the sector with "no clear evidence to justify such a move".