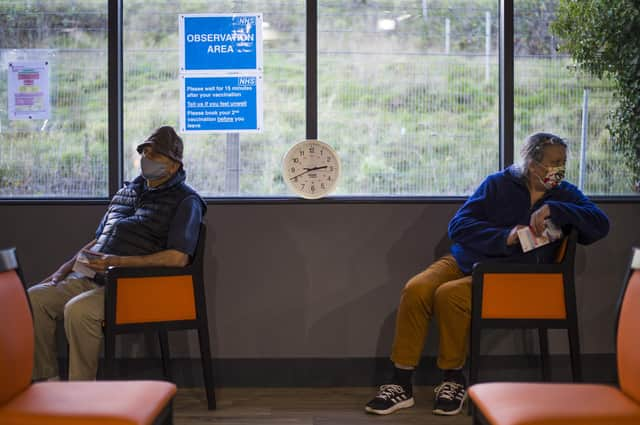 Patients sit in the observation area after receiving a Covid-19 vaccine from their GP. Picture: PA.
Patients are being turned away because of the mistaken belief they are only eligible for the jag if they have recently been hospitalised due to their condition, Asthma UK said.
The JCVI priority group six, which is currently being offered vaccines in Scotland, includes people with severe asthma along with those aged 16 to 64 with underlying health conditions.
Severe asthma is defined as those who either require regular or repeated steroids to treat their condition, or who have previously been hospitalised.
But Asthma UK said some patients had been turned away on the grounds that they have not been hospitalised recently.
Joseph Carter, Head of Asthma UK and the British Lung Foundation Scotland, said: "We know that there are different interpretations of the official guidance from GP surgery staff and we're not sure why exactly this is happening.
"We want to make it clear that there is no time limit on hospital admissions. There is no cut off time period here, the guidance is clear that if you were ever admitted as an emergency because of asthma then you should be in category six. It's essential that GPs follow official guidance, so that people with asthma who need to be prioritised are protected now."
Mr Carter also warned that the criteria for priority of asthmatics had left thousands of Scots "bewildered and confused."
Reports suggest that some people with asthma who are not yet eligible for the jag under JCVI guidance had already been offered it.
One West Lothian woman with asthma said she has watched several friends with the condition who do not fit the criteria be invited for a vaccine, while she has not been, leaving her confused as to which category she falls into, and upset by the discrepancy.
"This is a very stressful time for asthma sufferers," said Susan Martin.
"Why when we are encouraged to attend flu vaccinations each year are we missed off the clinically vulnerable list?
"My children are set to return to school the middle of this month, which puts me and others like me in a worrying position.
"The government have vaccinated those they believe to be of high risk which means my school will be unlikely to allow my children to complete their coursework remotely. This means I have been put back into serious risk."
Asthma UK has called for all those with even mild asthma to be prioritised for a vaccine by the Scottish Government.
Mr Carter said: "People with asthma are not at greater risk of mortality from the coronavirus, but the risk of hospitalisation and complications arising from their condition still places them at increased risk compared to those without asthma."
A Scottish Government spokesperson said: "Some people with asthma will receive the vaccine as part of cohort six, if they require continuous or repeated use of systemic steroids or have had previous exacerbations requiring hospital admission."
They added that Scotland will follow the JCVI guidance to prioritise for vaccination by age, which will not make a special allowance for those with mild asthma.
A message from the Editor:Thank you for reading this article. We're more reliant on your support than ever as the shift in consumer habits brought about by coronavirus impacts our advertisers.
If you haven't already, please consider supporting our trusted, fact-checked journalism by taking out a digital subscription.