Coastlines are littered with dead birds amid the avian flu outbreak.
The number of gannets has decreased by 25% in Shetland and great skua in Orkney by 85% as a result of the avian flu outbreak.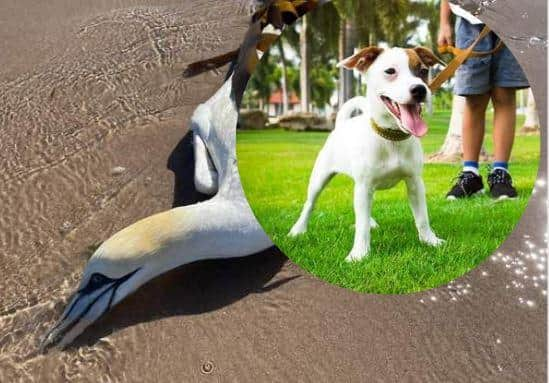 But just how safe is it to continue to walk your dog near coastlines amid bird flu?
Can dogs get bird flu?
While the risk to pet dogs from bird flu is very low, dog walkers have been warned to be extra cautious around coastlines and wildfowl.
There have been reports of foxes getting bird flu – and while many birds are carrying bird flu, they can also be carrying other diseases that could also be passed on to your pet. There is also a concern domestic pets may spread the virus further either on their coat or by stepping through infected bird droppings and transferring or spreading it.
Domestic cats in Europe also appear to have become infected by eating infected poultry or wild birds.
If your dog eats a sick or dead birds infected with bird flu viruses, they could become infected with bird flu.
If your dog is showing symptoms compatible with bird flu virus infection and has been exposed to infected (sick or dead) wild birds/poultry – then you should monitor its health and contact your vet.
Advice to dog walkers amid bird flu outbreak
Dog walkers are being told to stick to footpaths and use leads where there are large numbers of birds in order to reduce their animals' exposure to creatures which could be infected.
Around coastal areas with dead birds dog owners are also being advised to keep their pet on a leash.
An RSPCA spokesperson said: "Avian influenza (AI) is primarily a disease of birds, though there have been reports of highly pathogenic AI in seals and foxes, so bird flu can cross into other species.
"As some dogs may be attracted to – and pick up – dead or dying birds, the RSPCA always recommends keeping dogs under control around wildlife. Although the risk of your dog contracting AI is extremely low, your dog could become contaminated and spread it to other areas.
"Also dead and dying birds could carry a range of other diseases which might present a health risk to your dog."