Bill Jamieson: Fear of massive debt default should concentrate minds
When we look back on this devastating period in our history, which will be the period that will trouble us most – the onset of the Covid-19 pandemic – or the aftermath as the virus subsided?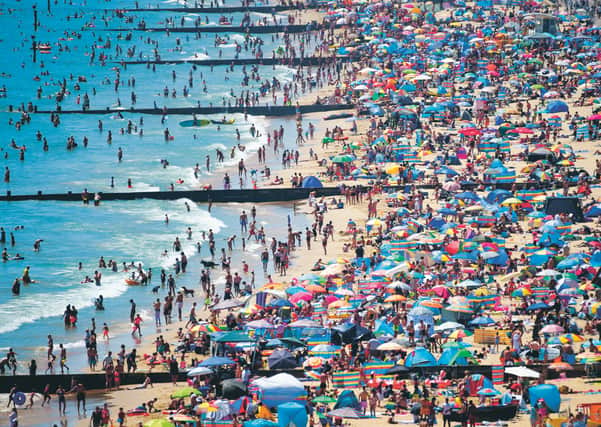 Pictures of packed beaches in defiance of advice on maintaining social distance; outbreaks of brawls in city centres and assaults on police; fear of going out as pubs re-open and warnings are sounded of an infection resurgence: seldom has a period of ostensible "recovery" triggered so much apprehension and alarm.
Coping with the continued presence of a deadly pandemic is troubling enough. But soon we will be facing a virulent problem of a different sort: the likelihood of a massive debt default across the economy as emergency support is lifted and the bills come flooding in.
Over the past four months, government, financial institutions and banks have extended extraordinary lines of credit to help hundreds of thousands of businesses contend with the effects of massive furloughing of staff, national lockdown, the shuttering of factories and offices and a collapse in consumer spending.
Government debt has soared to 100 per cent of GDP and central bank quantitative easing has ballooned to £745 billion to cauterise a 25 per cent plunge in output.
But even with this epic resort to debt and money printing thousands of businesses have already folded. Casualties are rampant among small and medium-sized businesses and local authority coffers are badly depleted, while giant concerns such as airlines, and now shopping centre giant Intu, owners of large malls such as Braehead and Lakeside, teeter on the brink of administration with 132,000 jobs at risk.
Far from the crisis being over, the worst looks likely still to come as the bills roll in and companies face foreclosure and default. On top of a huge rise in unemployment, the biggest casualty will be the government and the central bank. If debt can be so easily created, argue some, it can just as easily be wiped out. But that would be to break all conventional rules of public finance and place a huge question mark over the credit-worthiness of the state: once constraints on borrowing and debt are discarded like this, who, barring some agreed writing of the global financial order, would risk holding sterling – or government paper for that matter?
I see little by way of escape from this new phase of the crisis through another massive programme of debt extension, conversion of debt into equity and forgiveness. Firms that took out emergency loans to help them survive may now be placed in a national lifeboat scheme as debt terms are rewritten or reduced.
As if blind to the gross scale of the unfolding debt crunch that lies ahead, Scotland's Finance Secretary Kate Forbes has called for new borrowing powers: she wants temporary powers that would allow her to borrow up to £500 million this year. This would be on top of the £3.8 billion Scotland has already received through Barnett consequentials. As matters stand, the Scottish Government's overall budget for the 2020-21 financial year is already in excess of £52bn.
But the crisis is broader than "mere" sky-high government spending and borrowing. Former Bank of England governor Mervyn King warns that weak corporate balance sheets and banking fragility could soon spark another 2008-style crisis. "I think we're now just beginning to realise," he said, "just how damaging this shutdown has been for the economy.
"People have got it into their heads the idea that if the economy is growing slowly, then whatever the cause of that slow growth, the answer has to be more central bank easing – whether it's negative interest rates or just printing more money.
"…I think it is a terrible mistake the economics profession has engendered to believe it doesn't really matter why the economy is growing slowly; you just need to… lower rates and print more money."
The solution here is – as it historically always has been – to raise economic growth. Without growth, there is no way out of the coronavirus trap. Without growth, we cannot pay down our debts. And without growth, we cannot afford to keep funding our public services.
But even before the pandemic, we were struggling to achieve this. In the years since the financial crisis, GDP has risen by more than 2.5 per cent on only one occasion – the worst performance since the Second World War. And even before the coronavirus crisis, the Office for Budget Responsibility (OBR) forecasts had growth continuing to flatline at around 1.5 per cent.
Lifting this, as the report by former Tesco banker Benny Higgins addressed last week, requires a stronger and more growth-focused alliance between business and government.
"Although the picture is variable," the report opined. "The feedback, for some sectors and some parts of the business community is that relationships and dialogue need to be improved. And it is striking that there is no single strategic forum that brings together the leadership of the Scottish Government and the leadership of Scottish business."
Another forum? Business hearts will sink at such a feeble suggestion. Nor are they likely to be lifted by the prospect of the Scottish Government holding stakes in Scottish businesses: who will be chosen? And what is the exit route?
A recent blog by the Fraser of Allander Institute raised similar concern over the relationship between the Scottish Government and business: "We have picked up some unease amongst many in the business community – and the businesses we speak to on a regular basis – about not so much the pace of the easing of restrictions, but the government's wider approach to the economy and its understanding of business priorities." Too often the relationship between business and government tends to be one of beleaguered supplicant and inattentive benefactor.
And it is hard to discern the current desperation of business in the First Minister's coronavirus briefings. Nicola Sturgeon may be intently focused on addressing the plight of care homes as a result of poor supervision of patients transferred from hospitals.
But the First Minister now needs to be more than a finger-wagging care home warden. The challenge facing us in the coming months is altogether broader and now equally in need of attention: debt default on a massive scale.
Comments
 0 comments
Want to join the conversation? Please or to comment on this article.