A majority of the 345 absences were among police officers. Police Scotland began using the "post-Covid syndrome" category in July 2020.
The figures were revealed in a Freedom of Information request by the justice affairs magazine 1919. In the financial year up to December, there were 131 long Covid absences by police officers and staff.
The Scottish Government has announced a £10 million fund for long Covid support, with the money going to health boards and charities.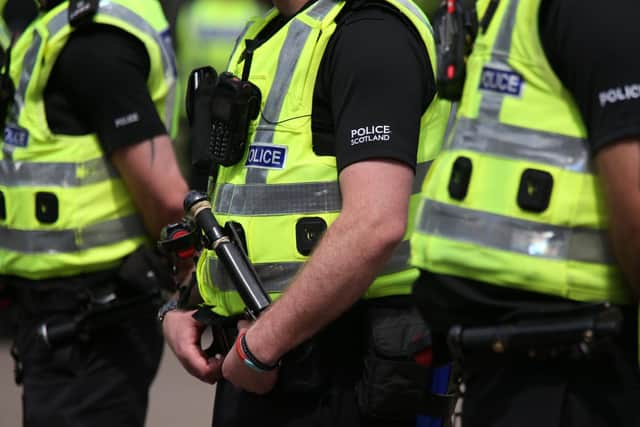 David Kennedy, general secretary of the Scottish Police Federation, said: "The issues surrounding Covid-19 will be far-reaching for generations and we can only hope that the public inquiries both in Scotland and UK-wide will shine a light on these issues.
"We need to make sure that our governments and police services continue to help their police officers and staff as they come to terms with the impact that long Covid is having in their lives. The physical, mental and financial help that will be required in years to come needs to be a priority for them.
"We need to learn from where it went wrong and make sure that any mistakes are not repeated."
Assistant Chief Constable Alan Speirs told 1919: "Officers and staff showed outstanding professionalism and commitment to help keep people safe during the pandemic. Their health and welfare is one of Police Scotland's main priorities and we have a range of mechanisms in place to support them, including the employee assistance programme and the Your Wellbeing Matters programme.
"We also work with our occupational health provider to support police officers and staff in their journey back to health after a period of absence."
Police Scotland said it was "possible" that an individual was categorised absent with post-Covid syndrome for a period of time before another diagnosis was reached.
Statistics published by the Office for National Statistics (ONS) last month revealed 13,000 of the 94,000 long Covid sufferers in Scotland had their lives severely impacted by the condition.
Scottish Liberal Democrat analysis has estimated just £17 per head is being spent on tackling the condition in Scotland, compared to funding interventions in England amounting to £116 for every person, and £105 in Wales.
Lib Dems health spokesperson Alex Cole-Hamilton said: "Figures like these emphasise why we need to treat long Covid with the seriousness it merits.
"Long Covid is a hugely debilitating condition, but the Scottish Government's response has been lacklustre. This paltry response will only lead to higher staff and officer absences and to more patients being put on hold without solutions.
"At the Scottish Liberal Democrat autumn conference, my party passed a motion calling for the delivery of comprehensive and accessible care for patients of long Covid."
Scottish Conservative shadow justice secretary Jamie Greene said: "These figures highlight the debilitating toll long Covid takes on sufferers. They also underline the folly of the SNP Government in failing to set up specialist long Covid clinics for all in Scotland – something my colleague, shadow health secretary Dr Sandesh Gulhane, has been demanding for two years now."