A finger gadget you can buy online could be a life-saving solution for Covid patients.
Pulse oximeters are currently being rolled out by the NHS to some high-risk patients across the UK through a home-monitoring scheme.
On the island of Barra, where there is currently a large coronavirus outbreak, those who have tested positive for the virus have been provided with pulse oximeters to measure their oxygen levels.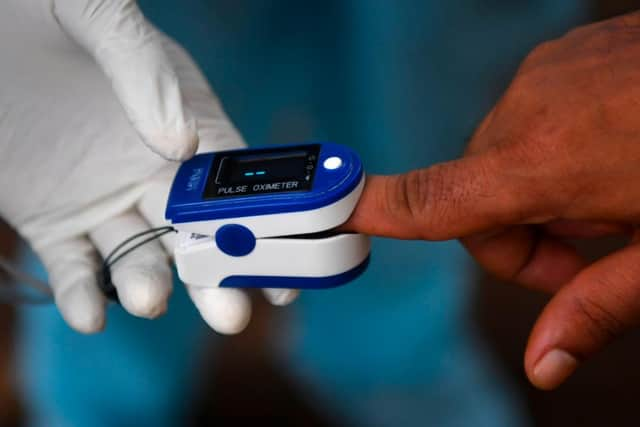 So, what is a pulse oximeter, how does it work - and where can you buy one for home use?
Here's everything you need to know.
What is a pulse oximeter?
Pulse oximeters are small, electronic devices which are clipped on your middle finger to monitor your oxygen levels.
The gadget shines a light into the body and measures how much of that light is absorbed to calculate the percentage of oxygen which is in the blood.
There's no needles or pain involved in the measurement, making it simple and safe to use at home.
A normal oxygen level in the blood is between 95 and 100 per cent.
How might it save patients with Covid?
In severe coronavirus cases, the lungs can become blocked, which stops them from being able to pass the oxygen you breathe into the bloodstream.
However, scientists are unsure why oxygen levels in the blood of Covid patients can drop to seriously low levels when the patient is unaware.
This is known as "silent hypoxia" - and it is where pulse oximeters come in handy.
Patients should monitor their oxygen levels three times a day using the device.
If they notice a drop to 93 or 94 per cent, they should call their GP or 111.
If the percentage drops lower, to under 92, they should be taken to A&E or call an ambulance.
Previous studies have shown even small drops of oxygen below the normal level of 95 per cent are linked to an increased mortality risk.
Dr Matt Inada-Kim, a consultant in acute medicine at Hampshire Hospitals and the national clinical lead of the Covid [email protected] project, told BBC Radio 4's Inside Health: "The point of this whole strategy is to try to get in early to prevent people getting that sick, by admitting patients at a more salvageable point in their illness."
There isn't yet definitive proof that these gadgets could save lives, but there are positive early signs, Dr Inada-Kim said.
He explained: "What we think we can see are the early seeds of a reduction in the length of stay after a hospital admission, an improvement in survival and a reduction in the pressures on the emergency services."
Pulse oximeters are very simple to use which makes it easy for Covid-19 patients to monitor their own oxygen levels at home.
Make sure your hands are washed and warm before use.
Turn the device on, clip it to your index or middle finger and watch the numbers on the screen until they stop changing.
Record your final percentage, and repeat the process three times a day.
NHS schemes to distribute pulse oximeters to vulnerable people are currently being brought in across the UK.
In the meantime, Dr Inada-Kim has encouraged people to buy the devices for at-home use.
He advised checking that the devices have a CE Kitemark, and to avoid apps on smartphones which may not be as reliable.
Pulse oximeters cost anywhere between £20 to £30, and can be bought easily online or in high street pharmacies.