Scots to get air bridges, but fewer than England
Scottish holidaymakers are set to get the go-ahead to visit several countries this summer without having to endure quarantine on their return - but many more destinations are likely to be ruled out of bounds despite being given the all-clear by the UK Government.
From this Friday, travellers arriving from 73 countries around the world will no longer have to quarantine themselves for 14 days – but only if they land in England, after the UK and devolved governments failed to reach agreement on the measure.
The first ministers of Scotland and Wales said it was impossible to sign up to the plans because of repeated last-minute changes to the list of countries and how the new guidance is structured.
UK ministers also failed to agree a series of reciprocal 'air bridges' as promised, with several countries on the list imposing their own quarantine measures on British travellers, including Australia, New Zealand and Greece.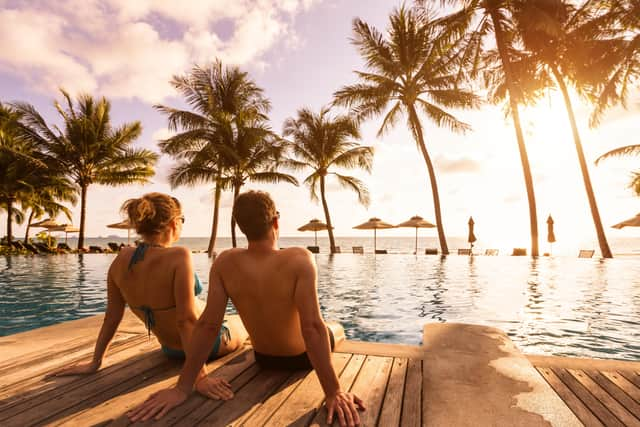 Ms Sturgeon said Scotland was likely to announce its own list of countries that would be exempt from quarantine in the next few days.
However, she warned that because coronavirus infection rates were lower in Scotland than the rest of the UK, several countries on the list published by London may be subject to Scottish quarantine because they posed a higher relative risk.
Scottish tourism leaders warned the sector would pay the price of Edinburgh's more cautious approach, with struggling businesses losing out on the first wave of bookings.
A difficult week in relations between the UK and Scottish governments finished on a low point as Ms Sturgeon issued a withering judgement of Boris Johnson's handling of the quarantine changes.
She said the Scottish Government had "little or no notice" of the UK Government's plans and said the list of countries proposed had changed since the secretary of state for transport, Grant Shapps, blamed the Scottish Government for scuppering the plans on Thursday.
"Just to illustrate the point about the shifting sands of the UK Government's position, the list of countries that they were yesterday demanding that the Scottish Government signed up to, suggesting that we were a barrier to getting an agreement on, is not the same as 
the list they have shared with us today," the First Minister said.
"So we need, as the Scottish Government, to analyse these proposals properly and rationally and we need to do that obviously from a public health perspective, but we also need to do that from a legal perspective. All of these decisions are of course potentially open to legal challenge.
"When so much is at stake as it is right now, we can't allow ourselves to be dragged along in the wake of another government's, to be quite frank about it, shambolic decision-making process, so we will take time to properly and rationally consider this before, hopefully very soon, setting out our own decision."
Ms Sturgeon echoed comments from Welsh First Minister Mark Drakeford on the issue, who said: "Dealing with the UK Government over the last few days has been an utterly shambolic experience."
The UK's infection rate is at least four times higher than that of Scotland. Several countries given the all clear by UK ministers yesterday, including major holiday destinations like Greece, France and Spain, also have higher infection rates than Scotland.
Ms Sturgeon warned that several countries could be left off the Scottish Government's own list, meaning travel there will be possible without quarantine from England, but not Scotland.
The First Minister warned travellers not to try and get around quarantine rules by flying out of airports in England, saying they would need to follow Scottish restrictions on their return home.
Edinburgh Airport chief executive Gordon Dewar said the Scottish Government's decision would lead to "immediate and long-term economic damage" and would "harm Scotland well beyond this summer".
"Scotland taking a different path means that the confusion around an already confused quarantine policy only increases and passengers will be left wondering what the rules are," Mr Dewar said.
"We, of course, support health measures, but despite writing to the government asking for the evidence to understand the reasoning, we have yet to receive it.
"It is wrong to only view this issue through the lens of holidays, although English airports will be welcoming Scots holidaymakers and new routes stripped from Scottish airports, as it hampers Scotland's ability to recover economically.
"As the First Minister was personally told earlier this week, this will harm Scotland well beyond this summer. We warned that to close Scotland off would lead to the departure of airlines, who themselves warned the First Minister of the same.
"Scottish jobs are being sacrificed on a system that is unintelligible, unenforceable and that does not deliver the health benefits we all want."
The Scottish Government announced that one more person had died after testing positive for Covid-19 in the past 24 hours, bringing the total number of deaths under that measure to 2,488.
A total of 18,276 people have tested positive for the virus in Scotland, up by 12 from 18,264 the previous day.
The list published by the UK Government features popular short-haul destinations such as Spain, France, Italy, Turkey, Greece and Cyprus, as well as long-haul locations including Australia, Barbados, Hong Kong, Japan, New Zealand and Vietnam. Fourteen British Overseas Territories are also included.
Portugal, the US, China and Thailand are among the notable absentees.
Approved destinations pose "a reduced risk to the public health of UK citizens", but the list will be kept "under constant review", the Department for Transport said.
The Foreign and Commonwealth Office published a separate list of 67 locations which will be exempt from its advisory against all non-essential travel from Saturday.
Several small nations from the quarantine-free list were not mentioned by the FCO, including Fiji, Mauritius and the Seychelles.
Comments
 0 comments
Want to join the conversation? Please or to comment on this article.