First Minister Nicola Sturgeon said the measures were necessary to combat the new strain of coronavirus.
All of mainland Scotland entered Level 4 – the toughest of the county's five tiers of restrictions – for three weeks from one minute after midnight on Boxing Day morning.
Non-essential shops have to close as will cafes, restaurants and hairdressers.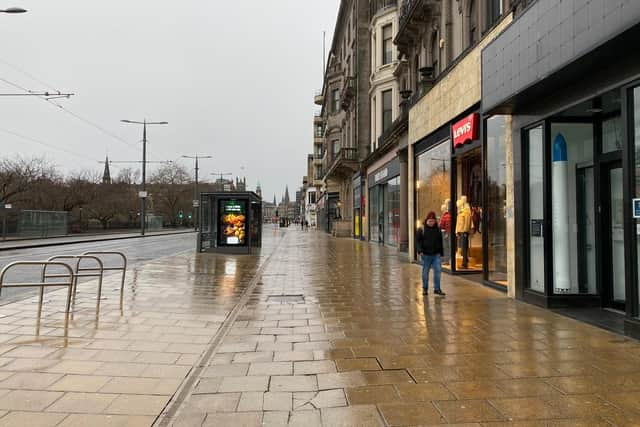 Orkney, Shetland, the Western Isles and other Island communities move to Level 3.
Schools will open for keyworkers as normal, but the majority of pupils will not return on January 11, with online learning until at least January 18.
What are the level 4 rules?
Under tier four restrictions you cannot meet with another household in your or their home (unless for care reasons), though you can meet one other household indoors in a public place with a maximum of six people from two households.
Children under the age of 12 do not count towards this number.
Groups of six from two households can meet outdoors in a private garden or public place such as a park.
Again, under 12s are not subject to this rule, while those aged between 12 and 17 are not subject to the household limit.
Couples who do not live together and people who live alone can both form extended households. However, households must not form with more than one other household.
Where parents do not live in the same household, children can move between their parents' homes in all levels, this includes both supervised and unsupervised visitation.
People are advised to work from home wherever that is practicable.
Indoor acts of worship are limited to a maximum of 20 people providing there is sufficient space to maintain safe 2 metre distancing.
Wedding ceremonies and civil partnership registrations can take place with a maximum capacity of 15 people (including the couple, the witnesses and guests) providing the venue's capacity allows for 2 metre physical distancing.
Wedding or civil partnership receptions cannot take place in level 4.
Which businesses must shut under tier 4 rules?
Restaurants, cafes, pubs and bars will be closed under level 4 restrictions though takeaway can continue to operate.
All holiday accommodation is closed to tourism, though hotels, B&Bs and self-catering can remain open for essential customers.
Only essential retail will be able to remain open in Level 4.
Close contact services including hairdressers and barbers, beauty salons and tattoo artists must shut.
Outdoor gyms can remain open, and you are permitted to meet others outdoors, following the rules around meeting other households, for informal exercise or sport.
All indoor visitor attractions such as museums, galleries, heritage attractions, indoor areas of zoos and aquariums are closed. Outdoor visitor attractions, such as parks, gardens and the outdoor areas of zoos may remain open.
Early learning and childcare can remain open, as can schools, colleges and universities.
What is the advice for those shielding?
Those in the shielding group have been asked to minimise contact with people outside their own household if possible.
They should avoid public transport.
When shopping they should strictly follow the guidelines and limit the number of times they go to a shop.
At this level the Chief Medical Officer will issue a letter which is similar to a fit note and which will last for as long as their area is under Level 4 restrictions.
This letter can be used in the few cases where it is not possible to make a workplace safe.
Children on the shielding list should not attend school or childcare in person.