What are the social distancing rules for kids in Scotland? New guidance on children meeting friends from 10 July
New social distancing guidance was announced by the First Minister on Thursday (9 July), as Scotland entered phase three of its lockdown plan
Ms Sturgeon announced the news at a briefing in Holyrood on Thursday (9 July), after confirming that Scotland will enter phase three of it four-stage exit plan.
But what are the exemptions? Here's what you need to know.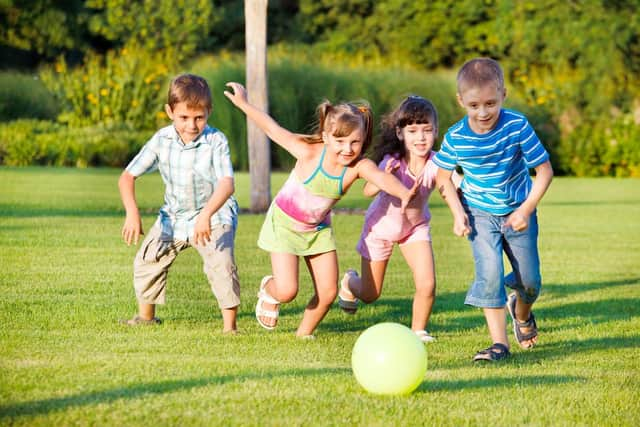 What are the rules for kids?
As of 10 July, children under the age of 12 will no longer have to maintain social distancing indoors or outdoors.
While other households are limited to meeting up with four other households in total in one day, indoors or outdoors, these limits do not apply for young people under the age of 18.
For older children aged between 12 and 17, a social distance of two metres should still be observed while outdoors, but the government is lifting the limit on the number of meetings they can have with other people in one day.
Ms Sturgeon said: "You can meet different groups of friends at different times of the day.
"It also means you won't be prevented from meeting your friends just because your parents or carers, or your brother or sister, happens to be meeting their friends."
Additionally, organised outdoor contact sports for children and young people are allowed to resume, subject to guidance, from 13 July.
What are the rules for adults?
Adults in Scotland must continue to follow the two metre social distancing rule, as far as possible, but there will now be some exemptions.
Ms Sturgeon explained that scientific advice showed that as the distance between people decreases, the risk of coronavirus transmission goes up, with the increase said to be between two and 10 times as much.
However, it was also noted that as the number of people with the virus falls, there is consequently a reduced chance coming into contact with someone who has the virus, meaning absolute risk is lower.
While the First Minister said it was vital steps continue to be taken to reduce risks as people start to interact more, she acknowledged that sticking to the two-metre rule has "serious economic implications".
As such, from Friday 10 July, exceptions will be allowed for specific sectors to operate within a one-metre distance with mitigation measures.
Public transport and the retail sector will see the rule relaxed from this date.
However, Ms Sturgeon warned that mitigations will have to be in place, as well as ensuring that discussions have taken place with trade unions before the rule is eased.
The First Minister also warned that if coronavirus infection levels were to rise, the Scottish Government would reimpose a strict two metre rule for all, either nationally or locally.