Will Scotland introduce a quarantine for English visitors? Border rules for travellers explained
Nicola Sturgeon, First Minister of Scotland, has refused to "rule out" quarantine for English tourists at the Scottish border, should coronavirus cases rise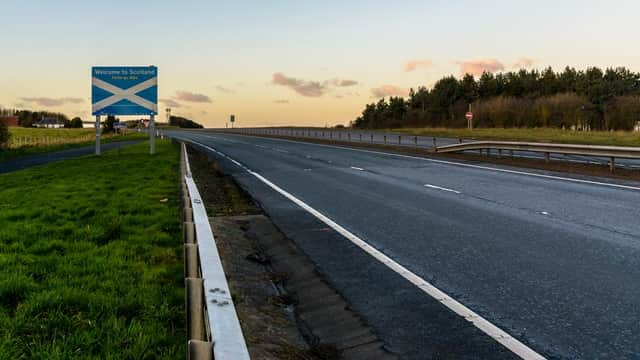 Will Scotland introduce border quarantine for English tourists?
On 28 June, The Sunday Times reported that the Scottish Government was considering the introduction of border quarantine for English tourists if case numbers spike in the country.
While the Scottish Government has declined to officially confirm or deny the introduction of screening or quarantine, the first minister has said she can't "rule out" the possibility of screening or quarantining at the border, should coronavirus case numbers rise in England.
How do cases compare between Scotland and England?
While Scotland has not reported any coronavirus deaths for several days in a row, England continues to suffer casualties to the virus.
Virus hotspots have also begun to emerge in England, with Leicster placed into a local lockdown after cases spiked in the area.
The Sunday Times reported that there are fears among Scottish Government officials that the progress Scotland has made in beating the virus could be scuppered by the arrival of people from across the border.
The two countries have diverged in their lockdown easing plans, with Scotland choosing to relax restrictions at a slower pace than England.
What might border quarantine look like?
The Scottish Government has not revealed what measures may be in place at the border should they be introduced, but in a recent daily briefing, the first minister did point towards decisions in other countries like Germany and the US to introduce localised quarantines.
These examples from around the world could hold clues to what quarantine in Scotland might look like.
How long does border quarantine last?
A 14-day quarantine is the standard length adopted by most countries around the world, given that this is around the maximum incubation period for coronavirus.
Most countries are using border security to enforce checks and quarantine measures. In the UK, however, quarantine (for certain foreign travellers outside agreed 'air bridges') will be enforced through random spot checks and £1,000 fines.
Some countries, such as France, are making quarantine voluntary rather than mandatory, except in cases where travellers are exhibiting symptoms of coronavirus.
Where do travellers stay during quarantine?
In New Zealand, where entry is currently permitted for New Zealand residents only, hotels have been specially allocated for self-isolation, paid for by the New Zealand government.
Those entering the country will be assigned a room and obligated to remain there for 14 days, with all meals provided.
In other countries, however, the onus to self-isolate is on the travellers themselves. Travellers to the UK (excluding some air bridge travellers) are asked to arrange somewhere they can isolate for 14 days, and are obliged to give the address to border security.
In the US, which is currently only accepting residents at the border, travellers are also asked to self-isolate at home.
On the possibility of border quarantine in Scotland, a Scottish Government spokesperson said, "We currently have no plans to introduce quarantine for people coming to Scotland from other parts of the UK. However, as our infection rates continue to fall, we have to be on our guard against cases coming into Scotland from elsewhere.
"If we did see an ongoing divergence between infection levels in Scotland and the rest of the UK, we would need to consider how we mitigate that. We will continue to be guided by the best and most up to date expert scientific advice".