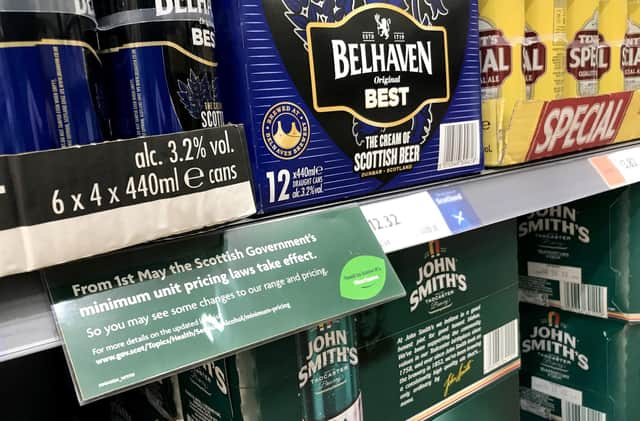 The latest report from Public Health Scotland (PHS) has concluded MUP has been "effective" at lowering consumption, after finding a 3 per cent decrease in the volume of alcohol sales over a three-year period. However, there is evidence within the report that shows MUP has shifted harmful drinkers from cider to fortified wine, such as Buckfast.
The report found a net reduction of 13.5 per cent in the volume of pure alcohol sold as cider in Scotland, but also found a 13.5 per cent increase in the volume of pure alcohol sold as fortified wine.
A 2019 study led by Newcastle University, but encompassing researchers from Canada, Netherlands, Germany, Spain and Russia, also found MUP "is an effective policy option to reduce alcohol purchases".
The study, published in the British Medical Journal, used data from 5,325 Scottish households, 54,807 English households as controls, and 10,040 households in northern England to control for potential cross border effects.
"Our analyses indicate that MUP is an effective policy option to reduce alcohol purchases, particularly affecting higher purchasers, and with no evidence of a significant differential negative impact on expenditure by lower-income groups," the researchers concluded. "Our data supports the introduction of MUP as an effective policy option in other jurisdictions."
PHS's most recent MUP report focuses exclusively on consumption, but the crucial studies revolve around the health and social harms associated with alcohol.
The first of these studies, conducted by The University of Sheffield and Figure 8 Consulting, found although there was a marked increase in the prices paid for alcohol by people with alcohol dependence and those drinking at harmful levels, there was "no clear evidence found of any change in consumption or severity of dependence".
A second study found MUP had no impact on the drinking behaviours of children and young people, although they were aware of the price increase. A third study is set to evaluate perhaps the most crucial metric of all – hospital admissions and deaths – the reduction of which is one of the key aims of MUP.
This will likely be the yardstick against which MUP as a whole is evaluated and, given the last two studies commissioned by PHS found no impact on the behaviours of problem drinkers and young people, there is a real chance MUP will be found to have had no impact on hospital admissions and deaths. The report is due in "early 2023", according to PHS.
It is also worth taking a look at currently available figures – 1,245 people died from conditions caused by alcohol in Scotland in 2021, according to the latest figures published by National Records of Scotland. This is 5 per cent higher than 2020 and is the highest number of deaths since 2008.
The Alcohol (Minimum Pricing) (Scotland) Act 2012 has a sunset clause that requires the Scottish Parliament to vote before May 1, 2024 on whether or not MUP will continue. These studies will prove instrumental in that decision.
The PHS report also indicated the economic performance of Scotland's alcoholic drinks industry had not been "significantly impacted" by MUP. This is likely because whisky exports account for around 60 per cent of the industry, an area unaffected by MUP legislation.
Scottish Health Action on Alcohol Problems (SHAAP) was set up as a partnership by the Medical Royal Colleges, such as the Royal College of Physicians Edinburgh – where SHAAP is based – and the Faculty of Public Health in Scotland to research and to advocate for an evidence-based approach to government policy on alcohol.
Although it gives a clinical view on alcohol consumption in Scotland, and its constituent colleges are frequently critical of the Scottish Government, it does accept Government funding to advise policy makers.
The SHAAP partnership recently published a study conducted by the non-partisan, Westminster-based think tank the Social Market Foundation, which is funded predominantly through sponsorship of its research, public policy debates and party conference work.
The report posits the alcohol industry costs the economy, in terms of impact on public services, productivity and the value of lives lost to alcohol, roughly the same amount as it generates for the economy. The report's authors state that 4.9 per cent of the Scottish economy (£8.1 billion) can be attributed to the sale of alcohol. As mentioned earlier, around 60 per cent of this figure comes from whisky exports.
They also concluded Scots drink considerably more wine, beer and vodka than whisky, with 99 per cent of the whisky produced in Scotland being exported to other countries.
The societal costs of alcohol total £1.2bn, according to the study, but the estimated economic cost of the harms of alcohol, including the loss of life, amounts to between £5bn and £10bn.
Based on the PHS report, MUP is considered a success by the Scottish Government and government-funded bodies such as Alcohol Focus Scotland (AFS), both of which are now pushing for a restriction on alcohol advertising.
In November, the Government launched a consultation on a range of measures to restrict alcohol advertising and promotion. The consultation closes this Thursday.
The Government-backed AFS has accused the alcohol industry of crying wolf over claims a ban on alcohol advertising would "destroy Scotland's drinks industry", saying similar claims about MUP have been shown to be unfounded.
In response to PHS's findings, Alison Douglas, chief executive of AFS, said objections from the alcohol industry had been found to be false.
"Firstly, it gives the lie to the exaggerated claims made by some in the industry about how MUP would damage businesses such as the Scotch Whisky Association's assertion that MUP could put at risk more than 250 jobs in companies supplying own-label and value brands," she said.
"This research shows that, in practice, MUP has not directly impacted jobs or the viability of facilities or stores."
The World Health Organisation recommends restrictions on alcohol availability and alcohol marketing as two of the three most cost-effective measures for reducing alcohol-related harm.