Statistics from Public Health Scotland released on Tuesday show 57.3 per cent of those who went to A&E in the week to January 8 were seen within the Government's target time of four hours. The figure is a slight improvement on the previous week, rising from 56 per cent.
Scottish ministers aim to have 95 per cent of people seen and subsequently admitted or discharged within four hours – a target that has not been met since the early days of the Covid pandemic. The figures also show a sharp decline in the number of people waiting more than 12 hours in A&E, falling from 2,511 to 2,245.
The number of people waiting more than eight hours also dropped, from 4,982 to 4,387, while those waiting more than four hours fell from 10,876 to 9,803.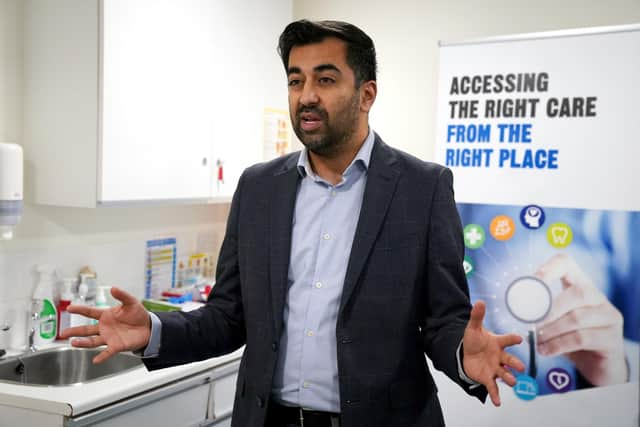 On Monday, First Minister Nicola Sturgeon said there had been a slight easing of the pressure on the NHS, which has been heightened throughout the winter. But Ms Sturgeon told journalists at a briefing on the NHS on Monday that despite very initial indications of a very slight easing of pressure in the past week, hospital occupancy is still very high.
"In summary, therefore, pressure remains intense but we do hope to see a further easing of it in the weeks ahead," she said. "Of course we remain focused on supporting the service to address these pressures."
Health secretary Humza Yousaf said "pandemic backlogs, inflation costs and Brexit influencing staff shortages" contributed to the crisis over the winter, along with increases in flu, Covid-19 and Strep A cases.
"We are doing everything we can to help the health service through the remainder of the most challenging winter in its history," he said. "This includes easing delayed discharge by purchasing additional care beds for those who are fit to leave hospital, and ensuring adequate resource is in place for NHS 24.
"Our ambulance service staff are also providing treatment, where appropriate, to help avoid hospital admission. Our resilience committee is monitoring the situation in emergency departments extremely closely and we remain in daily contact with health boards.
"My thanks to all health and care staff for their extraordinary efforts during these exceptionally challenging times." But Scottish Tory health spokesman Dr Sandesh Gulhane said the figures were "catastrophic" and proved the NHS was "in meltdown".
He said: "We know that, tragically, these excess delays are leading to scores of people dying unnecessarily every single week under this SNP Government. It is totally unacceptable that over 40 per cent of patients are having to wait more than four hours to be seen."
Dr Gulhane went on to say the health secretary should resign or be sacked as a result of the issues.