NHS Scotland GP crisis laid bare by new figures, as one in ten surgeries refuse to accept new patients
Exclusive figures given to The Scotsman have revealed the worrying state of Scotland's GP surgeries, including practices refusing to accept new patients, surgeries closing down and GPs retiring in greater numbers than can be replaced.
The dismal state of Scotland's GP surgeries has been revealed today, with nearly one in ten surgeries refusing to accept new patients, eight practices returning their contracts to the NHS and the Scottish Government accused of "breaking promises" to GPs.
Figures, obtained by the British Medical Association (BMA) and given exclusively to The Scotsman, show Scotland has lost around 100 GP surgeries over the past decade – roughly one in ten – while patient numbers have swelled due to an ageing population and demographic changes.
As a consequence, there are now 1,687 patients for every full-time-equivalent GP. The impact differs by region – in NHS Lanarkshire, the figure is 2,201 patients per GP, the highest in Scotland.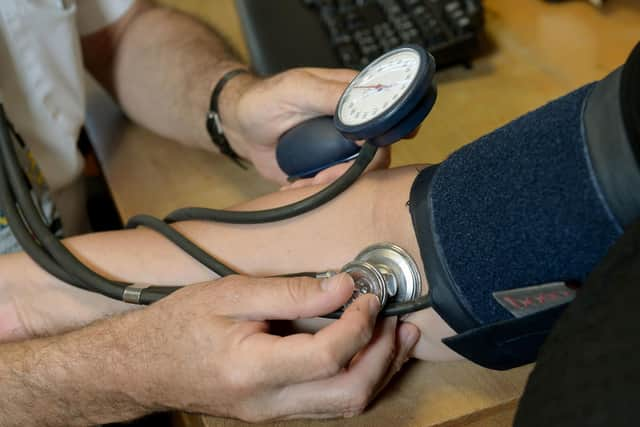 Dr Andrew Buist, chair of BMA Scotland's GP committee, said: "It's going to get worse unless the [Scottish] Government does something about it. We'll see an increasing number of closing practices, because the Government has got its focus on hospitals and secondary care.
"General practice is the foundation of the health service, because it's the main access point for the rest of the system. We deal with 80 to 90 per cent of all clinical contacts, so if it fails, the hospital system cannot cope."
According to Dr Buist, "general practice appears to be failing" in Fife, where 40 per cent of GP surgeries there have closed to new patients. Tayside and Grampian are the next worst health boards in terms of GP list closures at 21 per cent and 20 per cent respectively.
In Edinburgh, one practice has gone from having 3,098 patients in 2018 to 10,718 in April 2023 – an increase of 206 per cent.
NHS Greater Glasgow & Clyde (GGC) has seen the largest reduction in GP surgeries, losing 17 surgeries since 2011.
Many GP practices have simply handed their contracts back to their local health board, leaving those boards managing failing practices which can be two to three times more expensive to run compared to independent practices, according to the BMA.
NHS Highland has the highest number of surgeries managed directly by the health board, known as a '2C practice', with 16 – up from 13 in 2013. NHS Lothian has overseen the biggest increase in 2C practices, taking over six practices since 2013.
According to Dr Buist, Scottish GPs provide around 600,000 GP appointments a week, while the number of patients presenting at accident-and-emergency (A&E) departments is around 25,000.
"If we were to push away just 1 per cent of our activity – so about 6,000 people – that would be a 25 per cent increase in the number of people attending A&E," he said.
"That's the thing that gets the media's attention, in terms of photographs of trolleys and corridors, ambulances queuing up outside. But general practice is the protection for the hospital system, and it needs adequate resources in order to do his job properly."
Dr Buist said a "vicious cycle" of increased workload and burnout was causing NHS Scotland to lose more and more GPs, with the Government's training and recruitment programmes "barely keeping pace with retirement".
"The workload gets unbearable, and that becomes one of the major drivers for losing established GPs – they just burn out," he said. "That then creates a vacancy, and then someone doesn't want to come in due to the increased workload. So the lack of GPs, and the excessive workload, creates a vicious cycle."
The Scottish Government committed in 2017 to increase the number of GPs in Scotland by 800 over ten years. However, a recent Audit Scotland report found the Government was "not on track".
Dr Buist said: "My own judgement is that we're barely keeping pace with retirements and people that are leaving the profession. I don't think we're anywhere near that 800 commitment.
"We're halfway through that ten-year programme. We should have an additional 400, and we absolutely do not because we're losing people as fast as we can replace them. If anything, we're going slightly backwards."
"The government was on the same page as us back in 2017, when we planned this contract. The trouble is that they've just lost interest. The political support has waned. They've broken some promises."
Scottish Conservatives shadow health secretary Dr Sandesh Gulhane said the "shocking" figures "lay bare the scale of the GP crisis on the SNP's watch". "Worryingly the BMA are convinced things are only going to get worse," he said.
"As a GP myself, I'm fully aware of the difficulties patients face getting appointments and the trouble colleagues face meeting demand. Like so many problems in Scotland's NHS, this one stems from the dire workforce planning of a succession of SNP health secretaries.
"The GP shortage is particularly acute in rural and remote areas of Scotland."
Scottish Labour's health spokesperson Jackie Baillie said the "existence of primary care in Scotland is hanging in the balance". "Years of SNP cuts and inaction have left Scotland's GPs unsupported with soaring demand and collapsing capacity," she said.
"Without action now, we risk a full-blown primary care crisis in Scotland with thousands of Scots and whole communities without access to their GP. GPs are at breaking point. Michael Matheson must heed the calls of the BMA and Scotland's doctors and act before it is too late."
A Scottish Government spokesperson said: "We are clear that patients who need to see a GP should always be seen. We have already delivered a record number of GPs working in Scotland, with more per head than any other country in the UK, and we are making good progress on our commitment to recruit at least 800 new GPs by 2027.
"Since 2017, Scotland's GP headcount has increased by 291 to a record high of 5,209 in 2022.
"To support GPs, we have recruited over 3,220 healthcare professionals into multi-disciplinary teams. We are committed to investing £170m a year to help grow these teams and to further increase the number of GPs in Scotland..
"A £20,000 bursary is offered as an incentive to GPs to increase rural and other hard to fill vacancies and trainee recruitment last year was the most successful year of any of the last five, with 99 per cent of GP training posts filled."
Comments
 0 comments
Want to join the conversation? Please or to comment on this article.