The Royal College of Nursing, which had been due to announce historic strike action within days, and the GMB union said last night they would not take action while negotiations on a 2023 pay offer take place.
The Royal College of Midwives, meanwhile, said it was "cautiously optimistic" over a pay deal. All three unions had rejected the 2022 pay deal which was worth around 7.5 per cent and was accepted by others including Unison and Unite.
If agreement is reached on 2023 pay, it is likely a pay rise will be backdated to January, with the unions warning they have maintained a mandate to strike should the "intensive negotiations" prove unsuccessful in the coming weeks.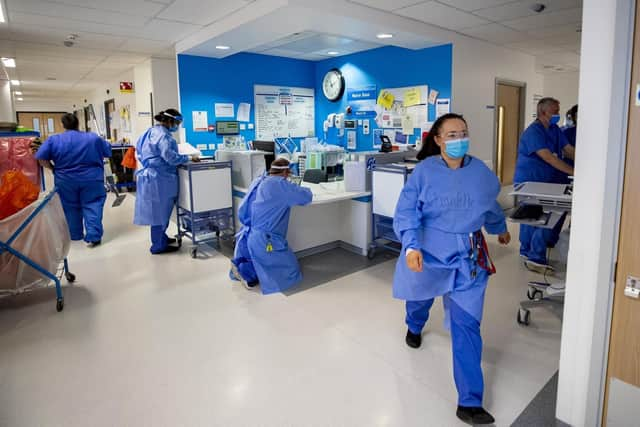 Pat Cullen, RCN General Secretary and Chief Executive said: "The Scottish government has shown a willingness to return to the negotiating table and to act to address the nursing workforce crisis. The pressure from our members has been key to these negotiations moving forward. We need to see this process through in good faith. 
"Our members in Scotland are being listened to and the First Minister is in no doubt that we will take strike action if the proposals being outlined do not deliver a significant improvement by the end of February." 
 Colin Poolman, RCN Scotland Director added: "While the Scottish government repeated their assertion that there is no more money for NHS pay in 2022/23, the strong mandate from RCN members led to the positive discussions this week and the commitment to keep negotiating."
A meeting had taken place between the unions, Deputy First Minister, John Swinney, and the Cabinet Secretary for Health, Humza Yousaf on Thursday.
– Negotiations for the 2023/24 NHS Agenda for Change pay offer to commence on an "accelerated" timetable starting next week with an aim of concluding by the end of February.
– A commitment to an additional payment equivalent to three calendar months value of the difference between the 2022/23 and the agreed 2023/24 pay rates.
– A firm commitment from Scottish government to a full review of the Agenda for Change framework in Scotland to ensure nursing is recognised and rewarded with a clear route for career progression.
– A commitment to match any NHS pay increase in England for 2023/24 if it is higher than that agreed in Scotland.
– A commitment to invest any additional consequentials to NHS pay in England for 2022/23 in NHS pay in Scotland for 2022/23.
Health Secretary Humza Yousaf last night welcomed the breakthrough. He tweeted: "Delighted GMB, RCM & RCN who were in dispute with ScotGovt around 22/23 pay deal have agreed to pause industrial action, after constructive talks."
He added: "Positive way forward has only been possible due to both sides willingness to engage and where necessary compromise. None of us want to see industrial action, and all of us do want to see our NHS staff fairly rewarded. In that spirit we will get 23/24 talks underway without delay."
Jaki Lambert, director of Scotland at the RCM, said: "Our members have consistently told us that they feel neither seen nor valued by the Scottish Government, and the previous pay offers have done little to dissuade them of this view.
"We are grateful to the Cabinet Secretary that he has acknowledged this and has committed to finding a meaningful solution to this dispute.
"Midwives and MSWs do an incredible job supporting women and families, but all too often they are doing so against the odds.
"We are hopeful that this is a turning point in the dispute which, yes, is focused on pay, but is just as much about the conditions our members have to work in.
"Getting to this point has been difficult, and I'm incredibly proud of our members who are prepared to stand firm for what they believe in.
"For them, supporting women and families always comes first, so to take the decision to take industrial action is way outside their comfort zones.
"I am heartened that the Cabinet Secretary recognises this and is prepared to work with us to develop a positive future."